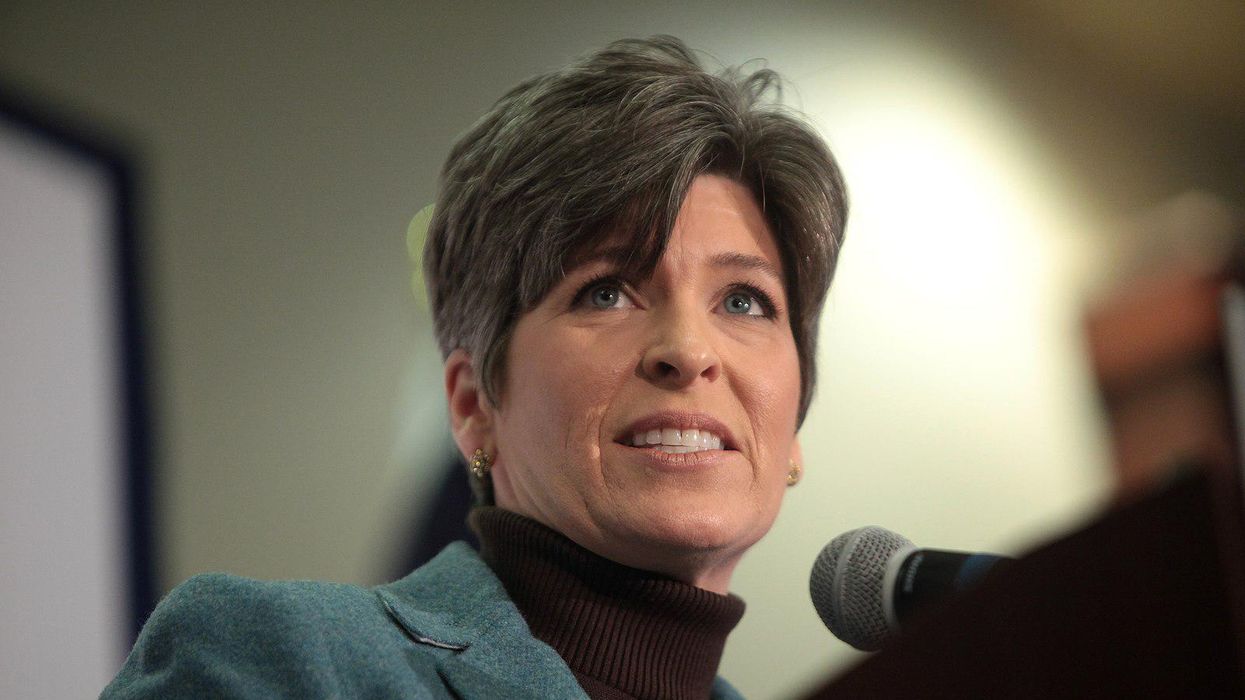 Reprinted with permission from Alternet
Sen. Joni Ernst of Iowa was clearly playing to the Republican Party's MAGA base when, during a September 1 appearance on CNN, she falsely claimed that President Joe Biden has never thanked U.S. troops who served in Afghanistan for their service. But CNN's Jake Tapper fact-checked the GOP senator on the air, and that segment was followed by additional fact-checking from Tapper's colleague Daniel Dale.
Ernst told Tapper, "What I have not heard from this president is a thank you to those veterans who have served in the Global War on Terror. Not once has he expressed empathy and gratitude to the men and women who have put the uniform on and have fought so bravely overseas the last 20 years to keep our homeland safe. And I feel that by not acknowledging his gratitude for them, he's diminishing their service."
Tapper, however, responded, "I have heard President Biden express gratitude and praise veterans…. Just as a factual matter, I have heard him talk about this."
Ernst, however, tried to claim that while Biden had "acknowledged those that are doing service or had done service at the Kabul Airport during the evacuation, but not over the greater Global War on Terror."
In an article published on CNN's website on September 3, Dale explains, "Ernst's claim is not even close to true. Biden has thanked troops who have served in Afghanistan and Iraq over and over again — explicitly saying 'thank you' and explicitly saying the nation is grateful to them and indebted to them. Biden has also spoken empathetically about the sacrifices made by these service members and their families."
Dale adds, "Biden's public words as president so clearly contradict Ernst's assertion that, for fact-checking purposes, we don't even need to go into detail about his eight-year tenure as vice president — during which, he repeatedly expressed his appreciation for troops who had served or were still serving in Afghanistan and Iraq…. Ernst and her office are entitled to argue that Biden's words about the troops have been insufficient or insincere; that's a subjective claim beyond the scope of a fact-check. But on CNN, Ernst asserted something else: that Biden had never uttered such words at all. And that's plain false."

Dale goes on to cite specific examples of Biden thanking U.S. troops. During an April 14 speech Biden praised the "valor, courage and integrity of the women and men of the United States armed forces who served" in Afghanistan.
Biden, on April 14, said, "I'm immensely grateful for the bravery and backbone that they have shown through nearly two decades of combat deployments. We as a nation are forever indebted to them and to their families. You all know that less than one percent of Americans serve in our armed forces. The remaining 99 percent of them — we owe them. We owe them. They have never backed down from a single mission that we've asked of them. I've witnessed their bravery firsthand during my visits to Afghanistan. They've never wavered in their resolve. They've paid a tremendous price on our behalf. And they have the thanks of a grateful nation."
Dale also notes that during a May 28 speech for Memorial Day, Biden told a major deployed to Afghanistan, "I want to thank you so much — your entire family's service to our country. You're all incredible. You so underestimate how important you are."
Biden, during that May 28 speech, went on to say, "I know that many of you deployed yourselves, probably more than once. Over the past 20 years, our volunteer force and our military families have made incredible sacrifices for this country…. To all the Gold Star families across the country: We will never, ever, ever, ever forget."
Only three days later, during a May 31 speech, Biden spoke at Arlington National Cemetery in Virginia outside Washington, D.C. and spoke of "7036 fallen angels" killed in Afghanistan or Iraq and said, "On this Memorial Day, we honor their legacy and their sacrifice. Duty, honor, country — they lived for it, they died for it. And we, as a nation, are eternally grateful."
Dale quotes a July 8 speech on Afghanistan withdrawal in which Biden said of U.S. troops, "I want to thank you all for your service and the dedication to the mission so many of you have given, and to the sacrifices that you and your families have made over the long course of this war. We'll never forget those who gave the last full measure of devotion for their country in Afghanistan, nor those whose lives have been immeasurably altered by wounds sustained in service to their country. We're ending America's longest war, but we'll always, always honor the bravery of the American patriots who served in it."