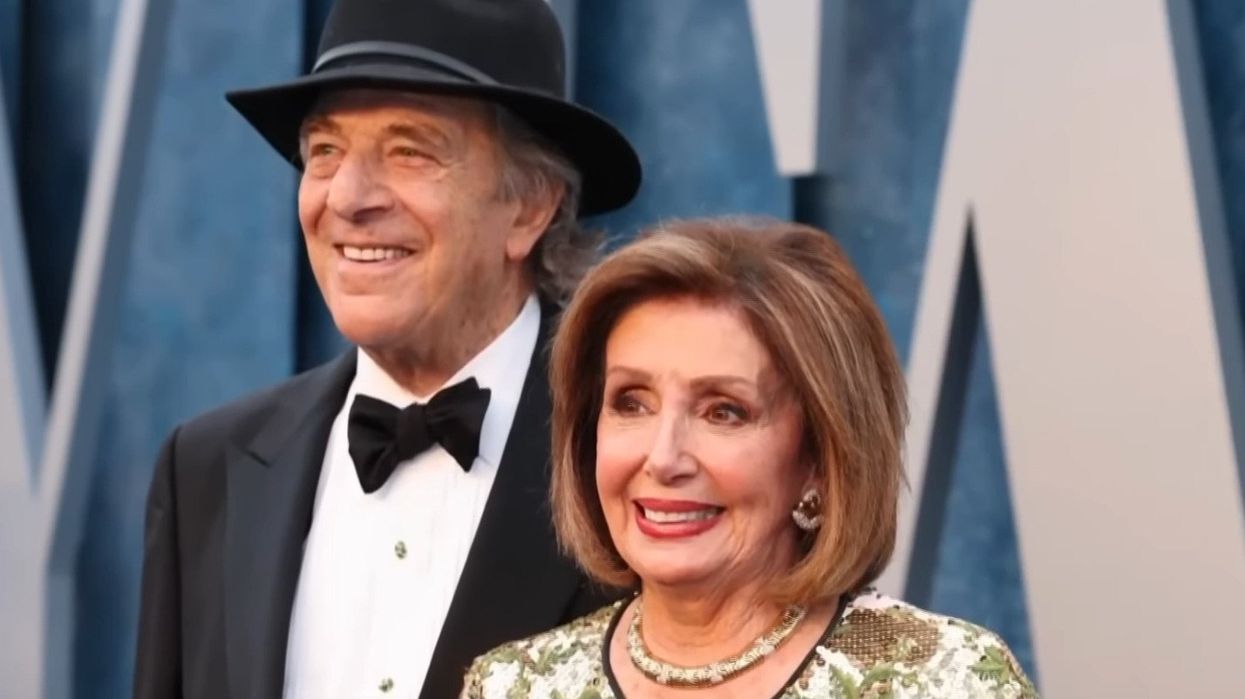 The man who bludgeoned Paul Pelosi, husband of former Speaker of the House Nancy Pelosi, with a hammer last October admitted at trial that he consumed right-wing media produced by Tim Pool, Glenn Beck, anti-LGBTQ activist James Lindsay, and others.
On Thursday, David DePape was found guilty of "one count of assault on the immediate family member of a federal official, and a second count of attempted kidnapping of a federal official," according to CNN. He had pleaded not guilty to both charges, and now could face decades in prison.
DePape took the stand on Tuesday to explain his transformation from liberal to conspiracy theory-minded conservative who embraced beliefs similar to the QAnon movement. According to SFist, "It was Lindsay who convinced him that there are academics out there trying to poisong the nation's children and indoctrinate them into some sex cult." The QAnon conspiracy theory holds that a cabal of elite liberals are engaged in a global conspiracy to kidnap, traffick, and sexually abuse children.
Lindsay has a long record of promoting anti-LGBTQ bigotry. He has repeatedly violated the terms of service of X (formerly Twitter) by spreading the "groomer" myth, which alleges that gay, trans, and nonbinary adults are a threat to children. In one instance, Proud Boys showed up at a public library hosting a drag event three days after Lindsay posted "ok groomer" in response to the library's promotional tweet. Last December, he claimed that drag queens were attempting to provoke conservatives to murder them in order to spark a national uprising similar to the summer of 2020. "You guys remember George Floyd?" Lindsay said, "The goal is to have Drag Floyd."
DePape was also apparently a fan of prominent YouTube streamer Tim Pool, making him at least the second person who has recently committed political violence to have specifically mentioned Pool's show. In May, a man in Allen, Texas, shot and killed eight people and injured seven in an outlet mall. As the Southern Poverty Law Center reported, the shooter had posted several screenshots of Pool's show, Timcast IRL, to X. Pool has a history of platforming racists, antisemites, and other extremists, and apparently found it funny that the Texas shooter liked his show. Like Lindsay, Pool has baselessly accused people of being pedophiles.
Just months before DePape attacked Pelosi, he might also have heard The Blaze's Glenn Beck fantasize about the good old days when "a kid could go in and buy a handgun" and a "box of bullets" without so much as a note from their parents. What changed, according to Beck, was the emergence of "wokeness," critical race theory, and "bathrooms that anybody can use." Beck's attack on "wokeness" and CRT are clear examples of anti-Black racism, and his panic about bathrooms is explicitly anti-trans.
Although there's no evidence to suggest DePape watched Fox News, the network has consistently exploited his actions to push conspiracy theories and insinuate that the police or the Pelosis were involved in a cover-up. Just days after DePape attacked Paul Pelosi, Fox & Friends Weekend co-host Pete Hegseth declared that it didn't "add up" and that "something doesn't make sense" about the event. Fox News host Jesse Watters went further, spreading the baseless claim that there was a third person involved in the attack. "If we've learned anything about the Pelosis, you just got to keep asking questions."
Former Fox News star Tucker Carlson added more fuel to the fire, repeating the theory about a third person being involved and suggesting that DePape and Pelosi were friends, or potentially secret lovers — a false claim embraced by many in right-wing media. After referencing a retracted claim that DePape had been found "in his underwear," Carlson said, "You can't blame people watching all of this at home for thinking that maybe there's something weird going on here."
The following morning, Fox's so-called "news side" was spreading misinformation as well. "There are a number of unanswered questions regarding the case, like who opened the door for police, and why did Paul Pelosi allegedly describe DePape at one point in a conversation with authorities as 'a friend'?" Fox correspondent Kevin Corke asked during a segment on Fox & Friends.
Even after authorities released body cam footage, Watters continued to push conspiracy theories. "We still don't know who opened the door. Was it Paul? Was it the cops?" he asked, "Did they not play that part of the footage in the courtroom? Why is this, such a simple detail, so hard to pin down?"
Now, with DePape at trial and the facts beyond dispute, Watters is using the attack to demonize immigrants and fearmonger about social disorder. "Just a reminder: this DePape maniac shouldn't have been in the country," Watters said. "He was an illegal alien from Canada using San Francisco as a sanctuary, where he descended into a mentally ill, drug-addicted, bizarre alternative lifestyle — living in a bus and fantasizing about fairies."
DePape has apologized for his attack on Paul Pelosi. Don't expect the same from the right-wing media stars whose content DePape consumed, and who have opportunistically taken advantage of his violence.
Reprinted with permission from Media Matters.