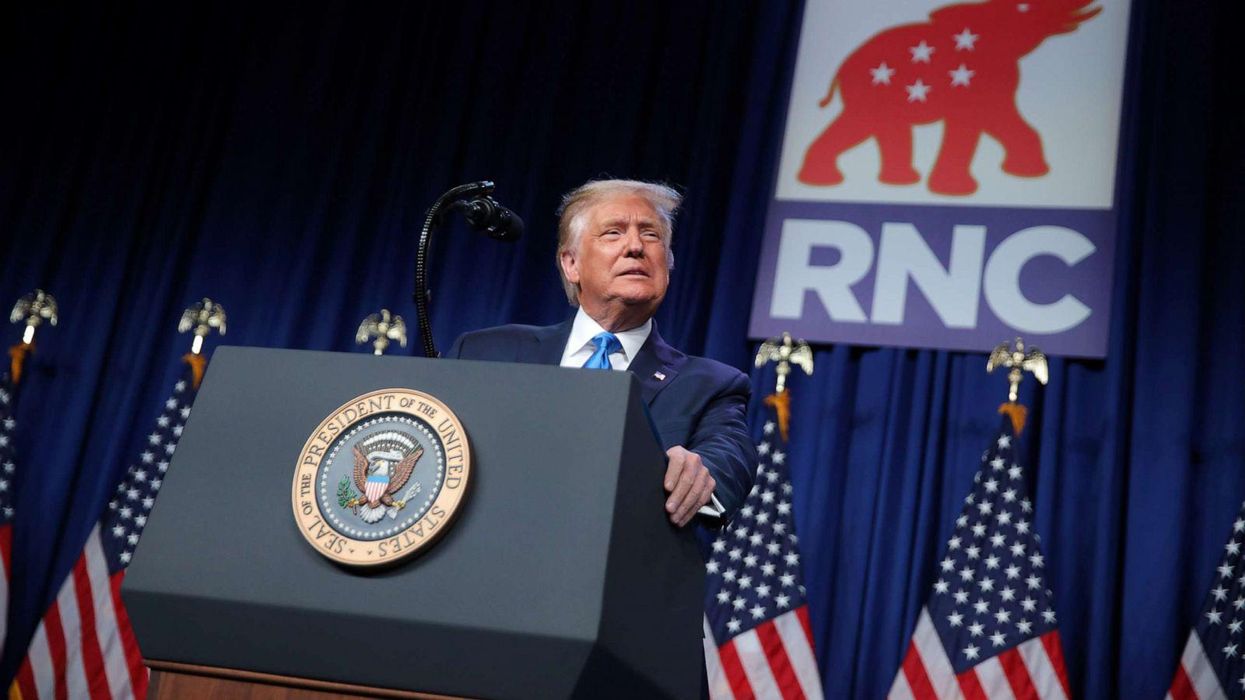 Senate Republicans have finally located their problem, and it's the Republican National Committee. After the RNC last week endorsed the January 6 insurrection as "legitimate political discourse," many congressional Republicans are pretending like the national Republican Party bears no relationship to them.
"I'm not a member of the RNC," Rep. Michael McCaul of Texas said Sunday when asked whether GOP Reps. Liz Cheney of Wyoming and Adam Kinzinger of Illinois deserved to be censured by the RNC for participating in the January 6 probe. Within the text of that censure resolution, the RNC endorsed the violent January 6 assault that resulted in death and destruction as "legitimate political discourse."
"It could not have been a more inappropriate message," said Sen. Mitt Romney of Utah, the uncle of RNC chair Ronna McDaniel. Romney said he had texted with McDaniel after passage of the resolution and described her to CNN as a "wonderful person and doing her very best." But as for the resolution, Romney added, "Anything that my party does that comes across as being stupid is not going to help us."
Stupid is apt—but let's not limit the moniker to McDaniel and the national party alone. Republicans, eyeing an election cycle that should absolutely favor them based on historical trends, had the chance to bury Donald Trump last year during his second impeachment trial and leave much of his political baggage in the rearview mirror. Instead, they breathed new life into him, and now they're pretending like the RNC is solely responsible for his drag on the party.
The RNC censure resolution came at the end of a week that was kicked off by Trump dangling pardons for Jan. 6 convicts during a Texas rally the weekend before. Trump then called on Congress to investigate his former vice president, Mike Pence, for failing to unilaterally "overturn" a free and fair 2020 election.
But the RNC's endorsement of the January 6 violence was just the latest in a years-long parade of Republican efforts to appease and coddle Trump. He has continually demanded absolute fealty from Republicans every step of the way, and they have acquiesced time and time again. With its censure resolution, the RNC was once again mollifying Trump by pursuing his political vendetta against Reps. Cheney and Kinzinger, both of whom voted to impeach him for inciting the January 6 attack.
Rep. Tom Rice of South Carolina, also one of the 10 House Republicans who voted to impeach Trump, told CNN the House GOP caucus avoided the topic of the censure altogether in its conference meeting Tuesday, suggesting the whole episode was just too cringy to touch.
"It was pretty damn embarrassing," Rice said.
But Senate Republicans are especially prickly on the matter, particularly those who had a chance to impeach Trump for inciting the attack on the U.S. government and explicitly declined to take it.
"It's just not a constructive move, when you're trying to win elections and take on Democrats, to take on Republicans," said Sen. John Thune of South Dakota, as if no one could have imagined Trump would inspire internecine mayhem when he voted to let him off the hook for January 6.
Asked whether McDaniel should step aside, Thune pretended the RNC had nothing whatsoever to do with congressional Republicans. "Oh, I don't know. Ultimately, it will be up to the RNC," he said of McDaniel's fate.
Sen. Lindsey Graham of South Carolina rolled out the same talking point Senate Republicans have been parroting every time Trump pulls them into some new controversy—2022 is all about the future for Republicans, folks.
"I think all of us up here want to talk about forward and not backward," Graham said. "We want to talk about why we should be in charge of the House and the Senate, and when you're not talking about that, that takes you in the wrong direction."
And by talking about why Republicans should be in charge, Graham means deliberately not releasing a 2022 agenda so voters will have exactly no idea what Republicans plan to do if they retake control of the upper chamber.
The frustration among most Republicans was palpable.
"I think the RNC should be focused on electing Republicans," said Sen. Roy Blunt of Missouri.
Even House Republicans, led by Trump hack Kevin McCarthy, sought to distance themselves from the RNC's unforced error.
Asked about the RNC resolution, House Minority Whip Steve Scalise told CNN, "My focus has been on what we need to do to take back the House."
The House GOP campaign chief, Rep. Tom Emmer of Minnesota, added, "We're focused on winning the majority next fall."
It wasn't exactly a full-throated stand for American democracy, but hey, Republicans want control of Congress so they can end this scurrilous investigation into the worst homegrown attack on the Capitol in U.S. history.
"We ought to capture the January 6 committee and convert it to our purposes: pursuing the extent to which federal involvement might have animated violence," Rep. Matt Gaetz of Florida, floating a totally unsubstantiated right-wing conspiracy theory.
To be fair, some Republicans did join the RNC in defending the insurrectionists.
"There's no doubt that there were tens of thousands of people engaged in peaceful free speech that the press and Democrats try to demonize falsely," said Sen. Ted Cruz, who voted against certification.
Sen. Josh Hawley of Missouri, who also voted to throw out the election, called the January 6 panel "illegitimate," presumably while pumping his fist.
"They're not following their own rules. And I think, frankly, it's, it harkens back to the House Committee on un-American affairs," said Hawley, engaging the "un-American" topic on which Republicans have become bonafide experts.
Sen. Ron Johnson of Wisconsin, firmly ensconced in his bubble, couldn't dig out of his conspiracy rabbit hole long enough to take note of the RNC aligning itself with January 6 terrorists.
"I did not pay any attention to that," said Johnson, who's up for reelection this year.
But Johnson was upstaged by House GOP Minority Leader Kevin McCarthy, who coughed up an entirely fictional explanation of the RNC's resolution.
"What they were talking about is the six RNC members who Jan 6th has subpoenaed, who weren't even here, who were in Florida that day," McCarthy said—something that was never even mentioned in the censure resolution.
Reprinted with permission from Daily Kos