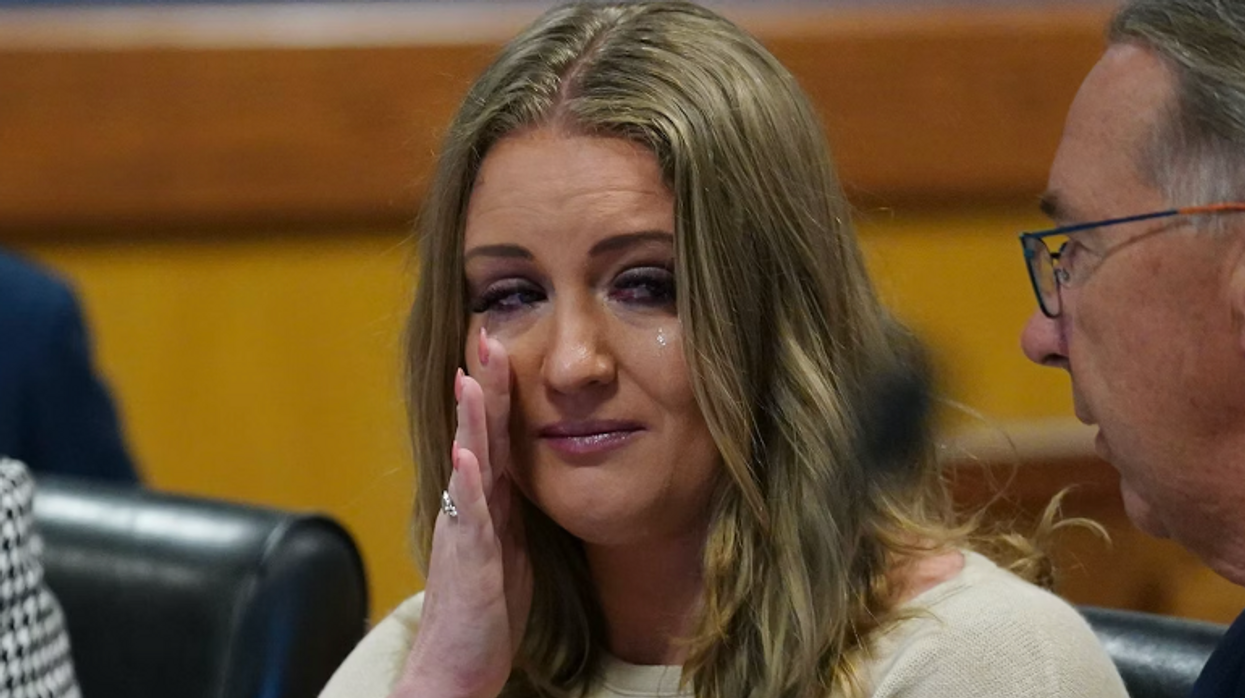 Jenna Ellis, the lawyer who in 2020 described herself as part of Donald Trump's "elite strike force team," has reached a plea deal with Fulton County District Attorney Fani Willis in Georgia and will plead guilty to a felony she committed when she worked to help Trump overturn the election results in Georgia. She was charged with soliciting a public officer to violate his oath to the people of Georgia. She pleaded guilty to a single felony count of aiding and abetting false writings and statements.
Ellis is the third Trump lawyer to plead guilty to committing crimes in the racketeering case against Trump and 18 other co-defendants. The other lawyers are Sidney Powell, who pleaded guilty last Thursday, and Kenneth Chesebro, who entered a plea of guilty the following day, on the morning his trial was set to begin. Another co-defendant, Scott Hall, pleaded guilty to five counts of conspiracy to interfere in the performance of official election duties in the Coffee County theft of election data.
In her guilty plea, Ellis agreed to complete three to five years of probation, to pay a $5,000 fine, to do100 hours of community service, and to write a letter of apology to the people of the state of Georgia. Ellis tearfully read her letter of apology aloud to the judge this morning, beginning by introducing herself "as an attorney who is also a Christian, I take my responsibilities as a lawyer very seriously, and I endeavor to be a person of sound moral and ethical character in all of my dealings."
Except when it came to helping her hero Donald Trump steal the election of 2020 , apparently.
Previously, like Powell and Chesebro before her, Ellis recorded on video a lengthy "proffer," giving prosecutors details of the facts she will be able to testify to when she is called to give evidence against her co-defendants, including Trump.
Prosecutors read aloud the indictment against Ellis, including portions that detailed how she wrote memos for Trump about how Vice President Pence could go about overturning the election results on January 6, 2021, when he presided over the certification of electoral ballots in the Congress. The indictment also outlined how she had traveled with fellow Trump lawyer Rudy Giuliani to the battleground states of Pennsylvania, Arizona, Michigan, and Georgia, where she gave false information about the election to state lawmakers, urging them to use their powers to overturn the election results in their states in favor of Trump. Ellis has already been sanctioned by a Colorado judge for the false statements she made about the election, and in court today, she admitted to making more false statements on behalf of Trump.
She claimed she made the statements "in a reckless state of mind," and in her apology stated that she had "relied on lawyers with many more years of experience than I to provide me with true and reliable information." She went on to say that she had failed to do "due diligence" and check her facts. In other words, as a "Christian" lawyer, Jenna Ellis blamed her failures on other lawyers, said she had been "misled" by them, and said she no longer believed the lies she told about Trump being the winner of the 2020 election. "If I knew then what I know now, I would have declined to represent Donald Trump in these post-election challenges," Ellis said in her apology letter.
One lawyer who would seem to have "misled" Ellis is Rudy Giuliani. Another would seem to be John Eastman, and yet another may be Jeffrey Clark. None of these men will probably be sleeping very comfortably tonight, thinking of the testimony she is set to give against them, not to mention Donald Trump, the client on whose behalf she, Powell, and Chesebro told all their lies.
Donald Trump's friends, lawyers, campaign workers, and go-fers are discovering, one after another, that their loyalty to the former president ends at the jailhouse door.
Lucian K. Truscott IV, a graduate of West Point, has had a 50-year career as a journalist, novelist, and screenwriter. He has covered Watergate, the Stonewall riots, and wars in Lebanon, Iraq, and Afghanistan. He is also the author of five bestselling novels. You can subscribe to his daily columns at luciantruscott.substack.com and follow him on Twitter @LucianKTruscott and on Facebook at Lucian K. Truscott IV.
Please consider subscribing to Lucian Truscott Newsletter, from which this is reprinted with permission.