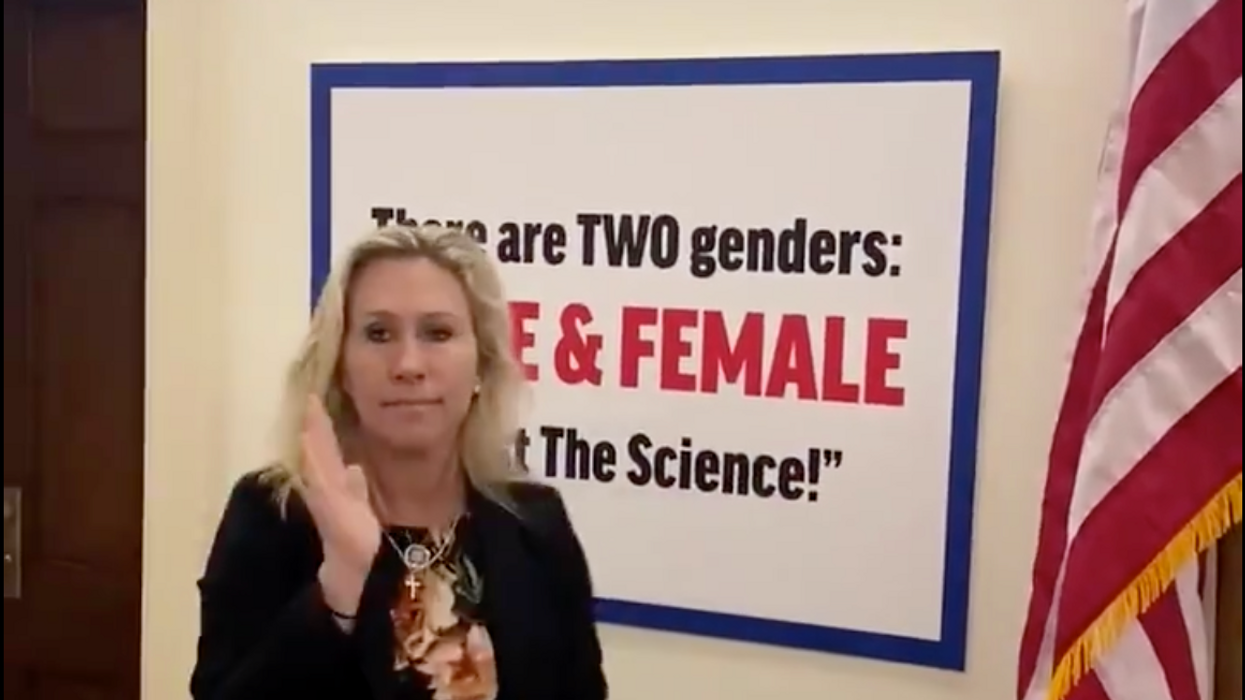 Rep. Marjorie Taylor Greene (R-Ga) has amped up transphobic attacks in multiple Twitter attacks, culminating in the Qanon congresswoman hanging a sign mocking a transgender pride flag Rep. Marie Newman (D-IL) put across from her office.
"Our neighbor, (Rep. Greene), tried to block the Equality Act because she believes prohibiting discrimination against trans Americans is "'disgusting, immoral, and evil,'" Rep. Newman tweeted. "Thought we'd put up our Transgender flag so she can look at it every time she opens her door."
Then, Rep. Greene retaliated with a similar Twitter post mocking Rep. Newman's original, boasting about displaying a transphobic sign that read, "There are two genders: Male & female. Trust the science!"
Twitter users rushed to defend Rep. Newman, who mothers a transgender girl, and blast Rep. Greene for her blatant, ignorant transphobia.
"Sickening, pathetic, unimaginably cruel," tweeted a fellow Illinois Congressperson Rep. Sean Casten, responding directly to Rep. Greene's tweet. "This hate is exactly why the #EqualityAct is necessary and what we must protect (Rep. Marie Newman)'s daughter and all our LGBTQ+ loved ones against."
Adding to the cruelty, Facebook took down Rep. Newman's post of her setting the transgender pride flag outside of Rep. Greene's office for "hate speech," while leaving up the QAnon congresswoman's.
"Facebook took down our video of me putting up the Transgender flag outside my office and labeled it as 'hate speech,'" Rep. Newman tweeted. "Meanwhile, they're still allowing Marjorie Taylor Greene's transphobic video to be posted. Supporting transgender Americans is NOT hate speech."
Rep. Greene's latest deplorable actions come as she has repeatedly attacked LGBTQ+ rights this week when discussing The Equality Act, which will be voted on Thursday by the House.
"The so called #EqualityAct is evil," she tweeted, while also making false assertions that the bill "destroys women's rights, religious rights, and rights of the unborn."
Then Rep. Greene made multiple transphobic statements, including: "(God) created us male and female." Adding that, "Men who dress and think they are women will have rights over all real girls and women."
Her disgusting, transphobic statements were just the beginning of her attacks on the bill, as she also introduced a hand full of amendments to the bill. One asked that the "entire text" of The Equality Act be removed and replaced with Protection of Women and Girls in Sports Act-- an anti-transgender attack that would strip basic human rights from trans women and girls.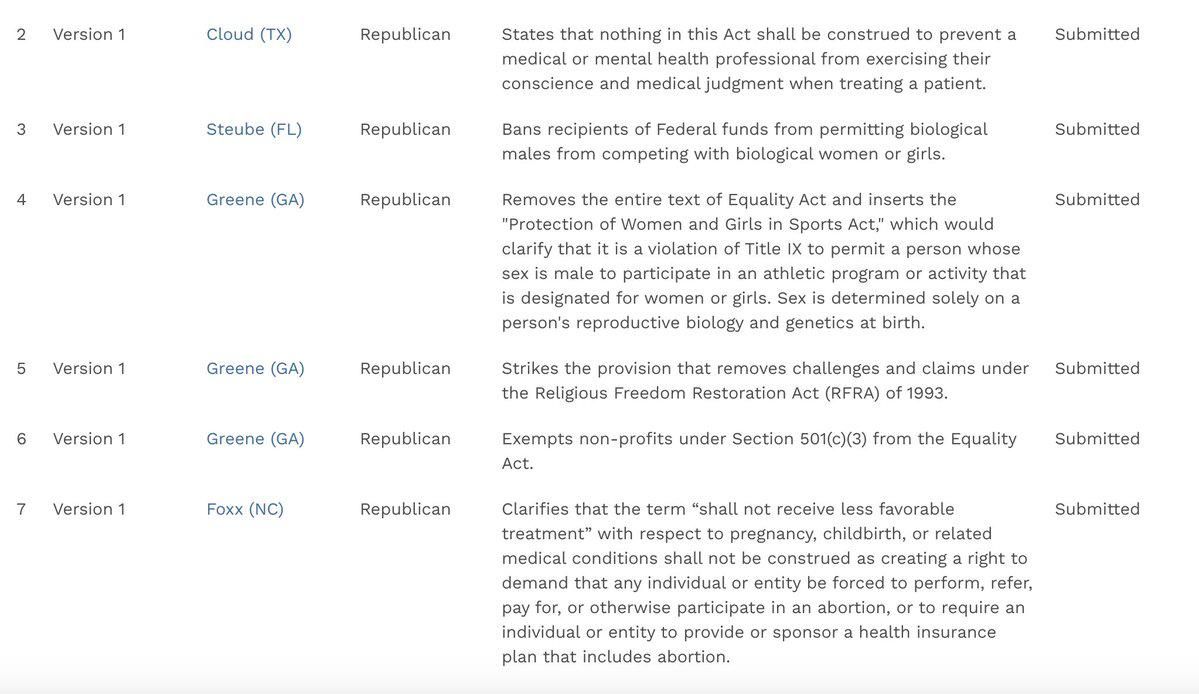 Chris Johnson on Twittertwitter.com
All of the claims made by Rep. Greene-- including saying The Equality Act "has nothing to do with stopping discrimination against the LGBT community"-- are entirely false and rooted in nothing but hatred, homophobia and transphobia.
The Equality passed the House in 2019 but never made it to a vote in the Republican Senate controlled by Sen. Mitch McConnell (R-KY). The bill is a top priority for President Joe Biden and is likely to pass the House again, but will be a "slog" in the Senate again, according to Rep. David Cicilline (D-RI)-- who reintroduced it last week.
Rep. Cicilline went on the SiriusXM radio show JulieMason Mornings saying, "(The Equality Act has) bipartisan support by the American people" and "the only place that seems to be controversial is within the Republican caucus."