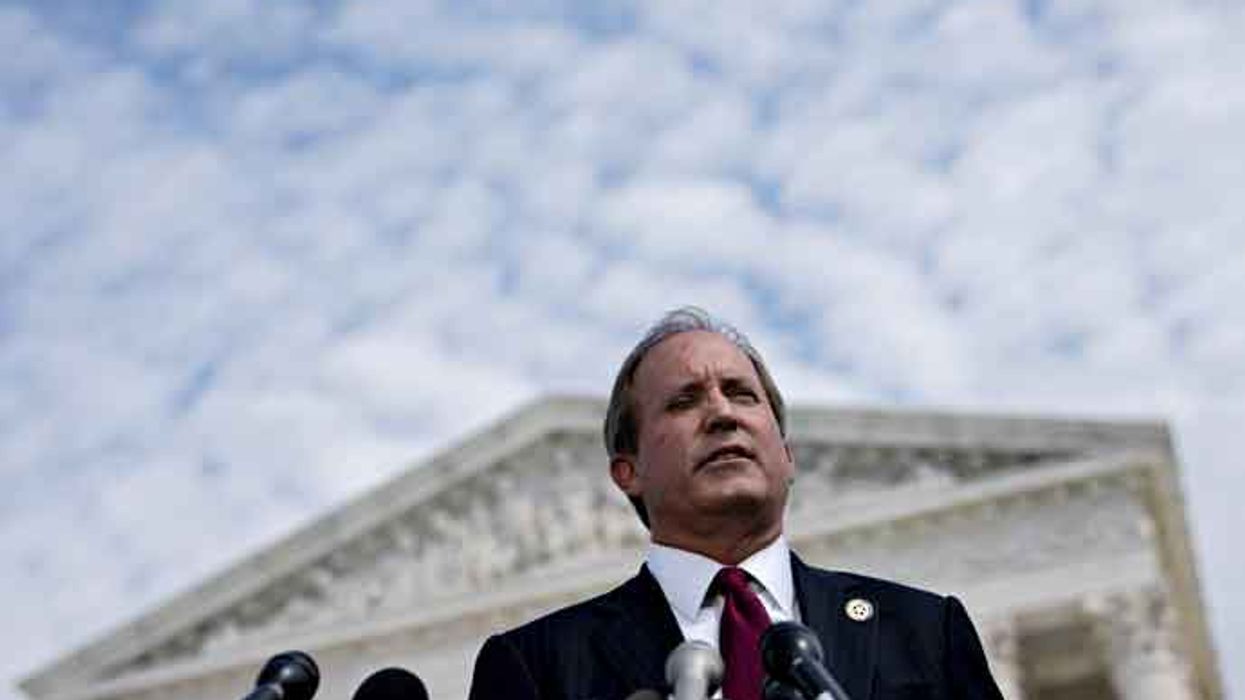 In the GOP-led crusade to promote groundless allegations of fraud in the 2020 election, an effort that has largely scrutinized voters,Texas attorney general Ken Paxton — election denier and afterthought to the rally that preceded January 6 — has been working an angle more extreme than his counterparts.
The top law enforcement official -- who once sneaked out of his home and fled on a truck driven by his wife to escape a subpoena -- has bared his animus against a pillar of American democracy: election workers.
An investigation by ProPublica, published Wednesday, found that Paxton, a Trump super-fan who played a key role in the ex-president's failed 2020 coup, opened at least 390 cases into alleged electoral misconduct between January 2020 and September 2022 but secured only five election-related convictions.
Ten of those probes delved into baseless allegations of election crimes and misconduct by poll workers, many of whom, the Washington Post reported, are considering leaving their posts after a relentless barrage of right-wing harassment that has hindered their jobs and jeopardized their safety.
One of Paxton's election-worker probes, ProPublica noted, was spurred by a Bexar County GOP chair, Cynthia Brehm, who refused to certify the results of her re-election bid after a landslide defeat to her challenge, citing an "active investigation" by Paxton's office into the "severely compromised" results.
The publication also noted that allegations of obstructing a poll watcher were all Paxton's office needed to open most of its election-worker probes. The shocking animosity over unfounded claims led to mass resignations by unhappy poll workers, who unwittingly undertook fending off conspiracy theories and tolerating threats of physical harm as part of the job.
Texas is one of few states that impose criminal penalties for obstructing a poll watcher, partisan volunteers monitoring election sites, including impeding the individual from moving about the polling place as they please — an "offense" that's punishable by up to one year behind bars.
Paxton's election-worker probe also encompassed Democratic-leaning cities, investigating election officials, some of whom are elderly citizens, with as little as complaints made by voters to go on.
According to ProPublica, Paxton had attempted to prosecute local election official Dana DeBeauvoir, who spent nearly 40 years in service of her county government., for asking a maskless poll watcher who was photographing ballots and recording polling place proceedings, both of which violated the rules, to leave the polling site.
The watcher flew into a rage, "screaming and banging on the window of the room where votes were being counted" before the police arrived and removed her from the scene, DeBeauvoir told ProPublica.
To DeBeauvoir's shock, a county official informed her weeks later that Paxton's office had opened a criminal investigation into her conduct. "I never felt more alone," DeBeauvoir told the paper. "Everything that was being said was completely untrue. And I could not defend myself."
In an unusual move, however, Paxton brought DeBeauvoir's case before a grand jury in a conservative county, not in Travis County, where the incident took place, the publication noted. However, that grand jury declined to indict DeBeauvoir.
A representative for Paxton did not respond to requests for comment on the case.
Although Paxton's last-ditch attempt to grasp unilateral authority to pursue criminal charges for perceived election fraud was rejected by Texas' highest criminal court last month, the conservative provocateur has spared no effort and expense to push the Big Lie.
Despite the slew of legal issues Paxton is facing, including an FBI investigation into his alleged aiding of one of his top donors, voters will have their say in Paxton's tenure before the courts do, as the controversial conservative is up for reelection in the midterms.
Paxton's office didn't respond to ProPublica's request for comments, but his crusade against confidence in the country's elections is still ongoing.