Texas Officials Encouraged By Obama, Perry Border Talk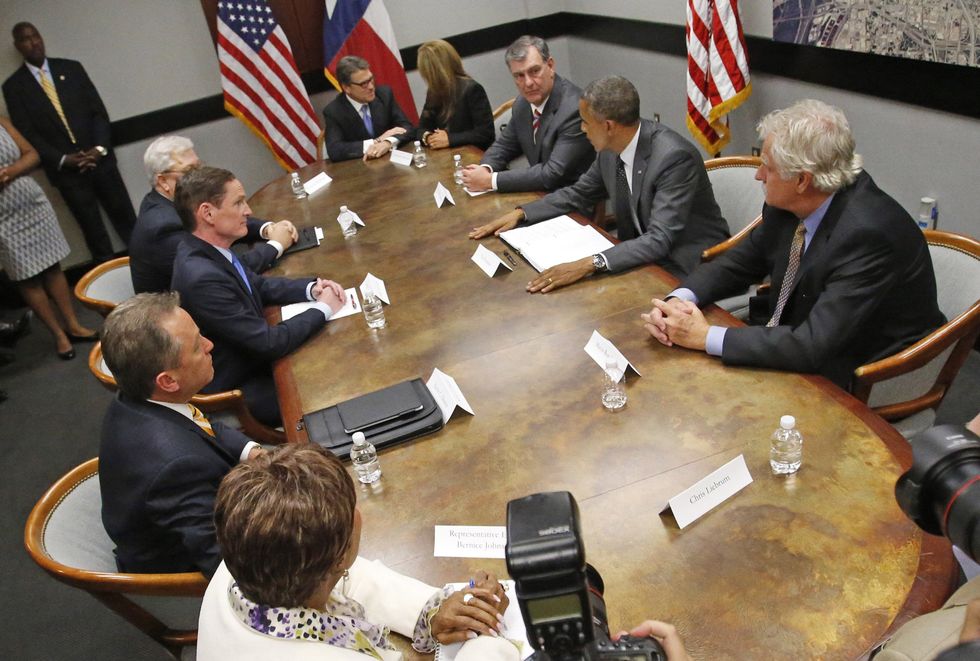 By Molly Hennessy-Fiske, Tribune Washington Bureau
DALLAS — Although President Barack Obama and Texas Gov. Rick Perry have sparred over the Southwest border crisis, officials who joined them for a Dallas meeting described fruitful discussions as well as occasionally tense exchanges.
Dallas County Commissioner Elba Garcia called Wednesday's hourlong round-table meeting of local officials and religious leaders "cordial." Obama did a lot of listening, she said.
"The president allowed all of us to speak, and everybody expressed their concerns," she said.
Garcia, a Democrat and the first Latina to serve on the Dallas commissioner's court, has fielded complaints from constituents upset by the border crisis, but also from those concerned for the Central American children pouring over the border.
About 57,000 unaccompanied youths have been apprehended at the Southwest border since Oct. 1, according to federal figures — 5,000 of them since June 15. Most crossed into the Rio Grande Valley after traveling north from Guatemala, Honduras, and El Salvador. The administration has appealed to Central American leaders to stem the movement north, and warned that most of the immigrants would be deported.
However, a 2008 law requires that children from all nations but Mexico and Canada get a hearing in immigration court, and those courts are backlogged.
At the Wednesday meeting, Dallas County Judge Clay Jenkins said he and other local officials had a "frank discussion" about the crisis with the president and the governor.
Perry renewed his call to deploy National Guard troops to shore up border security. Obama promised to study the governor's proposal, but noted that he had spent more on border security than his predecessors.
"For Texas politics, it was not a particularly tense meeting," Jenkins said. "We were able to lay the partisan positions aside."
Jenkins, a Democrat, has drawn criticism for spearheading a plan to open three new shelters in the Dallas area this month to house 2,000 of the children.
"Whatever your politics are, these are children," he said. "They deserve our help."
Jenkins was inspired to act after touring the overcrowded holding area at the McAllen Border Patrol station last week. Built to house 250, the facility he called "basically a drunk tank" now routinely houses twice that many immigrants.
"Anyone who sees what we saw on the border is going to want to help these children," Jenkins said.
Perry, who toured the McAllen station last month, did not oppose Jenkins' plan Wednesday, Jenkins said, considering it a matter of local rule.
Jenkins said he had already been contacted about the shelter plan by a fellow county leader — from conservative Maricopa County, Ariz.
"This need not be a partisan issue," Jenkins said. "We need more of that — more urban leaders reaching out to say we can't help all the children, but we can help some."
Photo: Dallas Morning News/MCT/Louis DeLuca/
Interested in national news? Sign up for our daily email newsletter!