The 5 Worst Things Jeb Bush Has Said Recently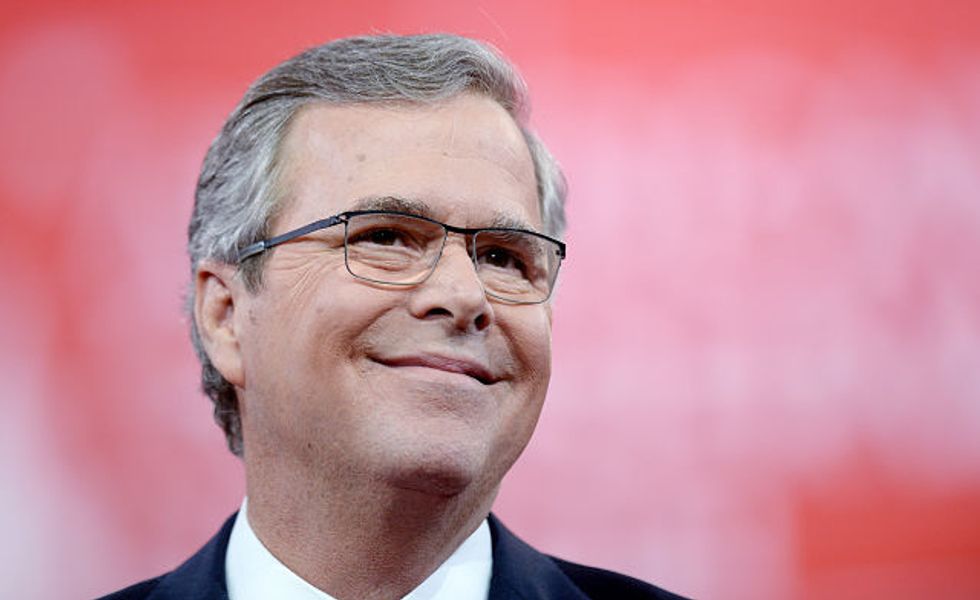 When your last name is Bush and Karl Rove says you've had a bad week, you've really had a bad week, the way Lehman Brothers — the investment firm whose bankruptcy helped signal the beginning of the financial crisis — had a bad 2008.
The best news Jeb Bush has gotten recently is that he's no longer the weakest GOP frontrunner in generations. He's not even the frontrunner anymore. A recent national PPP poll of the 2016 GOP candidates found that he still leads among Republicans who think President Obama isn't invading Texas, which is enough to put him in fifth place overall.
Bush's recent problems all come from the same place — his mouth.
S.V. Dáte, who covered Florida politics during Bush's governorship, wrote that Jeb is used to being "the smartest guy in the room," who distrusts the press and sees them as an obstacle. That makes him a pretty typical politician, but the exact opposite of his brother, who saw journalists as pawns who could be charmed into furthering his agenda—and turned out to be right.
But as the third member of a political dynasty to seek the presidency as the nation is still suffering from his brother's many terrible decisions, Jeb's situation is not typical in any other way. That's why what he says matters so much. Here are five horrible flubs that reveal why Jeb Bush could be the GOP's worst possible candidate in 2016—and will probably win the nomination anyway.
1. George W. Bush is his close advisor.
This is the one that actually started Jeb's downward spiral, and revealed his willingness to bend with the wind and then overcorrect as his greatest weakness.
Billionaire Sheldon Adelson — the man who kept Newt Gingrich in the 2012 primary for far too long advancing the Bain attacks that became the backbone of Democrats' critique of Romney — didn't like that Bush family consigliere James Baker spoke to the progressive Israel lobby known as J Street, and didn't have bad things to say about the proposed nuclear accord with Iran.
Jeb decided that he'd better fire up his secret weapon early. Asked by a group of donors in New York whose counsel he seeks on Israel, he said, "If you want to know who I listen to for advice, it's [George W. Bush]."
This didn't just show he was out of touch with current GOP/Israel relations, which has seen Prime Minister Benjamin Netanyahu invested with a doctrine of infallibility that didn't exist during W.'s administration. It suddenly opened up a new range of opportunities for reporters to ask about other W. policies.
2. He would have invaded Iraq.
Strangely, when Jeb Bush said he wouldn't be afraid to launch a "Third Bush War" in Iraq, it didn't make big news. But that was when he was in his "I'm my own Bush" period. Flailing with a super donor and with a GOP base that prefers real W. to diet Jeb, the candidate decided he should fully embrace his brother's legacy and say that he would invade Iraq again, knowing what we know now.
"I would have, and so would have Hillary Clinton, and so would have almost everybody that was confronted with the intelligence they got," he said.
This argument ends up meaning the same thing as saying — as Jeb eventually did — that knowing what we know now, he wouldn't have invaded. He — and all the other Republican candidates except Rand Paul — pretend that the decision was made in good faith based on bad intelligence, which is the opposite of the truth.
This continuing fallacy is necessary as conservatives pursue an even greater disaster in Iran. We can hope that Democrats (including Hillary Clinton) who voted for the war and have made similar arguments will use this as an opportunity to attack a continuing Republican posture of aggressive war.
But the idea that we'd get another Bush, who learned nothing from the war, created such an uproar that a Bush advisor volunteered that Bush had misheard the question. More likely, he "misunderestimated" the fallout.
3. He can't say what he'd have done on Iraq because it would disrespect the troops.
Seeking to recover his footing, Jeb's next step was to hide behind the troops. He told a voter in Nevada he didn't want to disrespect the military's service by pointing out what is obvious about Iraq.
Here Jeb reveals the sort of craven logic that defined the Iraq-era GOP in its swift-boat attacks on war heroes Max Cleland and John Kerry. Implicitly, he is labeling all Iraq War critics as anti-troops. And apparently he became anti-troops the next day, when he finally said the war shouldn't have been waged at all.
4. Obamacare isn't necessary because Apple Watch.
In the midst of all these flubs, Jeb reminded us that like every Republican, he wants to get rid of Obamacare. And that we can replace it with a "consumer-driven" system built on innovations like the Apple Watch.
Here's Jeb Bush at his "wonky and provocative best," promising to undo reforms that have saved thousands of lives and trillions of dollars, with less angst than when he originally said he'd replay the Iraq War, which cost thousands of lives and trillions of dollars.
With comments like this, Jeb is appealing to the Republicans who are putting him in fifth place. The party's few moderates enjoy pretending to have similar policy agendas to the Democrats — health care for all Americans — but just different ways of achieving those goals. Meanwhile, the party's base — which revels in denying Medicaid coverage, crushing unions, and keeping the minimum wage low so they can complain about too many people on food stamps — don't like this stuff any more than Democrats who recognize the agony that repealing Obamacare would provide. Because of his goofy rhetoric, the base doesn't realize that Jeb shares all the same retrograde goals. He just frames them in a way that makes it easier to blur differences with Democrats for general elections, which is how the Bushes have always won.
Unfortunately his last name, which is the only reason his candidacy is still alive, will make that very difficult this time around.
5. I'm running for president.
"I'm running for president in 2016, and the focus is going to be about how we, if I run, how do you create high sustained economic growth?" Jeb Bush said Wednesday. It was a slip that he caught. But this is actually the worst thing Jeb said last week, and almost no one is talking about why.
The difference between Jeb Bush and Lehman Brothers, which hired Jeb as "a secret weapon" in 2007, is that he is getting a bailout.
It's easy to get caught up in how badly his campaign has been going this week and miss the genius of Jeb's campaign launch. He found a loophole in our campaign finance laws, which is a net made up of loopholes, that allowed him to edge Mitt Romney out of the race without officially declaring as a candidate. In close consultation with his SuperPAC, which faces no fundraising limits, he's now in the process of raising $100 million that will make him a formidable candidate no matter how bad he is at campaigning. It's a dangerous game that he'll get away with, as long as he doesn't officially announce his candidacy.
"If you think billionaires already have too much power over our politics, you haven't seen anything yet," wrote Taegan Goddard in The Week.
The only question now is whether Jeb Bush too big to fail.
Photo: Former Governor Jeb Bush speaks at the 42nd annual Conservative Political Action Conference (CPAC) Feb. 27, 2015 in National Harbor, Md. Conservative activists attended the annual political conference to discuss their agenda. (Olivier Douliery/Abaca Press/TNS)