The Daily Show: 'The Fellowship of Funny'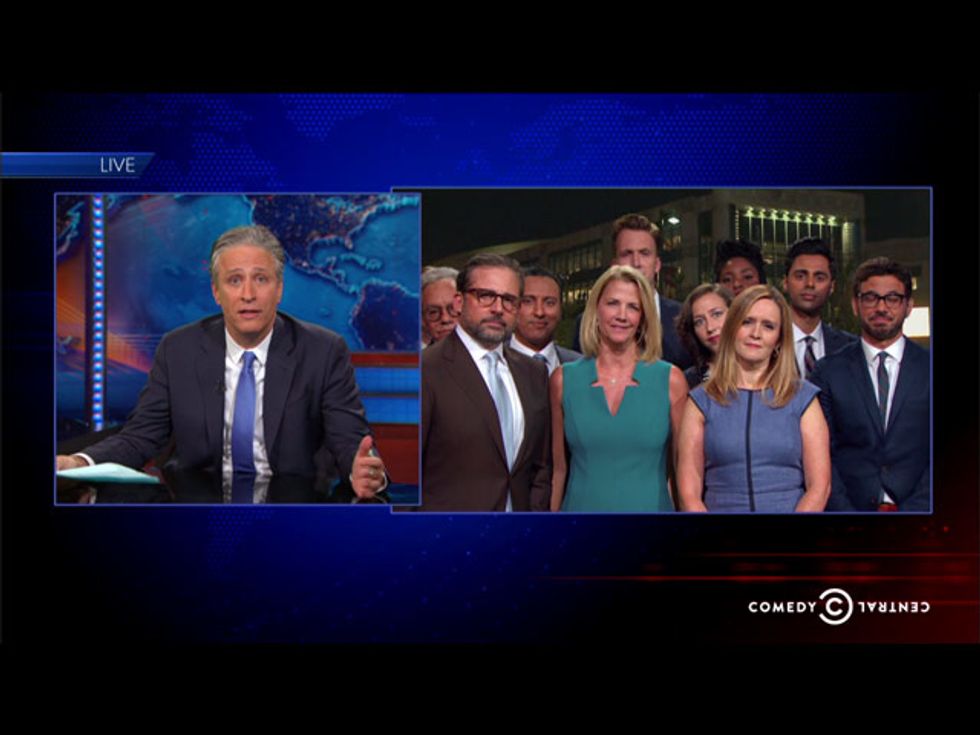 It was an all-star sendoff for Jon Stewart, featuring just about everyone who's ever been on The Daily Show.
The farewell even included a parade of people whom Jon has made fun of over the years: Chris Christie, Charlie Rangel, Chuck Schumer, Hillary Clinton, Joe Scarborough and Mika Brzezinski, Rahm Emanuel, Wolf Blitzer, Lindsey Graham, John Kerry, Bill O'Reilly, John McCain — and oh yeah, the CEO of Arby's.
The crowd went wild when Stephen Colbert showed up.
Jon gave a shoutout to the production crew, with a flashback video segment done in the style of Goodfellas.
Jon also gave a more serious message: "The best defense against bullshit is vigilance — so if you smell something, say something."
And finally, Jon thanked everyone — and declared that his long conversation with the audience isn't truly ending. "Nothing ends — it's just a continuation, it's a pause in the conversation. So rather than saying 'goodbye' or 'good night,' I'm just gonna say, 'I'm gonna go get a drink.' And I'm sure I'll see you guys before I leave."