The Odd Politics Of Fighting Wildfires
@FromaHarrop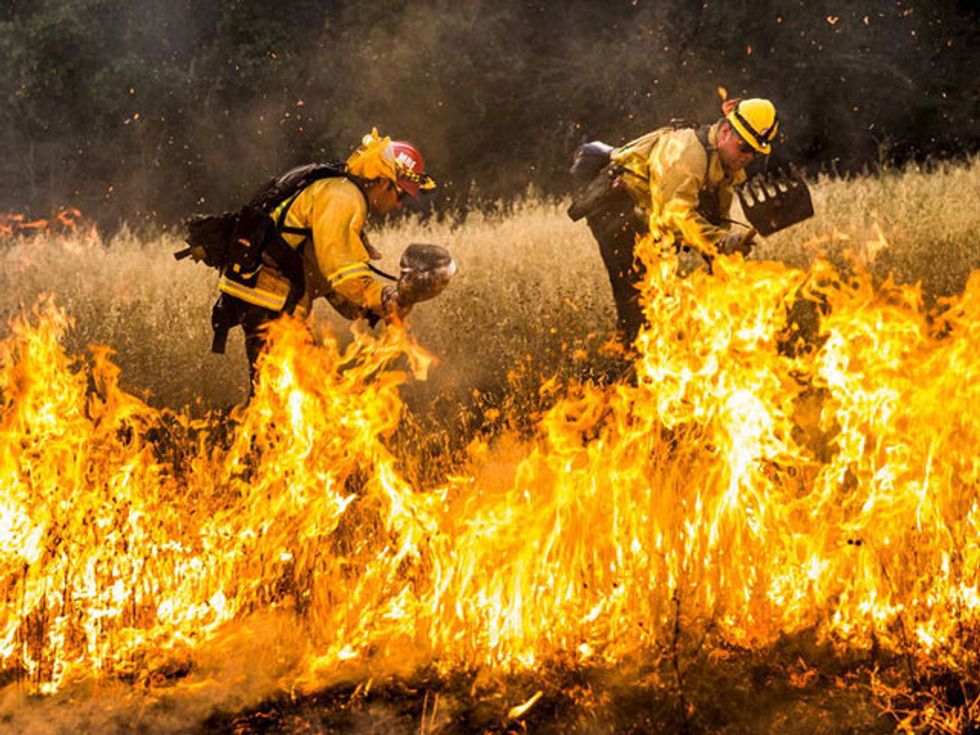 As wildfires plague much of the American West, one must ask, Who is paying to put them out? The answer is largely the American taxpayer. By that, we mean the taxpayers of Maryland, Tennessee and New Jersey — as well as those in California, Oregon, Washington and Montana, the states where the worst fires now rage.
Given this reality, we can also wonder at Western conservatives' passion for transferring federal lands to the states or into private hands. Do they really want the cost of protecting this considerable acreage placed on the shoulders of their locals?
Some Western politicians, such as Montana Gov. Steve Bullock, have thought this through. His state owns 5.2 million acres — the size of Massachusetts — and a good part of it is in flames.
"I could spend $40 million on fires alone," Bullock, a Democrat, recently told me.
Western conservatives should know that other conservatives are asking why U.S. taxpayers are spending so darn much money putting out their fires. And they are joined by environmentalists, who argue that the federal government's enthusiasm for suppressing wildfires encourages bad land planning and unnecessary tree removal.
About two-thirds of the cost of fighting wildfires comes out of the federal coffers, and the U.S. Forest Service accounts for the lion's share. Its fire suppression activities include both firefighting and fire prevention. For the first time this year, the Forest Service will devote over half its budget to wildfire suppression. By 2025, large wildfires could consume two-thirds of that budget, according to a new report by the Department of Agriculture, which oversees the agency.
A warming climate is adding size and intensity to the blazes — making them more expensive to put out. And there's a stiff human price: Three Forest Service firefighters died recently trying to contain a wildfire in north-central Washington.
But much of the Forest Service's fattening bill for suppressing wildfires comes from the rising costs of protecting isolated residences in the so-called wildland-urban interface. About 10 million houses were built in fire-prone rural areas over the last decade — on top of 6 million in the 1990s.
The building continues apace because of a growing desire for homes with nice views and proximity to national forests. And because the feds deal with the worst fires, the state and local governments approving this development have little incentive to curb it.
The federal government also has a variety of post-fire rehab programs. One helps rebuild the homes, 75 percent of which are uninsured or underinsured.
"Many say the insurance companies should be creating a moral hazard when they insure homes on the interface," Sue Stewart, a scientist at the University of Wisconsin-Madison who was formerly with the Forest Service, told me. Homeowners in fire-prone zones should bear the costs of the added risk, not unlike those on flood plains.
Local governments can also assume more responsibility, writes Randal O'Toole at the conservative Cato Institute. One suggestion is "turning firefighting over to the states and paying the states the same fixed annual amounts per acre that private forest land owners pay."
O'Toole speaks approvingly of the federal Bureau of Land Management's policy of letting enormous wildfires in Alaska burn largely unattended.
In Berkeley, California, meanwhile, angry environmentalists are protesting a plan to lessen fire hazards by leveling over 400,000 eucalyptus and other trees in the East Bay hills. The Federal Emergency Management Agency has offered to write the check.
In assessing federal fire suppression programs, one must distinguish between mindless budget cutting and thoughtless spending. As we can see, not always an easy call.
Follow Froma Harrop on Twitter @FromaHarrop. She can be reached at fharrop@gmail.com. To find out more about Froma Harrop and read features by other Creators writers and cartoonists, visit the Creators Web page at www.creators.com.
Photo: Firefighters work to dig a fire line on the Rocky Fire in Lake County, California July 30, 2015. REUTERS/Max Whittaker