This Week In Crazy: And God Created The Electric Chair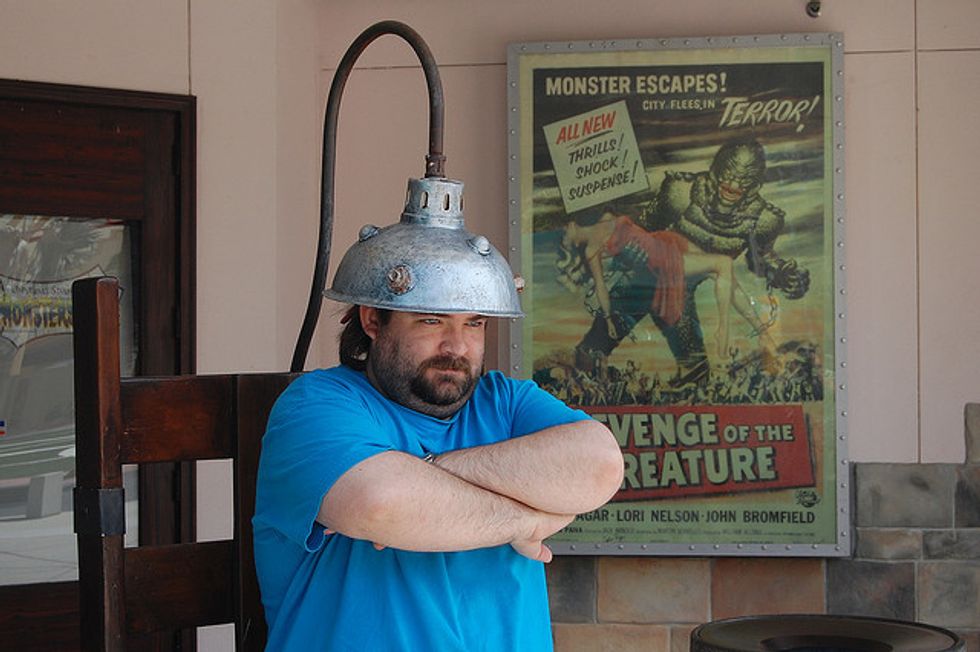 Capital punishment is God's gift to America! Hillary Clinton is such a sure thing, people already want to impeach her! Welcome to "This Week In Crazy," The National Memo's weekly update on the wildest attacks, conspiracy theories, and other loony behavior from the increasingly unhinged right wing. Starting with number five:
5. Ted Cruz
I'm perhaps expanding the purview of "This Week In Crazy" a bit here. Senator Ted Cruz (R-TX) didn't exactly announce that he saw Jesus in his freedom toast, nor did he run through an Iowa cornfield screaming that Sharia law was in the water.
But he is displaying a curious doublethink — contradicting himself, saying one thing, then saying the opposite. This might cause alarm among medical professionals if Cruz were just another joe. But since he's a politician campaigning for the highest office in the land, it's basically par for the course.
You see, Cruz has done another FEMA flip-flop of the kind we've grown used to seeing from Texas pols. On one hand, they hate and fear the feds. On the other hand, they declare more emergencies than any other state in the union, so sometimes they need a hand.
This is how Cruz can have absolutely no qualms about voting no on a federal aid package for the victims of Superstorm Sandy in 2013, and then a few months later rally for such assistance when disaster befalls his own state in the form of a factory explosion.
So it was again on Tuesday, when Cruz went on the air to address the state's response to the flooding wreaking havoc in Central Texas. The senator said he was making sure the federal government would "fulfill its statutory obligations."
You see, it's okay to play the fiscal hawk and pretend that disaster relief is wasteful government spending. Until tragedy occurs on your home turf. Then it's the government's obligation to spend money on disaster relief — and as quickly as possible.
4. Scott Walker

Wisconsin governor Scott Walker, possible GOP presidential candidate, loves him some ultrasounds. And you should too. That's why he made them mandatory two years ago.
The conservative-backed measure required all abortion clinic doctors to have hospital admitting privileges; Walker signed it into law in 2013. And just last week a federal judge ruled that it was unconstitutional, saying any dubious benefits of the law were "substantially outweighed by the burden this requirement will have on women's health outcomes due to restricted access to abortions in Wisconsin" — restricted access being, you know, kind of the idea in the first place.
But what Walker apparently doesn't understand is the animus against another clause of the law, which requires women seeking legal abortions to have ultrasounds. The nominal reason for this requirement, as Walker explained in a radio interview, is that ultrasounds are "a lovely thing" and "just a cool thing out there." But then he went on to say:
We just knew if we signed that law, if we provided the information that more people if they saw that unborn child would make a decision to protect and keep the life of that unborn child.
So the law Walker championed was really just smokescreens within smokescreens. It wasn't about health; it was about limiting access. And it's not that ultrasounds are "lovely" or "cool" — it's that they're really effective tools for guilting women into doing what you want them to do.
Right Wing Watch has the audio:
[soundcloud url="https://api.soundcloud.com/tracks/207319871″ params="color=ff5500″ width="100%" height="166″ iframe="true" /]
ViaWonkette andRight Wing Watch
3. Pat Boone

American singer and conservative chatterbox Pat Boone is deeply concerned about America, and the Boy Scouts thereof.
Specifically, he is outraged that Boy Scouts of America president Robert Gates signaled that the organization was going to change its homophobic tune, and allow Scoutmasters who are openly gay into the fold.
What Gates describes as an evolution that will allow the organization to adapt to the "world as it is," Boone describes as the "surrender of the Scouts' founding principles to the encroaching, virulent campaign of militant homosexual activists!"
Writing in WND Commentary Tuesday, Boone warns that the allowing gay Scoutmasters will "leave Scouting permanently marred, totally changed into something the founders would be appalled by — and that will inevitably bring about the collapse and demise of Scouting itself."
Boone goes further, and rolls out the musty canard that America was "conceived in liberty, dedicated to Judeo-Christian biblical principles" (emphasis Boone's). What this means, in Boone's schema, is that "people, all people, could be free to live and serve God however they chose."
So Pat, just so I have it straight… in America, you can be free to live… just as long as you serve God, the right God… in the right way, which is your way…. Is that about right?
Boone concludes: "Our whole society, our very way of life, is on the line."
2. Special Operations Speaks
Special Operations Speaks (S.O.S.) is a political action committee with one Big Issue: the impeachment of Hillary Clinton — before she is even elected. In pursuit of this end they claim to have gathered 33,000 signatures.
You might reasonably ask how they expect to impeach Clinton, who currently holds no office. Here's their sneaky loophole: They're trying to impeach Clinton for what she did as Secretary of State — an office she left over two years ago. Their position is that if they can impeach her, she can be precluded from holding any higher office.
(There were those on the left who suggested W. could be impeached after he left office. See how far that went.)
This comes to our attention via Americans Prosperity, a conservative newsletter. (Despite the similar name, it does not appear to be affiliated with the Koch Brothers' PAC, Americans for Prosperity.) Among the morass of comments on the post enjoining people to sign the petition is a plea to censure "HITLARY CLINTON" and to make sure "that See You Next Tuesday will NEVER be President" (say it out loud).
The power of the ballot is wanting, apparently.
1. Bryan Fischer
Capital punishment is not only good, it's good for you, it's God given, and — by God — it's American!
This is the position of Bryan Fischer, spokesman for the anti-gay lobbying group American Family Association. (Despite the fact that AFA is already recognized as a hate group, it's worth noting that they recently had to repudiate some of Fischer's claims, which were too vile even for them.)
Fischer was responding to the news that Nebraska recently repealed capital punishment, the first Republican-controlled state to do so since North Dakota in 1973. The concurrence of the "pro-life" party also supporting the death penalty is one of those perennial American ironies.
Turns out opposing the death penalty is just about the worst thing a conservative can do.
Fischer writes in the AFA's blog this week that the death penalty is "God's idea, and he has delegated his authority to man to carry it out." What's more, "capital punishment had been prohibited prior to the flood." Turns out when we stop righteously executing each other, our species descends into a pit of evil and chaos that can only be washed out by a genocidal flood. "It was as if God was saying, let's try it your way as an experiment, and ban capital punishment, and see what happens."
And Fischer has an answer ready for anyone brazen enough to invoke that peskiest of commandments: "The best translation of the Hebrew verb is not 'kill' but 'murder.'" So, really, the Bible should translate the commandment as "Thou shalt not murder," in order to clarify that, in Fischer's words, "the prohibition is against the taking of innocent human life, not against the taking of all life under all circumstances."
Fischer doesn't account for the several people who have been killed by the state who, it turned out, were innocent. Which is 1 out of every 25 inmates put to death, according to a recent study. So perhaps what God really meant was: "Thou shalt not murder. But I shall give thee a 4 percent margin of error."
Fischer concludes:
Bottom line: capital punishment is biblical, it is conservative, it is necessary, and it is quintessentially American. It is a tool God has given to us for our own good, in order that we may establish a society that is orderly, peaceful and just.

Our national pledge includes "justice for all," including the loved ones of murder victims. Let's make sure they get the justice that is their due.
And let's make sure that that "all" doesn't include black defendants who are disproportionately sentenced to death, mentally disabled defendants who often can't mount a decent legal defense, or people who suffer protracted, agonizingly painful deaths due to botched executions.
Photo above: Jay Malone via Flickr