This Week In Crazy: Beware The Gaystapo Goon Squad!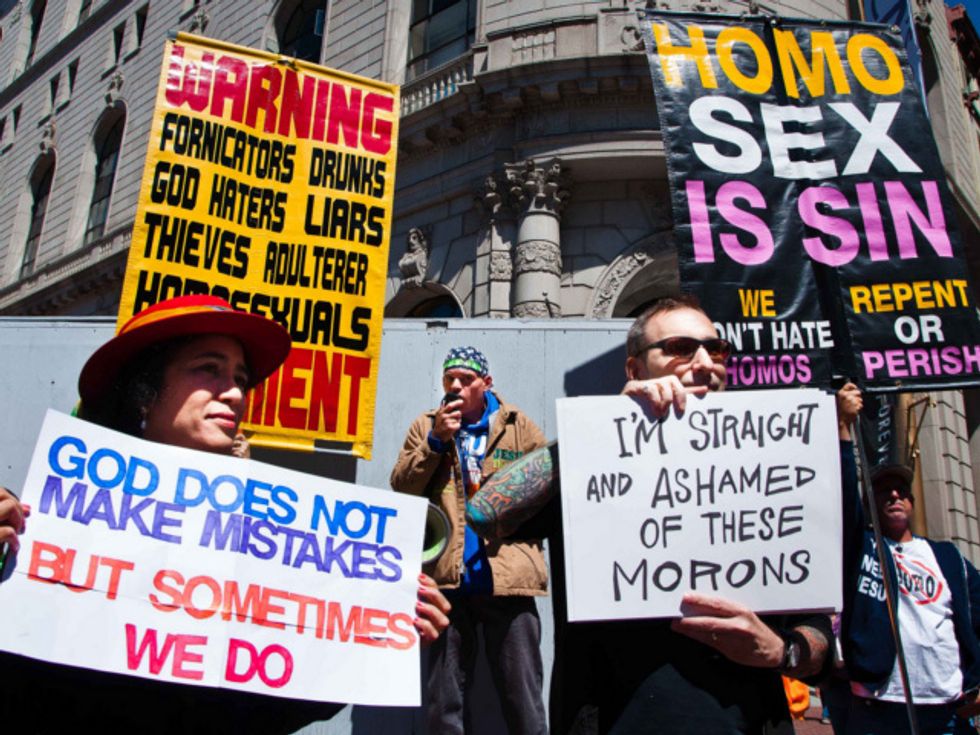 Homophobes, misogynists, bigots… what a wonderful world. Welcome to "This Week In Crazy," The National Memo's weekly update on the loony behavior of the increasingly unhinged right wing. Starting with number five:
5. Kim Davis
This is just getting ugly. The right of same-sex couples to get married in all 50 states, which was enshrined in the SCOTUS ruling in June, continues to be obstructed by a cluster of obstinate local government officials and the special interest groups that back them in court. And now — even after losing in court — a clerk in Rowan County, Kentucky named Kim Davis is doubling down on the "religious liberty" bunk and ignoring a federal judge's order to begin issuing marriage licenses.
This is the same county clerk who was the subject of a video that went viral in July, showing a gay couple attempting to get a marriage license and getting blown off by the craven bureaucrat. The ACLU subsequently brought an action against Davis, and on Wednesday a federal judge ruled in favor of the plaintiffs, ordering her to resume issuing licenses — a ruling conservative Christians say "advances the homosexual agenda."
Davis was represented by Liberty Counsel, a law firm that advocates for anti-gay, anti-abortion policies, and is considered a hate group by the Southern Poverty Law Center. They issued a statement Thursday saying: "Kim Davis did not sign up as a clerk to issue same-sex marriage licenses. Her job duty was changed by five lawyers without any constitutional authority. At a minimum, her religious convictions should be accommodated."
In his opinion, U.S. District Judge David Bunning said that Davis' Constitutional right to practice her religion was not at all under threat from same-sex couples, writing:
[Davis] may continue to attend church twice a week, participate in Bible Study and minister to female inmates at the Rowan County Jail. She is even free to believe that marriage is a union between one man and one woman, as many Americans do. However, her religious convictions cannot excuse her from performing the duties that she took an oath to perform as Rowan County Clerk.
On Thursday, however, she refused to obey the judge's order (she had previously ignored Kentucky governor Steven Beshear also). And she isn't even the only clerk in Kentucky doing this — let alone the country.
4. Ted Nugent
Speaking on Bill Keeler's radio show Wednesday, "Freedom drenched killer American music" aficionado Ted Nugent weighed in on the whole fracas that erupted when Republican presidential frontrunner Donald Trump made crass remarks about Fox News host Megyn Kelly's menstrual cycle after she grilled him during last Thursday's GOP debate.
The Nuge said he was a "big fan" of Trump since he believes in "bold, aggressive, unapologetic truth," and that he's not a fan of Kelly since she pretends to be a member of the status quo — "either that or she's just getting stupid." Bottom line, quoth Nugent: "Donald Trump is the good guy, currently Megyn Kelly ain't."
Of course his remarks about Kelly were not at all limited to her journalistic competence or politics: "Sometimes when I'm loading my magazines," he said, referring to ammunition, "I like to just look at her. And I usually sit naked on the couch dropping hot brass on my stuff."
Media Matters has a rundown of Nugent's long, sad history of misogyny. But it's okay. Even if he manages to alienate every woman on Earth, he'll always have his guns.
3. Erick Erickson and RedState

Naturally, Nugent wasn't the only misogynist troll to weigh in on the Kelly/Trump row this week. But at least Nugent is consistent. Erick Erickson, editor-in-chief of the right-wing blog RedState, is a hypocrite.
First Erickson banned Trump from the conservative candidates' summit he organized last weekend on account of the billionaire businessman's comments, saying: "No legitimate candidate suggests somehow a female asking questions is doing it because she's hormonal."
Then Erick "I'm Not One To Judge" Erickson turned around and published a featured blog post from one of his site's contributors, which claimed that Hillary Clinton lacked a "unique selling propostion [sic] beyond proving even a homely woman can sleep her way into power."
Media Matters highlighted Erickson's double standard — that some women you're allowed to target, and others you aren't — and his habit of making sexist remarks, while providing a link to the original post.
RedState's response to Media Matters highlighted the central dilemma of calling attention to trolls — at the end of the day, you're really just feeding them. (We suppose we are guilty of this too.)
Yes, as a matter of fact, we did.
2. Pat Robertson
Conservative televangelist Pat Robertson is blowing hard gusts of hate this week, calling same-sex marriage part of a "flood of evil" that threatens to overwhelm the United States.
In a recent edition of The 700 Club for the Christian Broadcasting Network, Robertson asked viewers: 
Who would've thought, 30 or 40 years ago when we began, that the Supreme Court would've said that homosexuality is a constitutional right? Who would've thought that the Supreme Court would've said marriage between homosexuals was a constitutional right? Who would've thought that the slaughter of babies, over 55 million of them, would've been declared a constitutional right by the Supreme Court?
Who would've thought after 55 years of broadcasting at CBN, Robertson would still be spewing the same closed-minded trash?
Who would've thought nearly $57 million would be donated in 2014 to CBN, the same company whose founder and host questions whether members of the LGBTQ community have the right to live openly in the United States?
Who would've thought any person who has been alive as long as Robertson — 85 years — would still not have learned that love wins?
The mad would-be prophet of the airwaves also said this week that only the draconian Biblical laws in the Book of Leviticus dealing with homosexuality apply. God-fearing, heterosexual Christians, need not worry, Robertson says. Jesus fulfilled all the laws for Christians, and apparently paid all Christians' tabs.
Just be sure to love God and love your neighbor as yourself, Robertson added.
But what if your neighbor is gay, Pat?
Since the Bible seems inconclusive, should we consult the Supreme Court?
1. Linda Harvey
Linda Harvey is the president of Mission: America, an Ohio-based conservative Christian, anti-gay, anti-trans advocacy group, which believes that "homosexuality is not normal and natural" and that America is a "gravely ill" nation that can only be saved by "the blood of Jesus Christ" Oh, and the Southern Poverty Law Center considers them a hate group.
Harvey is a former ad exec who started the group in 1995, their site says, "after years of being 'part of the problem.' Lord, forgive us."
She's also a blogger for the perennially cracked WND, where in a post published Tuesday, titled "'Equality Act': Gaystapo's Latest Attack," she rips into the "fascist attempt" of the "gay lobby" to dismantle the First Amendment to the Constitution, and lays out her case against the "Equality Act," which, according to the Human Rights Campaign, would "guarantee explicit, permanent protections for LGBT people." The horror.
Harvey's not having any of that. In nearly 1,000 words of verbal ipecac, inveighing against "Christ's enemies," the "sexual anarchy lobby," "homosexual advocates," and "gender-bending people," she describes the act as "tyranny" and a "weapon of revolution" against American Christians of conscience. "Christianity," she says "is now a target to be obliterated."
Unpacking her ignorance, she writes:
If you support religious liberty – or say you do – you cannot support the "Equality Act." It kills religious liberty. And an amendment won't fix it…

[…] "LGBT" pressure groups do not dictate Christian doctrine, first of all. Our Almighty God has already done that. And they define "discrimination" as any opinion they don't like, even if the view is based on reality.

Homosexuality is not inborn – it's not like race – and the behavior is harmful to individuals and societies. These identities and attractions do not characterize separate types of "persons" (as the Obergefell majority ruling incorrectly assumed). So they are not defensible under the 14th Amendment.

[…]  We must not let them do this. This bill should be Priority No. 1 to defeat this year, next year and as long as it takes. Everyone needs to make it clear to congressional representatives that this fascist attempt to dismantle the First Amendment, to defy parental authority and to drive Christians out of jobs simply cannot happen.
Harvey concludes by saying that the "so-called 'Equality Act' is not about equality – we already have that. It's about calling evil good, calling sin a right, and about punishing and silencing the voices of morality and faith."
It is encouraging to hear that "we already have that," Ms. Harvey. We're not exactly sure who gets to be included in your particular "we," but if you could just step down from that soapbox you think is Sinai, you might find that equality is actually a lot more elusive in this country than you think.
Photo: Glenn Halog via Flickr