At A Time Like This, Is There Anyone We Need Less Than Rudy Giuliani?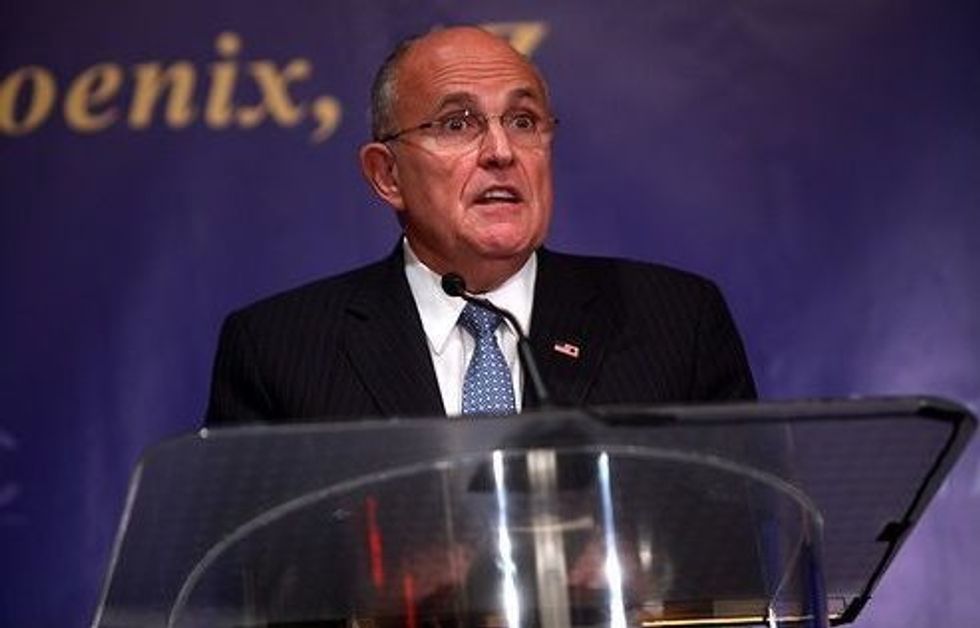 Published with permission from Alternet.
Former New York mayor Rudy Giuliani, whose tenure was marred by law enforcement killings of unarmed African-Americans, took to the national television circuit today to baselessly smear Black Lives Matter protesters as responsible for the killing of five police officers in Dallas.
The Donald Trump surrogate and hardline neoconservative told MSNBC's Brian Williams, "Police officers in this country feel they have a target on their back. They've felt that way for over a year now."
"And I think the reason there's a target on police officers' backs is because of groups like Black Lives Matter that make it seem like all police are against blacks," Giuliani continued. "They're not. They're the ones saving black lives. Black Lives Matter are not saving black lives. It's the police officers doing it."
In fact, police killings of Black people in 2015 outnumbered lynchings of African-Americans during the worst year of Jim Crow, as verified by Quartz reporter Annalisa Merelli.
Giuliani's remarks come despite the fact that there has been no proven tie between the Dallas shooting and the Black Lives Matter protesters, who gathered to condemn the back-to-back police killings of African-American men Alton Sterling and Philando Castile.
"Black activists have raised the call for an end to violence, not an escalation of it," the Black Lives Matter network said in a statement released July 8. "To assign the actions of one person to an entire movement is dangerous and irresponsible. We continue our efforts to bring about a better world for all of us."
"There are some who would use these events to stifle a movement for change and quicken the demise of a vibrant discourse on the human rights of Black Americans," the network continued. "We should reject all of this."
Giuliani's finger pointing at Black Lives Matter protesters is consistent with other recent remarks. In November 2014, he emphatically denied that there is a problem with police racism in America, instead pointing the finger at "black-on-black crime."
His statements are remarkable given his prominent role as mayor of New York from 1994 to 2001 in overseeing large-scale abuse and extrajudicial killings of the city's Black residents. Under his watch, the NYPD ramped up "stop and frisk" and "broken windows" policing that sparked large-scale protests led by communities of color.
Guilani provoked outrage when he refused to take meaningful action after 30-year-old black Haitian immigrant Abner Louima detained and tortured in a Brooklyn police precinct station in 1997. Numerous unarmed Black New Yorkers were executed by police under his watch, including: Guinean immigrant Amadou Diallo, off-duty security guard Patrick Dorismond and Bronx resident Malcolm Ferguson.
When confronted with public outrage over the police slaying of Dorismond, Giuliani responded by releasing the dead man's juvenile arrest record.
"He embodied this arrogant, pro-police, fuck communities of color, put-my-thumb-in-your-eye attitude for eight years," Josmar Trujillo, a writer and grassroots organizer with New Yorkers Against Bratton, told AlterNet. "The ghosts of Giuliani still linger. People remember these issues—the cops lying, the brutality, the blue wall of silence, the culture of corruption."
Beyond law enforcement, Giuliani made his name on slashing welfare benefits and social services, stating in 1995 that displacement of poor people was a desirable outcome. "A natural consequence of a reduction in benefits might very well be that that would happen," he said. "That would be a good thing."
Giuliani's latest statements about Black Lives Matter are not the first time he has seized on national pain to gain visibility. In the immediate aftermath of the September 11th attacks, he exploited the massacre to launch a lucrative post-mayoral career "exploiting his newfound celebrity advising corporations on how to protect against terrorism," as Bill Moyers put it in 2011.
The attacks propelled him into a prominent role as a hardline neoconservative on foreign policy. He strongly backed the 2003 invasion of Iraq, called for Obama to "bomb the hell" out of Iran in 2012, has ardently supported right-wing Israeli prime minister Benjamin Netanyahu.
In the immediate aftermath of the November 2015 Paris attacks, Giuliani urged intensified suspicionless surveillance of Muslim-American communities,proclaiming: "If you're uncomfortable with police officers at your services, you must be saying things that are dangerous."
More recently, during Trump's 2016 presidential campaign, he parroted the now-presumptive GOP nominee's false claims that Muslim residents of the United States celebrated in the aftermath of the September 11th, 2001 attacks.
Giulini's hardline positions, now directed towards Black Lives Matter amid mounting public outrage and pain at police killings of African-Americans, showcase what can be expected under a potential Trump presidency.
Sarah Lazare is a staff writer for AlterNet. A former staff writer for Common Dreams, she coedited the book About Face: Military Resisters Turn Against War. Follow her on Twitter at @sarahlazare.
Photo: Photo: Gage Skidmore via Flickr