Truly Evil? Melania's Parents Naturalized Via 'Chain Migration'
@FAWFULFAN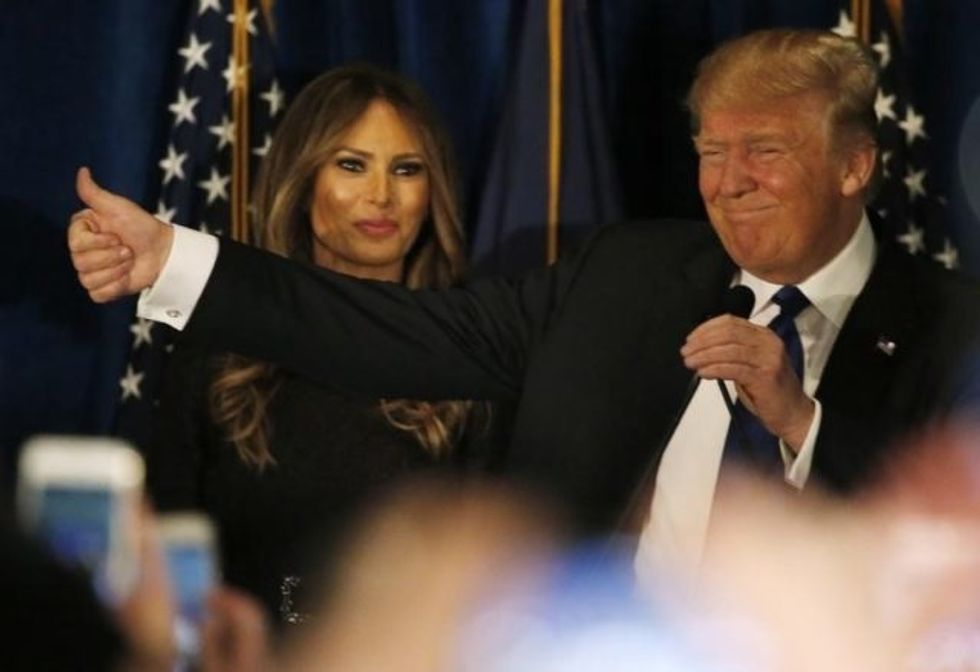 Reprinted with permission from AlterNet.
Trump has routinely made clear that he wants to crack down on not only undocumented immigration but documented immigration as well. He has particular contempt for what he called "chain migration," a derogatory term for what is better known as family reunification: the practice of allowing immigrants to sponsor members of their family to live and work in the United States.
He has proposed plans to sharply limit the practice and has proclaimed on Twitter that it is "NOT ACCEPTABLE!"
CHAIN MIGRATION must end now! Some people come in, and they bring their whole family with them, who can be truly evil. NOT ACCEPTABLE! pic.twitter.com/PQGeTTdRtX

— Donald J. Trump (@realDonaldTrump) November 1, 2017
But it is apparently perfectly acceptable for his wife.
Today, First Lady Melania Trump's parents, Viktor and Amalija Knavs, officially became naturalized U.S. citizens after having moved from their native Slovenia several years ago. According to the New York Times, their attorney Michael Wildes said he "suppose[d]" they entered the country as a result of "chain migration."
Wildes insists they have satisfied the requirements for naturalization and have not received any special treatment from their ties to the Trump family. Nonetheless, they have still come in through a process that Trump himself has claimed lets in "truly evil" people and must end "for the love of country."
Asked about the Knavses, the First Lady's communications director Stephanie Grisham said, "I'm not commenting on them."
The disconnect was not lost on many people, including Rep. Don Beyer (D-VA).
Except when it's your own family?

Busted. https://t.co/8eg5f7tq6Ohttps://t.co/HLruXjM4bv

— Rep. Don Beyer (@RepDonBeyer) August 9, 2018
The truth is that family reunification is, as with Melania's parents, a perfectly benign affair. There are already stringent regulations on the practice that generally mean families have to wait years to reunify. Furthermore, allowing immigrants to sponsor their families is an essential feature of attracting high-skilled workers to our country in the first place — workers that Trump ostensibly claims he wants the immigration system to prioritize. Our country will not be attractive to workers if we force them to choose between working here and staying with their family.
The fact that Trump cannot understand the need for people to stay with their families, when that is the experience of his own wife, is remarkable.
Matthew Chapman is a video game designer, science fiction author, and political reporter from Austin, TX. Follow him on Twitter @fawfulfan.