Angry Trump Hints Anti-Abortion Movement Is A Grift
@LauraClawson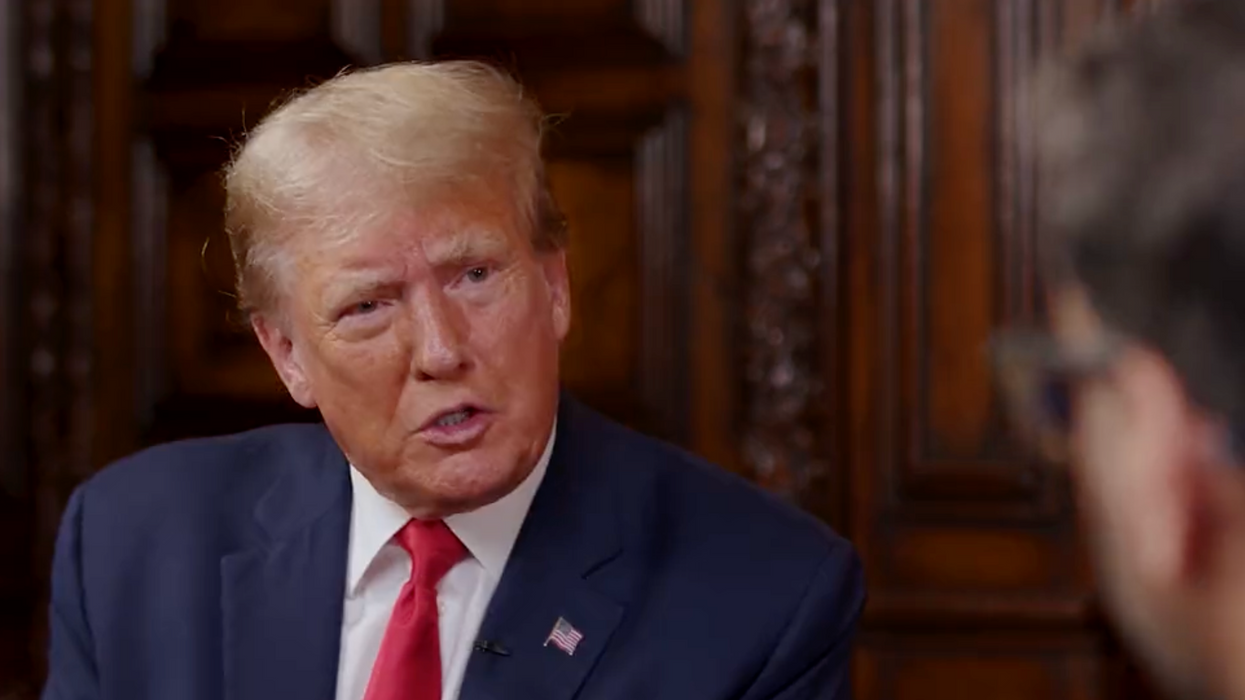 Photo by quapan licensed under CC BY 2.0
Donald Trump cannot stop blundering on his abortion stance.
To be fair, he's in a difficult position: Trump is the relatively rare Republican who understands that abortion bans are unpopular, and he wants to look ahead to a general election, in which support for a federal ban could really hurt him. But he's still competing in a Republican presidential primary, and that means he's going to need the votes of anti-abortion extremists. It's a tough balance to strike, and he's … not succeeding.
If Trump didn't have such a huge lead in the primary polls, he would have faced massive opposition from anti-abortion groups by now. And his latest gaffe might draw out more of that.
In an interview with The National Pulse, Trump appeared to question the motives of anti-abortion groups:
"This is an issue that's been going on for 52 years. I was able to end it. That gave tremendous negotiating power to the pro-life movement. Tremendous negotiating power. Because they can't do the things that they used to be able to do," Trump said, returning (as he always does) to his grievance that he's not properly appreciated for his pivotal Supreme Court appointments.
He continued: "The pro-life was fighting it, we have these groups fighting this thing for so many decades, but it's exactly 52 years as of a date in the not-too-distant future. And that's a long time. Everybody's raising money all the time—I don't know, maybe it's some kind of a business. I don't know what's going on, but everybody was amazed that I was able to do it, and I put them in a great negotiating position."
There's a fair bit of Trumpian word salad there, but "Everybody's raising money all the time—I don't know, maybe it's some kind of a business" does jump out. Being Trump, he's probably torn between admiration for anyone raising money and irritation that the money isn't going directly to him, but, as the DeSantis War Room account said, it kind of does sound like he was accusing anti-abortion groups of grifting.
That cannot help an already strained relationship between Trump and those groups. Trump has been reluctant to promise a 15-week federal abortion ban, has suggested that Republicans need to include stronger exceptions in their abortion bans, and has criticized Florida Gov. Ron DeSantis for signing a six-week abortion ban, calling it "a terrible thing and a terrible mistake."
Last spring, Trump did come under pressure from Susan B. Anthony Pro-Life America for dragging his feet on a 15-week ban—but following a private meeting, the organization's leader praised him, and the pressure eased. At this point, Trump's standing in the primary may look too strong for anti-abortion groups to be willing to criticize him too harshly, knowing that they're likely to have to rally the troops behind him in the general election. But he's certainly challenging their resolve on that one.
Reprinted with permission from Daily Kos.