Trump Adviser Says Hillary Clinton 'Should Be Put In The Firing Line And Shot For Treason'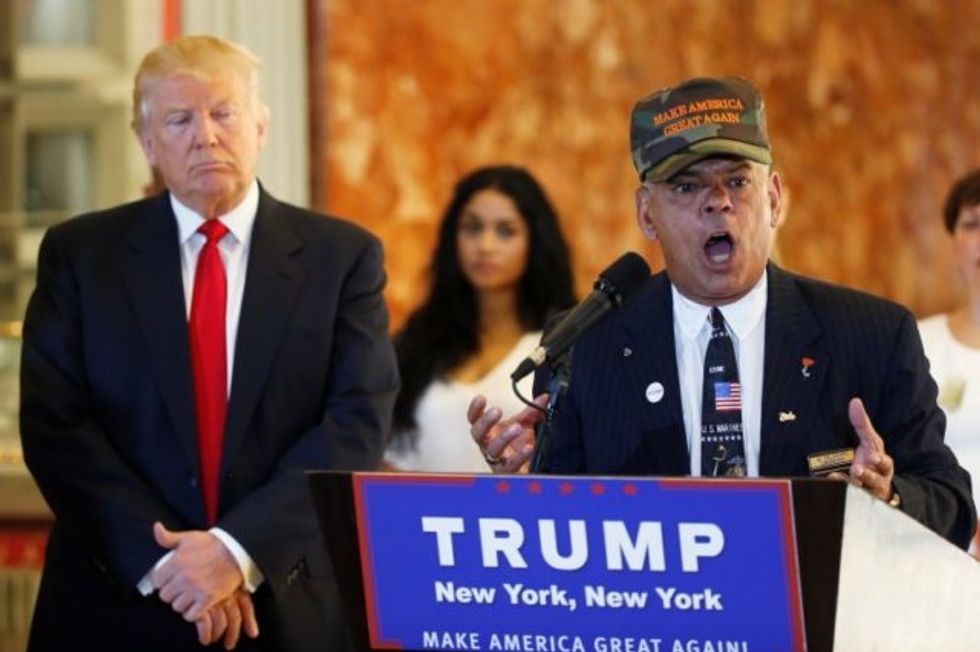 Al Baldasaro, an advisor to Donald Trump on veterans affairs, said on Tuesday that presumptive democratic nominee Hillary Clinton should be put in a firing line and shot for treason.
"She is a disgrace for the lies that she told those mothers about their children that got killed over there in Benghazi. She dropped the ball on over 400 emails requesting back up security. Something's wrong there." Baldasaro said on the Jeff Kuhner Show.
"This whole thing disgusts me, Hillary Clinton should be put in the firing line and shot for treason," he added.
Baldasaro, who is also a New Hampshire state representative and Trump delegate, also called Clinton a "piece of garbage," and "the Jane Fonda of the Vietnam," referring to the myth that Fonda turned over smuggled messages from POWs to their captors during a trip to North Vietnam.
He later expanded on his violent comments in an interview with The Daily Beast. "Anyone that commits treason should be shot," he said. "I believe Hillary Clinton committed treason. She put people in danger. When people take confidential material off a server, you're sharing information with the enemy. That's treason."
Trump has not denounced Baldasaro's statements. It is a felony to threaten "a major candidate for the office of President or Vice President." Representatives of the Secret Service told The Daily Beast that Mr. Baldasaro is under investigation for his remarks.
Statements like Baldasaro's would have been deemed inappropriate in any other election cycle, but Trump's campaign has turned the political arena into something scarily similar to that of authoritarian regimes, where verbal attacks and intimidation of political opponents are a part of everyday life.
Earlier this week, West Virginia delegate Michael Folk tweeted that Clinton should be "hung on the Mall in Washington, D.C."
Tuesday was a showcase of this new dynamic. During the second night of the Republican National Convention, which was supposed to be about "jobs," the real topic was "lock her [Clinton] up," with Chris Christie holding a mock trial of Clinton and encouraging the crowd to convict her.
This reminds us of another charge of treason, passed out by an aide to General Edwin A. Walker in a flyer on the eve of President John F. Kennedy's fateful trip to Dallas:
Photo: Veterans advocate Al Baldasaro speaks to defend Republican U.S. presidential candidate Donald Trump at Trump Tower in Manhattan, New York, U.S., May 31, 2016.  REUTERS/Lucas Jackson