Censured Trump Lawyer Ellis Admits 'Selfish' Lying About Election Fraud
@next2godwin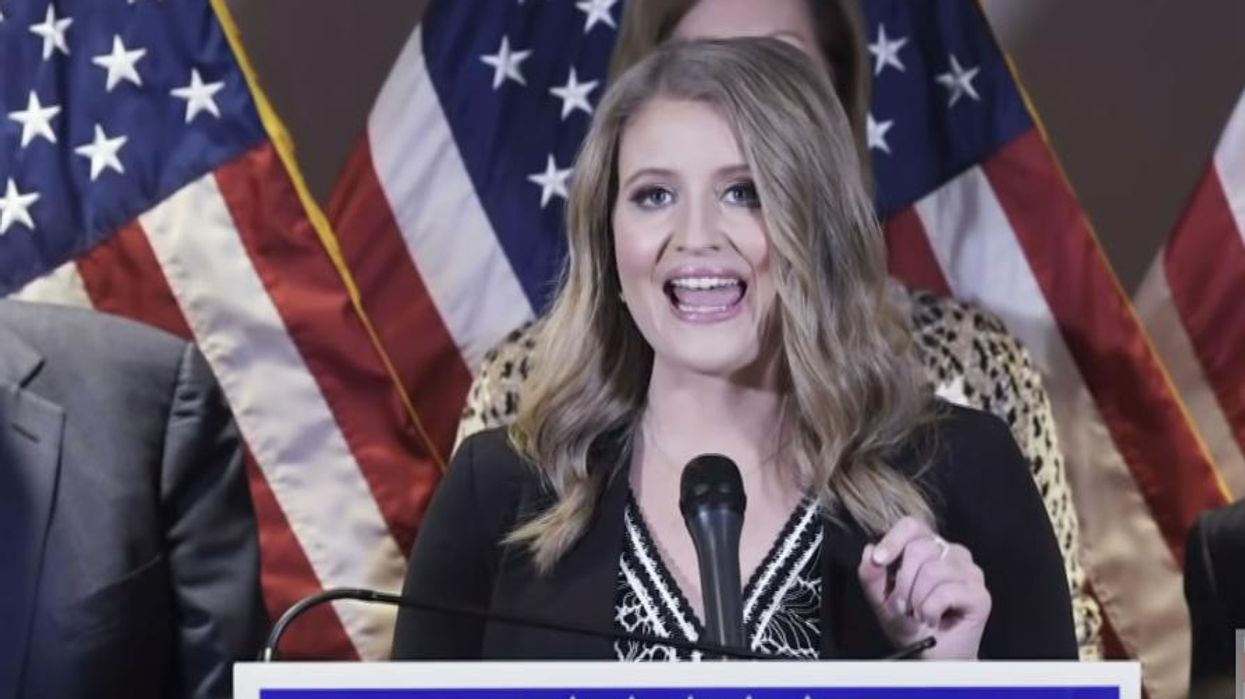 Jenna Ellis, a far-right attorney who aided former President Donald Trump's efforts to overturn the 2020 presidential election, has been censured by a Colorado judge after admitting to grossly misrepresenting facts to push the "Big Lie" that election fraud caused Trump's defeat.
Ellis conceded to making several misrepresentations in an agreement to accept a public censure after ethics complaints filed by advocacy groups 65 Project and United States Democracy Center spurred the Colorado Attorney Regulation Counsel, Jessica Yates, into investigating Ellis' conduct, as reported by USA Today and Colorado Newsline.
The censure order, signed by presiding disciplinary Judge Bryon M. Large, stated that Ellis "made ten public misrepresentations in November and December 2020 in her capacity as counsel for the then-President's reelection campaign and as personal counsel to the then-President, while also advertising her status as a lawyer."
Several of Ellis's lies were uttered on Fox News, exposed by recent legal filings in Dominion Voting Systems's $1.6 billion lawsuit for pushing Trump's meritless claims of a rigged election for months, despite its executives and anchors knowing the allegations were false.

On November 20, 2020, Ellis appeared on Fox Business's Mornings with Maria and claimed Trump's legal team had "affidavits from witnesses," "voter information," "ballots that were manipulated," and "all kinds of statistics that show that this was a coordinated effort in these states to transfer votes either from Trump to Biden, to manipulate the ballots, to count them in secret…," the censure order stated.
That same day, the censure order read, Ellis went on Newsmax's Spicer and Co and claimed the Trump team believed from the election results in Nevada, Michigan, Pennsylvania, Wisconsin, and Georgia that "the election was stolen from President Trump, and we can prove that."
A week prior, on November 13, 2020, Ellis alleged that "Hillary Clinton still has not conceded the 2016 election." However, according to the Washington Post, Clinton conceded the 2016 election privately and publicly.
"Last night, I congratulated Donald Trump and offered to work with him on behalf of our country," Clinton told a crowd of supporters on November 9, 2016. "I hope that he will be a successful president for all Americans."
On November 30, 2020, Ellis told Bartiromo on air that the 2020 presidential election was "fraudulent." The Trump team, she said, "understand that when we subtract all the illegal ballots, you can see that President Trump actually won in a landslide," per the censure order.
All parties in the case, including Ellis, agreed that "the Respondent [Ellis], through her conduct, undermined the American, public's confidence in the presidential election" and that she "had a selfish motive" and "engaged in a pattern of misconduct."
In a statement to Twitter on Thursday, Ellis branded the censure as a "politically motivated" effort orchestrated by "Democrats and Never Trumpers" that "failed… to deprive me of my bar license."
In an earlier tweet bordering on the alarmingly unhinged, Ellis denied admitting she lied and blasted the "politically-motivated Left" and "opposition-controlled media" for "intentionally twisting the truth, conflating the full RPC standard with the actual stipulation."

[Tweet]
65 Project's managing director, Michael Teter, told the New York Times on Thursday that Ellis' social media tirade could earn her further disciplinary measures.
"It appears that Ms. Ellis is continuing in her pattern of knowing misrepresentations and falsehoods," Teter told the Times. "If she continues down this path, it will not be long before she is subject to further disciplinary action."