As Trump Declares War On The Press, Media Should Prepare For Battle
@EricBoehlert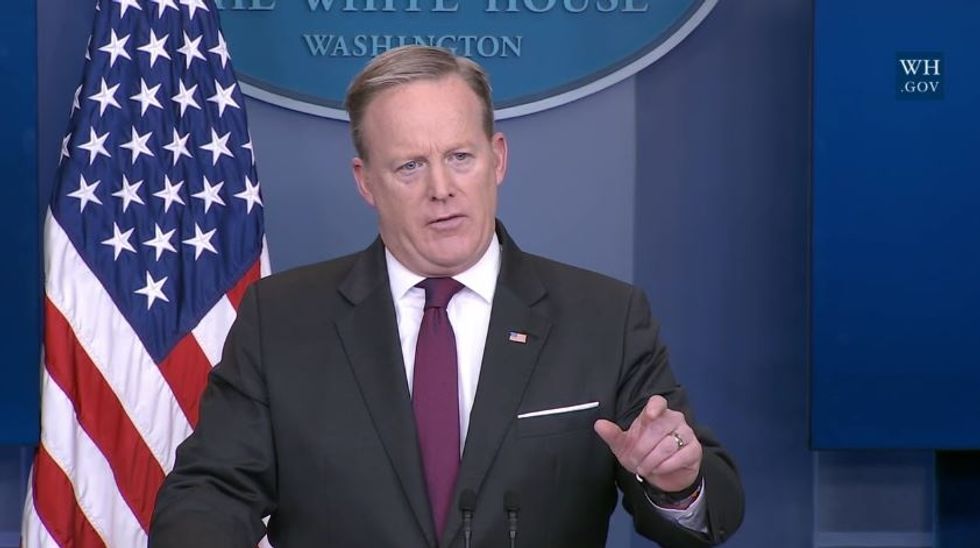 Reprinted with permission from Media Matters for America.
"We have a respect for the press when it comes to the government, … that is something that you can't ban an entity from. Conservative, liberal or otherwise, I think that's what makes a democracy a democracy, versus a dictatorship." Sean Spicer, December 16, 2016
The White House's petulant decision on Friday to ban several major news outlets from a media gaggle with press secretary Sean Spicer ignited justifiable outrage among journalists. And the outcry was noticeably bipartisan. "This is an attempt to bully the press by using access as a weapon to manipulate coverage," warned Bret Stephens, the deputy editorial page director for TheWall Street Journal.
Now that outrage needs to be institutionalized. It needs to be backed up by the power and prestige of the country's largest news organizations. In other words, it's time for institutions to take collective action and fight back.
Here's what Media Matters stressed three months ago in the wake of Trump's victory: "Moving forward, news organizations face a stark, and possibly defining choice in terms of how they respond to any radical efforts to curb the media's White House access."
Since then, the Trump team has repeatedly pushed the press around. (Banning outlets from the gaggle on Friday was just the latest and most high profile example.) And time and again, the Trump team has gotten away with it.
The kerfuffle wasn't just a random power play designed to embarrass reporters from TheNew York Times, BuzzFeed, CNN, the Los Angeles Times, Politico, the BBC, and other outlets that were shut out. It was part of a larger, well-orchestrated, and incremental campaign to cut off journalists from reporting on the government. (Note also that there have been no State Department press briefings since Trump was inaugurated.)
All of this while the president forcefully moves to demonize America's free and open press. "I called the fake news 'the enemy of the people' — and they are. They are the enemy of the people. Because they have no sources, they just make them up when there are none," Trump announced during his media-bashing address at the Conservative Political Action Conference last week. "They shouldn't be allowed to use sources unless they use somebody's name. We're going to do something about it."
Yet even in the wake of last week's stunning Trump attacks and the banning of outlets from a Spicer gaggle, we're still not seeing the level of forceful group action from news organizations that the situation requires. (They took collective action to register complaints with the Obama White House.)
To their credit, reporters from The Associated Press, Time, and USA Today decided to spontaneously boycott Friday's briefing. But while several outlets – including The Wall Street Journal, Bloomberg, and McClatchy newspapers – announced that they would not attend any future briefings where other outlets are banned, others dropped the ball. On Friday night, ABC's World News Tonight, CBS Evening News, and NBC Nightly News all covered the White House's attempt to ban certain news outlets from meeting with Spicer that day, but as Media Matters noted, none of them gave any indication that their networks would refuse to participate in future briefings that are similarly restrictive. (More than 320,000 people have signed Media Matters' petition urging members of the White House press corps to collectively stand up against Trump's media blacklisting.)
In addition to refusing to attend restricted briefings, news organizations have several ways to push back as a group. They should:
The Trump White House bars CNN from a press "gaggle," so CNN punishes the White House by airing its press briefings live most days?
With a payoff like that, why would the White House ever stop its dangerous and destructive behavior?
IMAGE: www.whitehouse.gov