'He's A Tyrant!' Ejected From DeSantis Book Event, Trumpers Fume (VIDEO)
@next2godwin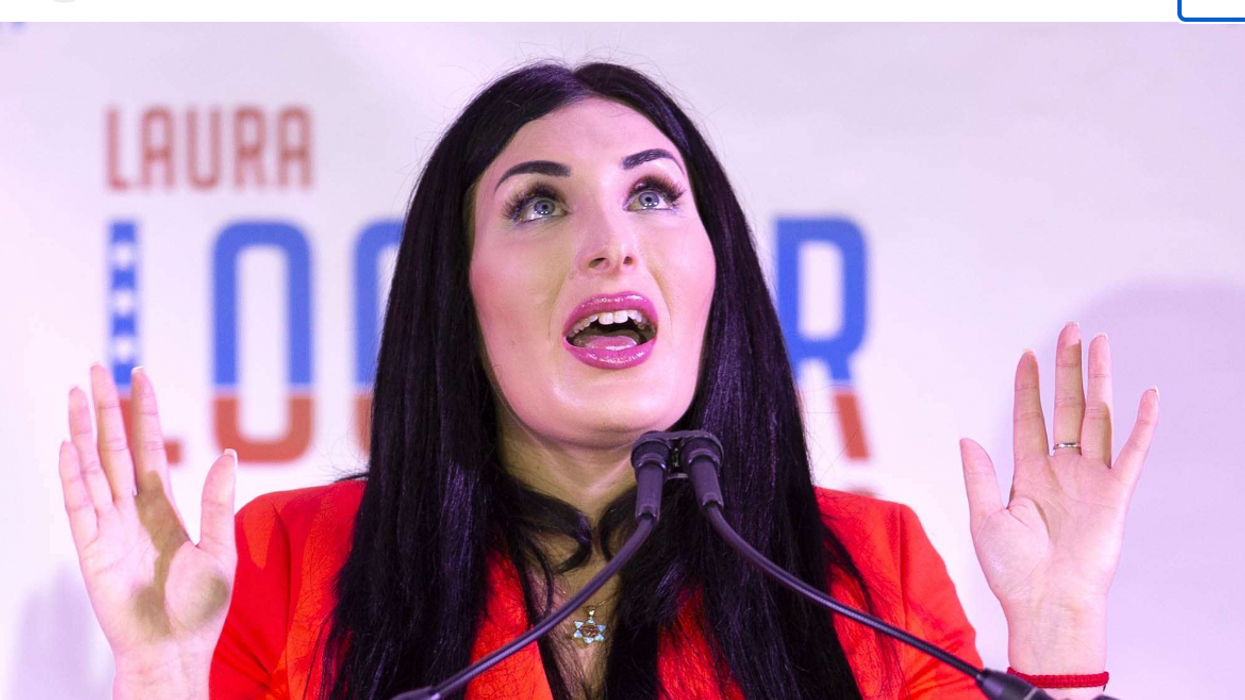 In a sign of deepening splits within the Republican base, a far-right activist has called Florida Gov. Ron DeSantis "a tyrant" for allegedly barring entry to several Trump supporters demonstrating outside the venue of his book signing event and summoning the police to disperse them.
DeSantis was signing copies of his new book, The Courage to Be Free: Florida's Blueprint for America's Revival, at a Books-a-Million store in Leesburg's Lake Square Mall on Tuesday afternoon when a group of people dressed in Trump regalia and holding Trump signs instigated an altercation with a security guard outside the venue.
In several videos of the incident posted on Twitter, far-right activist Laura Loomer, one of the pro-Trump demonstrators, alleged that the governor's team had ordered the guard, whom she falsely called a "police officer," to boot anyone sporting a "Trump shirt" or "Trump gear" from the venue.
"You're acting like the far left," the security guard, who appeared to be wearing a Trump wristband, told the protestors in a Twitter video posted by Loomer -- a conspiracy theorist, failed congressional candidate, and culture war gadfly.
"They told me to say anybody wearing Trump has to go right now ... during the signing," the security guard explained. "Free speech," a protestor yelled as the others booed. "Well, I'm sorry, guys, I have to call LPD now," the exasperated guard said and walked away.
In another video, the security guard displayed his Trump wristband as he implored the protestors to leave the premises. "Listen, I am a Trump supporter," the security guard said. "I'm doing my job, dude. You're on private property. You need to leave."
Speaking to The Daily Beast later, Loomer claimed some protestors had tickets to the signing event but were denied entry, regardless.
"Police showed up, and they told us that we were going to be cited and arrested for trespassing if we didn't leave because DeSantis didn't want us inside," Loomer said. "It shows that he's a tyrant."
She added: "Ron DeSantis is anti-free speech. It's one of the reasons why I don''t support him and why I'll never support him. And if he's a Republican nominee, I simply won't vote."
Tensions escalated online later that day when several conservative commentators — including former Newsmax host John Cardillo and Eric Daugherty, the assistant editor-in-chief of the alt-right website Florida's voice — questioned Loomer's narrative.
"Sorry but this looks staged," Cardillo said of one of Loomer's videos, per Newsweek. "Very easy to call the bookstore and confirm whether or not this was their security guard."
"Then call them John!" Loomer replied fiercely. "You are insane to accuse me of hiring a fake security guard. I would never do something like that. This is a real video and I have even more videos that I haven't posted from when he called the actual Leesburg police and they threatened to arrest us."
Daugherty said in a tweet that he had called the mall and was informed that it was the mall that made the call for the protestors to be dispersed, prompting fierce pushback from Loomer.
Leesburg Police Department told the Beast via telephone on Wednesday morning that the protestors moved when they were asked to by law enforcement.

"When we got there, the people [pro-Trump activists] were compliant and ultimately moved to the public area surrounding the mall," Joseph Iozzi, the department's captain, said.
Trump critic Brian Krassenstein said the skirmish was evidence of the widening chasm within the GOP, a divide he said Democrats were sure to exploit.
"DeSantis hasn't even announced he's running and the election isn't for another 20 months and this stuff is already happening. The GOP is going to split like a banana split and Democrats will gobble it up," Krassenstein tweeted.
Despite his unprecedented rise in the right-wing sphere, due in part to his cascade of culture war provocations, DeSantis has yet to formally announce a run for the White House in 2024, which would pit him against Trump, who announced his campaign last November.