Donald Trump Has A Nasty New Nickname Waiting For Ron DeSantis
@next2godwin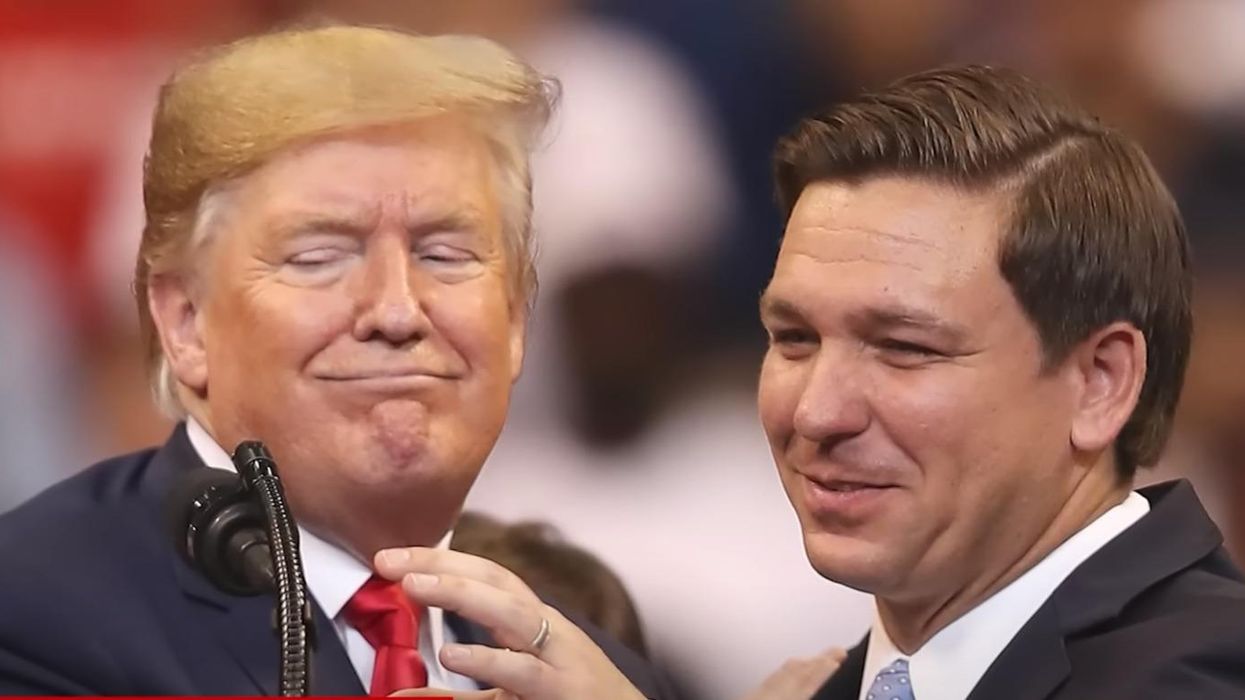 Trump Shares Video Targeting DeSantis Presidential Ambitions
Former President Donald Trump, author of rude schoolyard classics like "Lyin' Ted," "Liddle Marco," and, more recently, "Ron DeSanctimonious," has reportedly fashioned out a new nickname for his most formidable would-be 2024 primary rival, Florida Gov. Ron DeSantis — and that nickname is his rudest yet.
According to Bloomberg, rather than brainstorming winning policy proposals as any presidential candidate would, Trump has allegedly spent most of his time at Mar-a-Lago golfing, lamenting his lack of Fox News coverage, insisting he won the 2020 presidential election, and conceiving new ways to insult DeSantis.
With DeSantis' popularity within the conservative circle rising fast, nailing down the nastiest moniker with which to take down the Republican governor has become something of a priority for the defeated, twice-impeached president.
Several options considered thus far, Bloomberg's Nancy Cook wrote, are "Ron Dishonest," "Ron DeEstablishment," and the particularly nasty "Tiny D," a simple yet potent scattershot at the governor's physical stature and masculinity, particularly below the belt. Trump has yet to test-drive the contenders out in public.
"Tiny D" could simply be Trump's way of having a go at DeSantis' height — in the range of 5'8" to 5'10" — and his recent patronage of high-heeled footwear, suggests reporting by the Independent and Jezebel.

[Tweet]
When liberal philanthropist George Soros, a frequent target of far-right conspiracy theories, voiced his hope that "Trump and [DeSantis] will slug it out for the Republican nomination," Trumpworld cried "endorsement" and Trump himself began considering the nickname "DeSoros," per the New York Times' Maggie Haberman.
TheTimesreported in February that the ex-president had privately floated "Shutdown Ron' and "Meatball Ron," with the latter being a dig at either DeSantis' Italian heritage or appearance, a charge Trump denied in a Truth Social post.
Trump road-tested "Ron DeSanctimous" for the first time at a rally in Latrobe, Pennsylvania, before the 2022 midterm elections. The moniker drew backlash at the time because Trump was laying into a GOP star up for re-election, but the former president has persisted in its use.
In a recent episode of The Daily podcast, Michael Barbaro of the New York Times opined, "There is no surer sign that Donald Trump feels threatened or rivaled by somebody than when he's given them a nasty nickname, and if he's given Ron DeSantis multiple nasty nicknames, you know he's feeling threatened."

Last month, in a tirade on Truth Social, Trump blasted the media outlets reporting that he had spent the bulk of his time cooking up nicknames for DeSantis.
"All of the Fake News is reporting that I spend large amounts of my time coming up with a good 'nickname' for Ron DeSanctimonious, who is obviously going to give the presidential 'thing' a shot," Trump wrote. "They are all 100% wrong, I don't even think about it — A very unimportant subject to me!!!"
Although DeSantis has tamped down talks of a civil war with Trump, whom he has not insulted, the self-proclaimed leader of the Republican Party has continued to attack the governor, who has yet to declare a 2024 White House bid. Trump has called DeSantis "very disloyal," "an average governor," and claimed that he "begged me for an endorsement" in 2018 with "tears coming down from his eyes."
Bloomberg also reported last week that the Trump team is hard at work digging up dirt on DeSantis and his family, including his wife, Casey DeSantis, formerly a TV journalist:
"Taking down DeSantis before he attains too much momentum and donor cash is a priority for Trump's allies, who aim to sully the governor enough to dent his poll numbers and support within Republican circles," the publication reported.
It added: "If they can deflate DeSantis and the field of rivals remains broad, Trump's allies believe he can once again win the nomination simply because [of] his longstanding grip on about 30% of Republican voters."