What Has Trump Done For The American People?
@FromaHarrop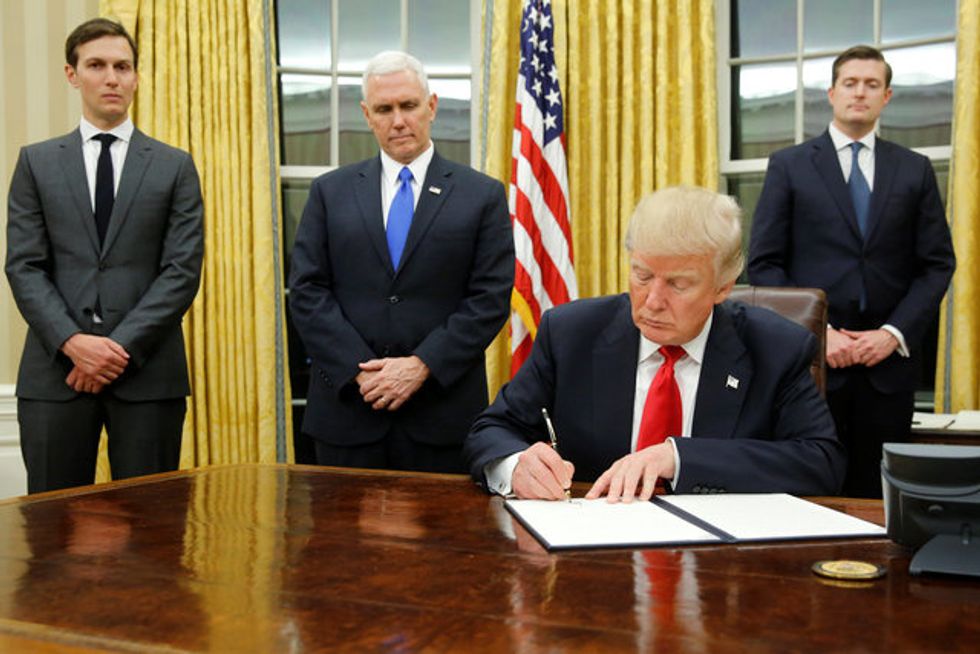 The punditry remains obsessed over Steve Bannon, Stephen Miller, and their alleged boss, Donald Trump. Who's controlling whom? And the world's still fascinated by Trump's appalling and entertaining antics — as confusion runs riot in the executive branch.
At a certain point, though, we have to ask: What's in it for the American people?
The Trump administration is now in its second month, and it's done almost nothing. It hasn't even put forth coherent plans to do what the president says he wants to do. Complicating matters further, it remains unclear what the president wants, and he may not even know. Trump says one thing and then the opposite, sometimes hours apart.
Trump didn't sound plum crazy in his address before a joint session of Congress on Tuesday, and for that we are grateful. Many applauded the optimistic tone and restrained nastiness.
But we've seen these interludes of sobriety before, notably during the campaign. His supporters did backflips on the rare occasions their man "sounded presidential." Given Trump's passion for rousing his die-hards with lies designed to frustrate the fact-based fancy folk, it's highly unlikely that the seriousness will continue, though one can hope.
Consider Obamacare. Trump said in the speech that he wants the Affordable Care Act repealed and replaced. During the campaign, he repeatedly vowed that Obamacare would be repealed on day one of his administration. Day one! It's not repealed, and Trump has no replacement plan. House Republicans don't have one, either, despite voting over a dozen times to kill the health reforms (when Barack Obama was there to veto their bills). The one plan that most resembles a plan has no dollar signs attached.
Trump recently explained the lack of progress as follows: "Nobody knew that health care could be so complicated." (That had them rolling in the aisles.) The problem for Republicans is that they're afraid to confront the voters with an alternative that meets their ideological requirements. Of course, they could work with Democrats to fix problems in Obamacare, but that's not fun.
Immigration. On Monday, the administration was rounding up undocumented immigrants lacking any criminal record and threatening to deport millions more. On Tuesday, Trump was telling television anchors he'd consider legalizing the presence of millions of undocumented immigrants. He didn't say that in the speech, though, only that "we are removing gang members, drug dealers, and criminals." Well, Obama did that, too.
Jobs. Trump proposes a $1 trillion program to rebuild infrastructure. Solid idea. Bridges and roads are falling apart. Construction workers need the work. Do recall how Republicans threw pitchforks of umbrage at Obama's less ambitious stimulus program — and at a time of deep recession. "Runaway spending," they hollered.
Despite the obstacles, Obama signed a $787 billion package of spending and tax cuts 28 days into his administration. Trump is well past his first four weeks, and where is his infrastructure program? Budget hawks in Congress might give him a hard time, but he hasn't given them anything to work with.
By the way, factory employment was already rising in Obama's last six years in office. One doesn't expect Trump to improve that record much, unless he plans to deport the robots.
One bright spot for Trump has been the stock market. Stock prices have risen about 10 percent since the election. Such exuberance, however, must be tempered by history. The Dow Jones industrial average rose by about 25 percent in the same weeks after the election of Herbert Hoover. Eight months later, on Oct. 24, 1929, the bottom fell out.
Here's to bad things not happening in the Trump era. And here's also to Trump actually doing something for the people.
Follow Froma Harrop on Twitter @FromaHarrop. She can be reached at fharrop@gmail.com.
IMAGE: U.S. President Donald Trump, flanked by Senior Advisor Jared Kushner (standing, L-R), Vice President Mike Pence and Staff Secretary Rob Porter welcomes reporters into the Oval Office for him to sign his first executive orders at the White House in Washington, U.S. January 20, 2017. REUTERS/Jonathan Ernst