Trump Encourages Voter Fraud — And That May Be A Crime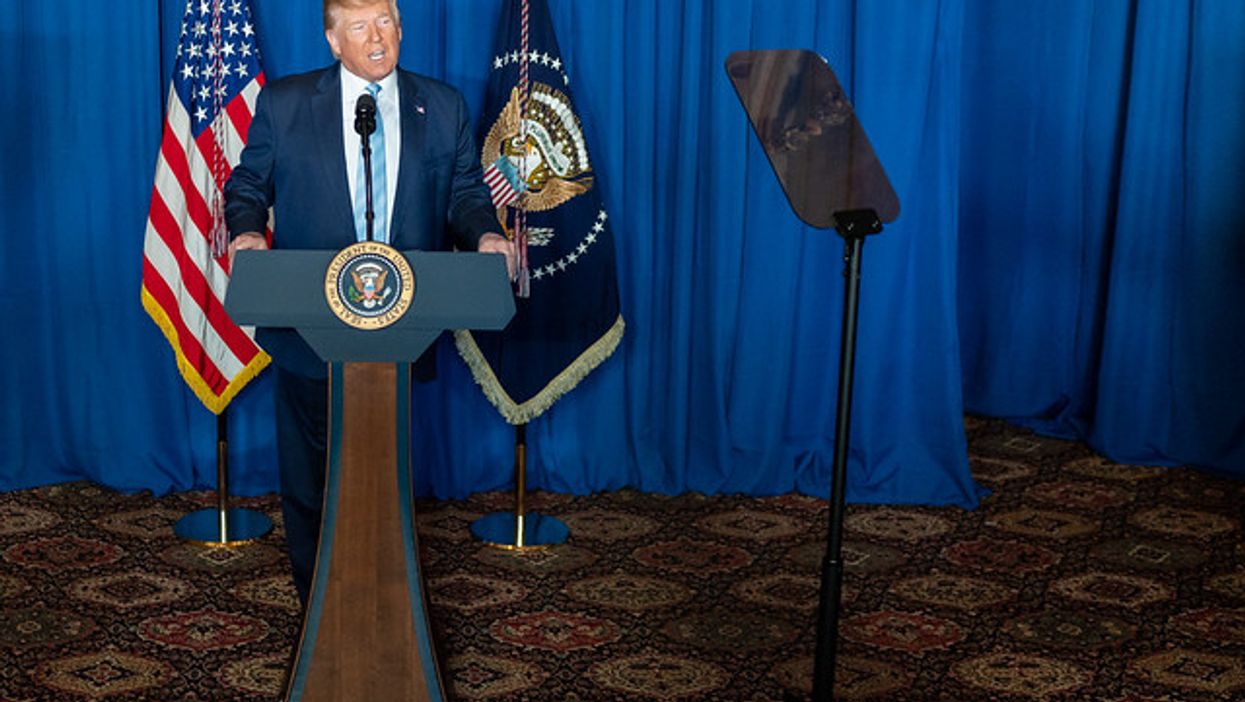 Official White House Photo by Shealah Craighead
Reprinted with permission from Alternet
President Donald Trump encouraged voters to cast two ballots on Wednesday while in North Carolina, suggesting that this would test the system to see if it is robust against such illegal acts. However, such a "test" would itself be a crime, and it's possible that the president's open encouragement for others to commit voter fraud was a criminal act on its own.
---
The New York Times reported:
Mr. Trump encouraged people to send in an absentee ballot and then go vote in person on Election Day.
"Let them send it in and let them go vote, and if their system's as good as they say it is, then obviously they won't be able to vote," the president said. "If it isn't tabulated, they'll be able to vote."
"That's the way it is," he added. "And that's what they should do."
Marc Elias, a Democratic lawyer focused on voting rights, commented on Twitter in response to the story: "The President just committed a felony."
Attorney General Bill Barr, in an interview with CNN's Wolf Blitzer, laughed off questions about the incident.
Whenever the president finds himself having said something he later regrets, he often walks back the idea and claims it was a joke. So it wouldn't be surprising if he took the same approach with these comments. But on top of his constant claims about voter fraud and threats to the integrity of the election, often based on lies and outright disinformation, Trump's words could have a real impact.
In 2016, a Trump supporter was arrested for voting twice, as the Washinton Post reported:
[Terri] Rote hadn't planned on voting twice but said it was "a spur-of-the-moment thing" when she walked by the satellite voting location, she told The Washington Post in a phone interview Saturday.
"I don't know what came over me," Rote said.
She added she has been a supporter of Donald Trump since early in his campaign, after Republican candidate Mike Huckabee dropped out of the primary race.
Rote told Iowa Public Radio that she cast her first ballot for Trump but feared it would be changed to a vote for Hillary Clinton.
"The polls are rigged," Rote told the radio station.
"The president is urging you to commit a felony—one for which you, though not he, could actually get prosecuted. Be careful whom you listen to for advice about how to conduct yourself during this election," said Lawfare's Benjamin Wittes.
Rick Hasen of Election Law Blog wrote:
Under North Carolina law, it is illegal: "For any person with intent to commit a fraud to register or vote at more than one precinct or more than one time, or to induce another to do so, in the same primary or election, or to vote illegally at any primary or election."
Was Trump by his comments "induc[ing]" "with intent to commit fraud" a person to "vote" "more than one time" "in the same …. election"? I think a case could be made that he did. He was encouraging people to vote both by mail and in person. The questionable part is about his intent. It sounds like he was suggesting an attempt at double voting as a means of testing the integrity of the system, or assuring that his voters can cast at least one ballot for him. Is that a fraudulent intent? I could see how a jury could find it to be so especially given Trump's other statements suggesting he believes that such double voting would not be caught by election officials.