With Decision On Trump, New York Caught Up With Journalist Wayne Barrett
@LucianKTruscott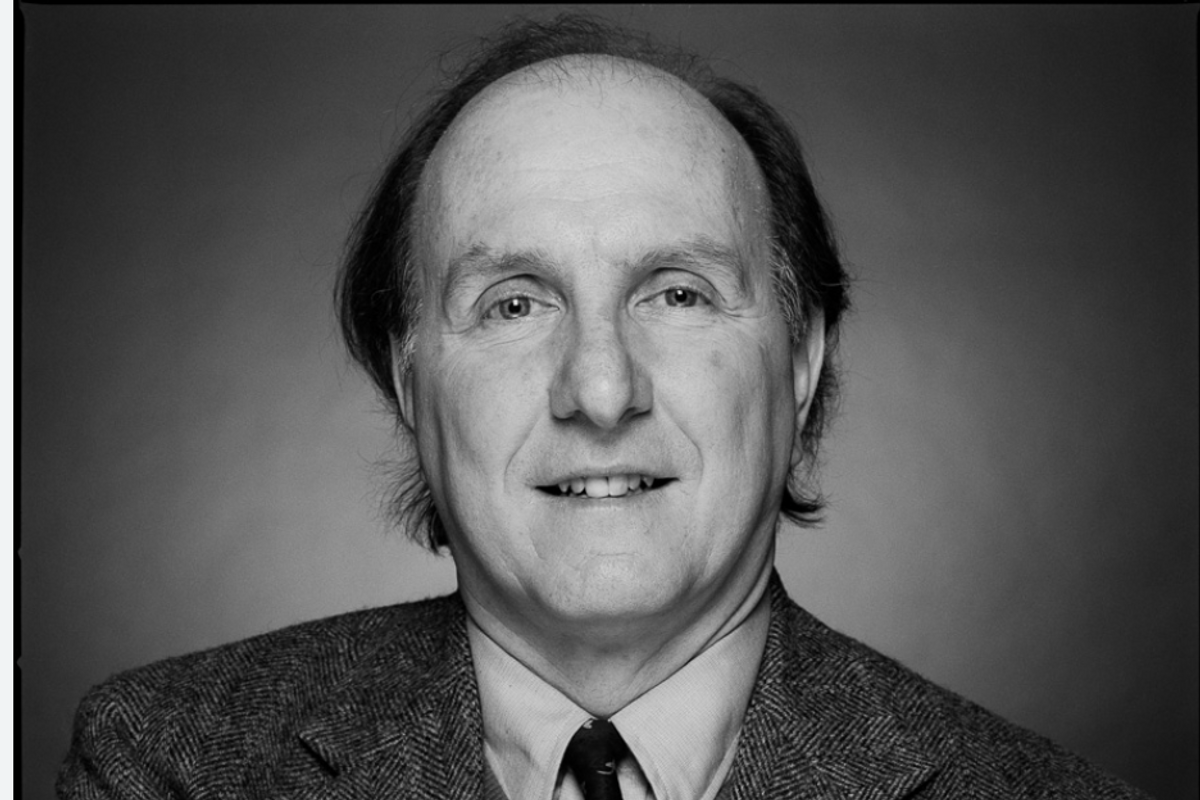 Photo by Robin Holland
If on Tuesday you were standing over the grave of Village Voice investigative reporter Wayne Barrett, you could have heard the sigh of contentment through six feet of soil. Justice Arthur F. Engoron issued a ruling that Donald Trump had committed fraud "persistently" by inflating the value of his real estate assets by as much as $2.2 billion in a scheme to defraud banks and insurance companies so that he would receive better loan interest rates and lower insurance premiums than he would have, had he stated his net worth accurately on his financial statements.
In articles for the Voice and later in his 1991 book, Trump: The Deals and the Downfall, Barrett reported on Trump's lies and inflated ego and net worth at a time when the New York Times, Daily News, and New York Post, not to mention the Wall Street Journal (which should have established a Trump Bureau just to deal with the con man) were still covering his divorces, girlfriends, nightclubbing and helping him promote Trump-branded merchandise like his short-lived Trump airline and Trump vodka. Everyone was buying Trump's image manipulation but Barrett.
\When Trump discovered that Barrett had been spending days in the offices of the State Urban Development Corporation poring through records of Trump's real estate transactions, he called Barrett and, assuming that he could bluster past him the way he had dealt with other reporters, invited Barrett to interview him. Barrett conducted the interviews in Trump's gilded triplex apartment in Trump Tower. Asked by a friend after the interviews were over what Trump's apartment was like, Barrett replied, "Big."
Later, when Trump realized Barrett had seen through him and was reporting the real numbers of Trump's business dealings, not the stories Trump told about them, he offered Barrett a free apartment in Trump Tower. When that bribe didn't work, he sicced the unscrupulous attorney Roy Cohn on him.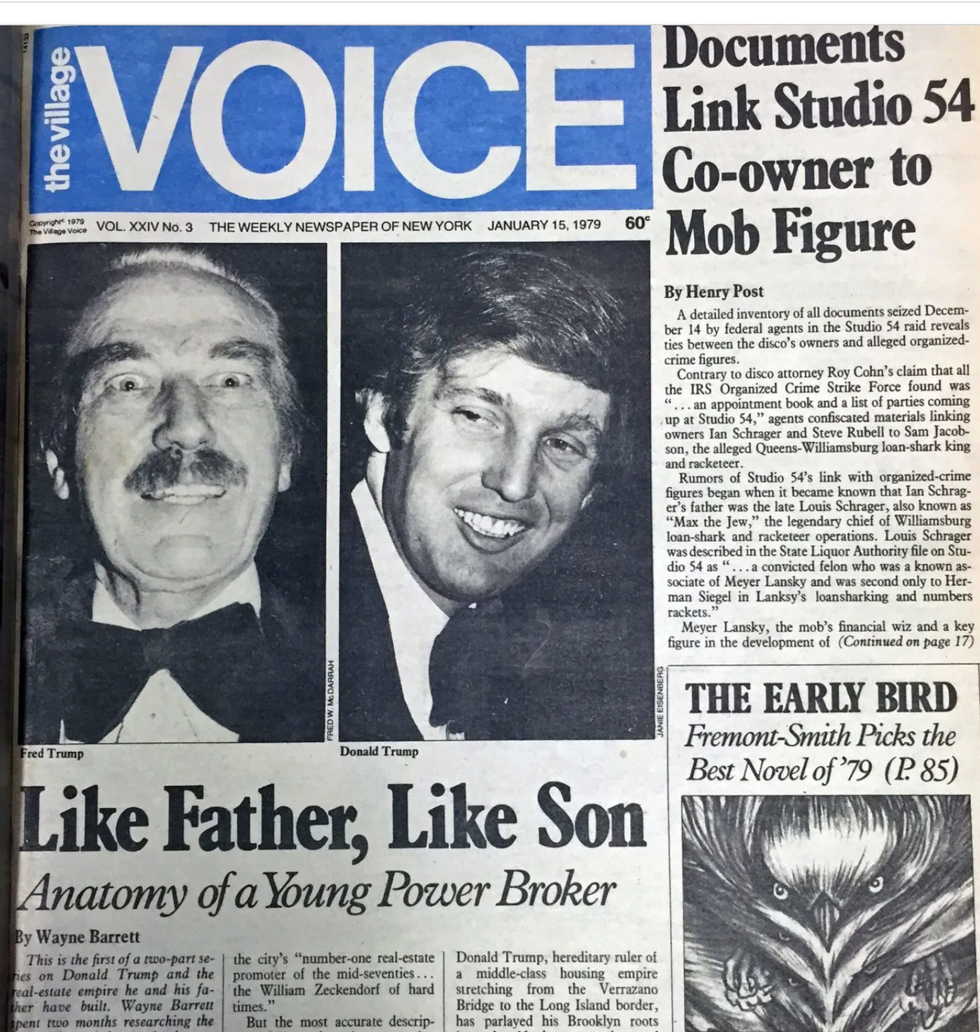 The cover of the Village Voice newspaper on January 15, 1979
Now Judge Engoron has ruled that Trump, two of his children, Eric and Donald Jr., and two of his top employees and the Trump Organization itself committed ten years of fraud between 2011 and 2021. His ruling on Tuesday revoked the business licenses of several of Trump's companies and put them in receivership. The trial that will begin next Monday on the specific acts of fraud that occurred will assign responsibility and determine the level of fines the judge will impose. An appeals court today denied Trump's request for a stay of the trial.
Trump flew into a rage on Truth Social yesterday, calling the judge who will continue to oversee the case on Monday and will eventually issue a decision on how much he and his sons and the Trump Organization will be fined, "a political hack judge." That should help him.
See if this assessment of Trump way back in the 70's and 80's by Barrett doesn't ring a bell: "He had prided himself on never having met a public official, a banker, a lawyer, a reporter, or a prosecutor he couldn't seduce. Some he owned, and others he merely manipulated. As he saw it, it was not just that everyone had a price, it was that he knew what the price was. He believed he could look across a table and compute the price, then move on to another table and borrow the money to pay it. 'Everybody tries to get some money' was his assessment in one unpublished interview of what motivates the people he dealt with. It was his one-sentence summary of human nature."
When Trump was elected president in 2016, papers like the Times and the Washington Post began reporting on some of the people Trump had cheated over the years, like contractors who worked on his apartment buildings and casinos. Those stories devolved into what I like to call "everybody knows" stories about Trump. Everybody knows he harassed women and cheated on his wives. Everybody knows about his crooked real estate dealings. Everybody knows he is an inveterate liar and cheat. Now a New York State judge has ruled that Trump and his companies spent years committing fraud, confirming what everyone said they knew, but only Wayne Barrett reported.
All of the newspapers and TV stations and talk shows that promoted Trump for so many years without lifting the rock that he lived under should take a look in the mirror and consider Wayne's comment about Trump on the day after he was elected president in 2016: "Shamelessness is a skill."
Trump is going to learn over the coming months and years that it may be a skill, but it wasn't a defense against the muckraking of Wayne Barrett, and it's not a defense in a court of law.
Lucian K. Truscott IV, a graduate of West Point, has had a 50-year career as a journalist, novelist, and screenwriter. He has covered Watergate, the Stonewall riots, and wars in Lebanon, Iraq, and Afghanistan. He is also the author of five bestselling novels. You can subscribe to his daily columns at luciantruscott.substack.com and follow him on Twitter @LucianKTruscott and on Facebook at Lucian K. Truscott IV.
Please consider subscribing to Lucian Truscott Newsletter, from which this is reprinted with permission.