Trump: I'll Win The Hispanic Vote — Thousands Of Them Work For Me!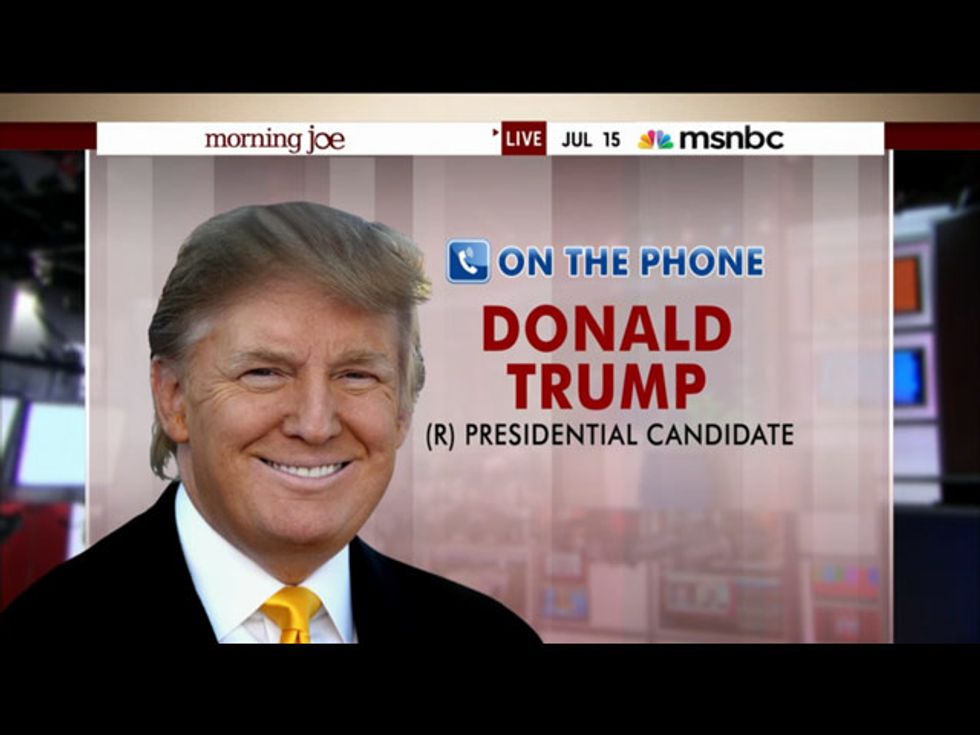 Donald Trump is citing some key evidence that he can win Latino voters: He's hired many Mexican people and other Hispanic workers.
In a phone interview on Wednesday's edition of MSNBC's Morning Joe, Trump asserted: "I'll tell you what, a vote that I will win is the Hispanic vote. I employ thousands of Hispanics, and I tell you I will win that vote, because I will take jobs back from China, and back from all these other countries that have been absolutely killing us with economic development and jobs and trade agreements."
After bashing free-trade deals, Trump got back to the subject of Latino voters: "I have so many thousands that work for me, and thousands that have over the years. And the Hispanics love me. So I will win the Hispanic vote. And you would be surprised to hear that, because I talk about illegal immigration — which I'm opposed to. But I will win the Hispanic vote, because I will create jobs."
And of course, Trump immediately got in a hit on his favorite target among fellow Republicans: "And by the way, Jeb Bush wouldn't know where to go to create a job," going on to challenge Jeb's ability to negotiate any deals or to bring jobs home.
Later on, co-host Mika Brzezinski asked Trump about his infamous comments about illegal immigrants from Mexico being rapists and drug dealers. And he disputed the media's interpretation of his statements.
Trump claimed that he did not actually call Mexicans rapists: "Mika, you didn't read my words. Mexico is sending — the government of Mexico — it says: Mexico is sending" rapists and murderers. "Mexico is sending a lot of their people over that they don't want," he later clarified. "And that includes people that should be in Mexican prisons."
He alleged that there is a "crime wave" and "disaster" caused by illegal immigrants. "I want legal immigrants," he said.
"Look, as far as I'm concerned, I hire — I have hundreds and hundreds of Mexicans working for me. I love Mexican people. I love their spirit. The problem we're having with Mexico is that their government officials and negotiators are far smarter than ours — like, from a different planet."