Why Trump Finds No Refuge In The First Amendment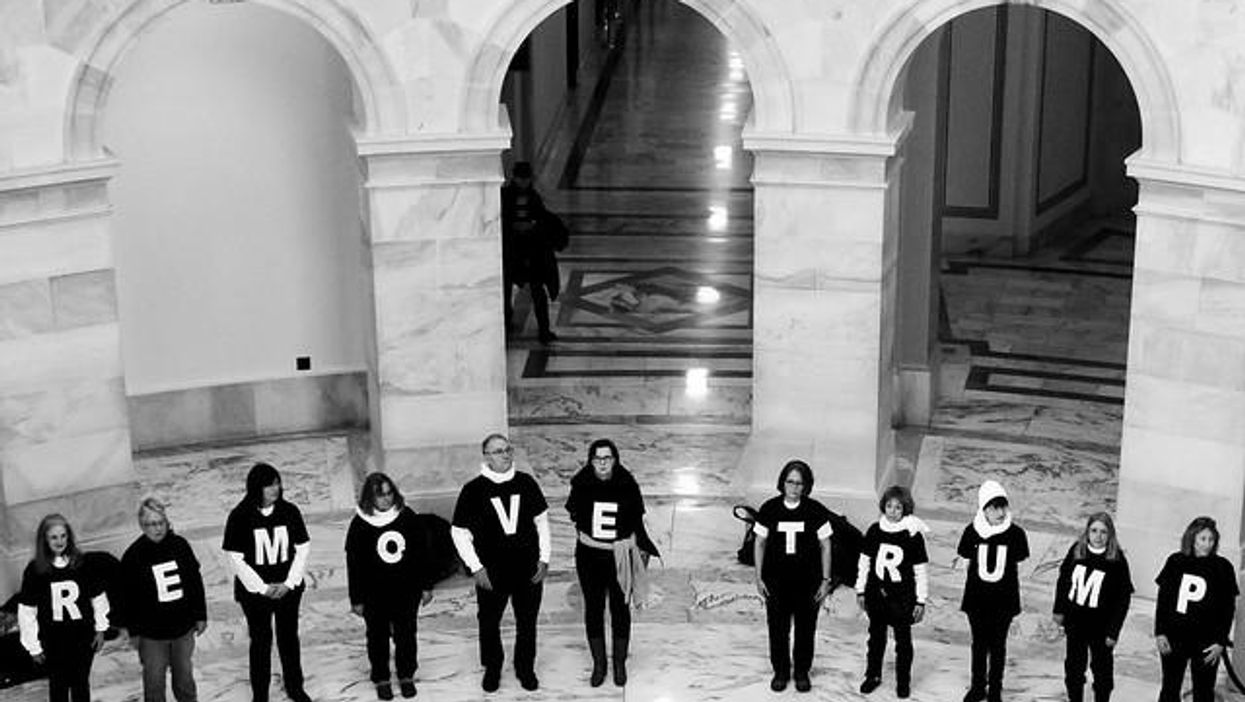 assets.rebelmouse.io
When the mob of Donald Trump fanatics invaded the U.S. Capitol on January 6, one of them carved a vivid message into a door: "Murder the media." So, it is only fitting that the former president's lawyers are defending him in his Senate impeachment trial by claiming the protection of ... the First Amendment. You know, the one that protects the media.
That provision bars the government from "abridging the freedom of speech, or of the press." The framers placed a high value on ensuring that newspapers and pamphleteers could operate without getting permission from the government or anyone else.
But MAGA nation is openly hostile to any journalists who don't champion its cause. At the Capitol, participants harassed, threatened and assaulted reporters. One group of people screamed, "CNN sucks!" as they smashed an Associated Press crew's cameras and other equipment.
The acting U.S. attorney for the District of Columbia, Michael Sherwin, urged anyone with information about these episodes to report it. "We are resolutely committed to upholding the freedoms guaranteed by the First Amendment, including speech, peaceful assembly and press, and we will investigate, prosecute and hold accountable anyone who attempts to obstruct or curtail these freedoms through violence or intimidation," he said.
Violence against journalists is the predictable result of Trump's venomous attacks against anyone daring to broadcast or publish any information casting him in a bad light. He has frequently labeled the press "the enemy of the people."
He persisted in his incendiary rhetoric, even after it proved literally incendiary: In 2018, a Trump-worshipping nut case mailed pipe bombs to CNN's New York office and several prominent Democrats. The bomb maker got a 20-year sentence.
Trump and his cult take the view that the First Amendment should protect their right to say and tweet anything they want — but not the right of news organizations to dispense information refuting their claims.
He even thinks social media firms, notably Twitter and Facebook, should be required to spread his fabrications — more evidence that he has no clue about the First Amendment. It was meant as a check on government, not on private companies, which are free to take a pass on dishonest propaganda.
Trump has long dreamed of using the legal system to bankrupt news organizations. "I'm going to open up our libel laws so when they write purposely negative and horrible and false articles, we can sue them and win lots of money," he vowed. So, what's stopping him? Oh, right — the First Amendment. The Supreme Court has ruled that it sets a high bar for defamation suits by public figures.
Commentators can't be held liable even for erroneous accusations unless they deliberately lied or showed a "reckless disregard" for the truth. Accurate claims — what Trump has the most reason to fear — are fully protected. If a news organization had indeed published articles about him that were purposely false, it would be at high risk of ruinous judgments. Trump has filed or threatened to file a host of libel suits — but has never won one.
As it happens, you don't necessarily need to change the libel laws to punish vicious smears. The election technology company Smartmatic has filed a $2.7 billion lawsuit against Fox News, three of its anchors, and Trump lawyers Rudy Giuliani and Sidney Powell for an alleged "conspiracy to defame and disparage Smartmatic." The Trumpist network Newsmax reacted to the threat with an on-air admission that various claims about Smartmatic and Dominion Voting Systems were false.
Trump's Senate lawyers advanced the novel argument that his statements inflaming those attending the January 6 rally near the White House are protected by the First Amendment. It is one of the constitutional provisions, they say, that "specifically and intentionally protect unpopular speech from government retaliation." But the Supreme Court has long held that the government may punish speech that "is directed to inciting or producing imminent lawless action and is likely to incite or produce such action." A group of 144 legal scholars and lawyers, some of them conservatives, said the argument was "legally frivolous."
Trump and his followers have a tortured relationship with the Constitution. They want it to shield them when they lie and punish critics when they tell the truth. So far, they have been unable to twist the First Amendment to serve their nefarious purposes. That failure is the ultimate vindication of its value.
Steve Chapman blogs at http://www.chicagotribune.com/news/opinion/chapman. Follow him on Twitter @SteveChapman13 or at https://www.facebook.com/stevechapman13. To find out more about Steve Chapman and read features by other Creators Syndicate writers and cartoonists, visit the Creators Syndicate website at www.creators.com.