Trump Orders Building Of Mexico Border Wall, Targets 'Sanctuary' Cities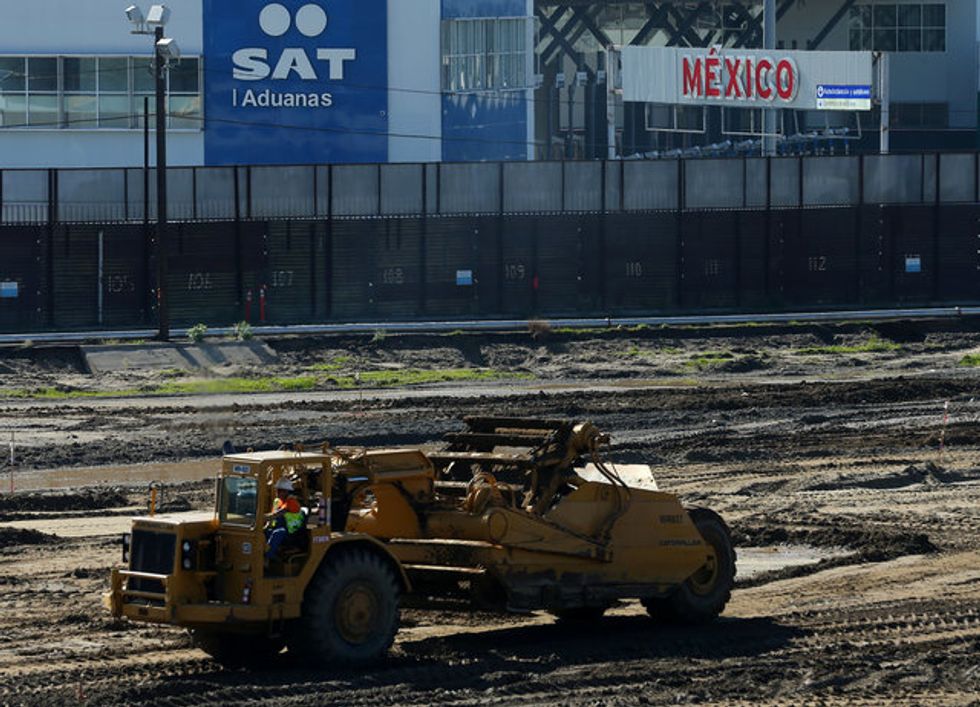 WASHINGTON (Reuters) – President Donald Trump signed directives on Wednesday to build a wall along the U.S.-Mexican border and strip funding from cities that shield illegal immigrants as he charged ahead with sweeping and divisive plans to transform how the United States deals with immigration and national security.
The Republican president is expected to take additional steps in the coming days to limit legal immigration, including executive orders restricting refugees and blocking the issuing of visas to people from several Muslim-majority Middle Eastern and North African countries including Syria, Sudan, Somalia, Iraq, Iran, Libya, and Yemen.
The intent of those proposals is to head off Islamist violence in the United States, although critics have said it soils America's reputation as a welcoming place for immigrants of all stripes.
Trump signed two executive orders, directing the construction of a wall along the roughly 2,000-mile (3,200-kilometer) U.S.-Mexico border, moving to peel away federal grant money from "sanctuary" states and cities that harbor illegal immigrants, and beefing up the force of immigration agents.
"We are in the middle of a crisis on our southern border: The unprecedented surge of illegal migrants from Central American is harming both Mexico and the United States," Trump said in remarks at the Department of Homeland of Security after signing the directives.
"And I believe the steps we will take starting right now will improve the safety in both of our countries," Trump said, adding: "A nation without borders is not a nation."
His plans prompted an immediate outcry from immigrant advocates and others who said Trump was jeopardizing the rights and freedoms of millions of people while treating Mexico as an enemy, not an ally.
Local officials in cities such as New York, Los Angeles, Chicago, Philadelphia, Boston, Denver, Washington, San Francisco, and Seattle offer some forms of protection to illegal immigrants. Billions of dollars in federal aid to those cities, often governed by Democrats, could be at risk.
"The American people are no longer going to have to be forced to subsidize this disregard for our laws," White House spokesman Sean Spicer said.
In an interview with ABC News on Wednesday, Trump said construction on the wall would start within months, with planning starting immediately, and that Mexico would pay back to the United States "100 percent" of the costs. Mexican officials have said they will not pay for the wall.
During a White House briefing, Spicer referred to the wall as "a large physical barrier on the southern border."
"Building this barrier is more than just a campaign promise, it's a common-sense first step to really securing our porous border," Spicer added. "This will stem the flow of drugs, crime, illegal immigration into the United States."
Trump's actions could fundamentally change the American stance on immigration, as well as further testing relations with Mexico.
Spicer said Trump's goal was to get the wall project started as quickly as possible using existing government funds and then work with the Republican-led Congress on further appropriations.
"We'll be reimbursed at a later date from whatever transaction we make from Mexico," Trump told ABC on Wednesday. "I'm just telling you there will be a payment. It will be in a form, perhaps a complicated form. What I'm doing is good for the United States. It's also going to be good for Mexico. We want to have a very stable, very solid Mexico."
'POLITICAL THEATER'
Trump made cracking down on illegal immigration a key element of his presidential campaign, with supporters at his rallies often chanting: "Build the wall."
"The border wall is about political theater at the expense of civil liberties," said Christian Ramirez, director of the Southern Border Communities Coalition immigrant advocacy group.
"It is not national security policy. Border communities are among the safest in the nation and patrolling them with tens of thousands of heavily armed, poorly trained, unaccountable agents puts lives at risks. This will turn these communities into de facto military zones," Ramirez said.
The cost, nature, and extent of the wall remain unclear. Trump last year put the cost at "probably $8 billion," although other estimates are higher, and he said the wall would span 1,000 miles (1,600 km) because of the terrain of the border.
Many Democrats have opposed the plan and could try to thwart any legislation to pay for the construction in the U.S. Congress, although Republicans control both the Senate and House of Representatives.
Trump said his directive would also end the practice known by critics as "catch and release" in which authorities apprehend illegal immigrants on U.S. territory but do not immediately detain or deport them.
The directives also include hiring 5,000 more U.S. Customs and Border Protection agents used to apprehend people seeking to slip across the border and tripling the number of U.S. Immigration and Customs Enforcement agents used to arrest and deport immigrants living in the United States illegally.
They also create more detention space for illegal immigrants along the southern border to make it easier and cheaper to detain and deport them.
Many Americans view their country with pride as "a nation of immigrants," and President John Kennedy wrote a book with that title more than half a century ago. Trump successfully tapped into resentment toward the roughly 11 million illegal immigrants already in the United States and said during the campaign he would deport them all.
Trump, who in announcing his presidential bid in June 2015 accused Mexico of sending rapists and criminals into the United States, has also threatened to slap hefty taxes on companies that produce in Mexico for the U.S. market and to tear up the North American Free Trade Agreement among Mexico, Canada, and the United States.
Trump and Mexican President Enrique Pena Nieto are due to meet next week.
Asked about Trump's wall, Republican U.S. Senator John McCain said a physical barrier was not enough to secure the border and called for the additional use of observation towers, drones, and other technology.
"Walls can be easily breached," McCain, whose home state of Arizona borders Mexico, told MSNBC's "Morning Joe" program.
(Reporting by Julia Edwards Ainsley; Additional reporting by Mica Rosenberg, Doina Chiacu, Andy Sullivan and Susan Heavey; Writing by Will Dunham; Editing by Alistair Bell and Peter Cooney)
IMAGE: Construction on the area around the port of entry from Mexico to the United States continues next to the border wall in San Ysidro, California, U.S., January 25, 2017. REUTERS/Mike Blake