The Rule Of Law Has Never Been Weaker In Washington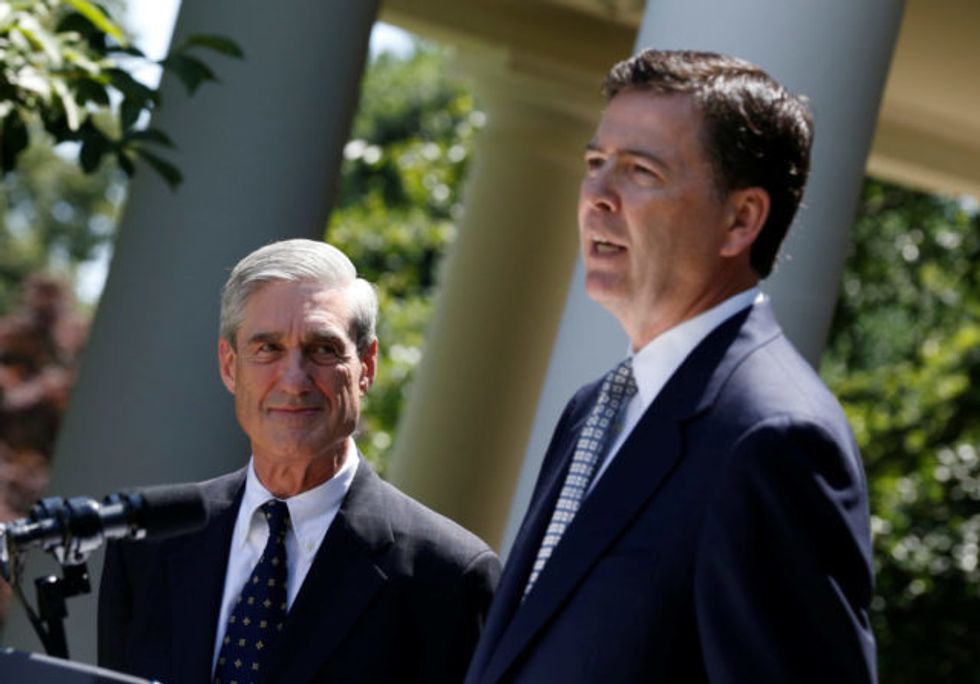 Reprinted with permission from AlterNet.
As President Trump drops increasingly broad hints that he believes he is above the law, Congress and the public face an impending crisis that will test whether the Republican Party is more loyal to Trump or to the rule of law. The crisis is all but certain, and the outcome is very much in doubt.
In talking up his "complete power" of pardon, humiliating Attorney General Jeff Sessions, and denigrating special prosecutor Robert Mueller, Trump has made clear that he doesn't believe any investigation of his campaign's contacts with the Russian government is legitimate. "A special counsel should never have been appointed in this case," Trump told the New York Times.
With investigators closing in on his friends and family, time is not on Trump's side. But the weakness of the rule of law is.
The pace of the various investigations is picking up. Mueller has assembled a high-powered staff. The House and Senate intelligence committees both grilled Trump's son-in-law Jared Kushner this week. The Senate Judiciary Committee, led by Iowa Republican Chuck Grassley, has now joined the hunt, issuing a subpoena for Paul Manafort, Trump's former campaign manager. If Trump doesn't act soon, more revelations—or indictments—could further limit his options to act.
Trump understands that Mueller's investigation is a mortal threat to his presidency, which is why he is looking for the earliest opportunity to fire him. And the obstacles he faces are not insurmountable, at least from the White House's point of view.
Hollowed-Out Congress
The opposition to Trump is divided, not just along party lines but also over the meaning of democratic government. The Citizens United decision and gerrymandering have hollowed out Congress as a deliberative body. The House and Senate have become a collection of fiefdoms where party loyalty ensures survival, and adherence to tradition (at least among Republicans) is seen as betrayal or suicide.
Unlimited money and safe seats have made the norms of a parliamentary democracy disposable. The idea that the House and Senate would vote on national health care legislation without a single hearing, and without input from doctors, nurses, patients, hospitals, senior groups, and anyone save insurance company lobbyists, would have once been inconceivable. Now it's the new normal.
Polarization has subordinated principles to politics. Support for law enforcement was once a given among conservatives. A registered Republican like former FBI director Mueller, a man comfortable with mass surveillance and the drug war, could have once counted on GOP support in Congress. Now when he investigates Trump, he is viewed as the cat's paw of Democrats. The rule of law is seen as just another partisan trick.
Trump hopes to provoke Sessions into quitting so he can use a recess appointment to hire a more compliant attorney general willing to fire Mueller.
Mitch McConnell has the power to put principle ahead of party—but how often has the Senate majority leader or his caucus done that? Trump's most outspoken Republican critics, such as John McCain and Ben Sasse, will complain about his policies and his tweets, but not about his contempt for the rule of law.
Cataclysm or Cave-In?
Senate Minority Leader Chuck Schumer predicts firing Muller would provoke a "cataclysm." Among Democrats, he is probably right. Among Republicans, a cave-in seems more likely.
House Speaker Paul Ryan gives every indication that he will acquiesce to Trump's whims. Ryan defended Mueller from Trump's claim that he is a Democratic partisan. But when asked about the possibility of Mueller's firing, Ryan signaled he would not object.
"Look, the president gets to decide what his personnel is…" Ryan told reporters. "He's the executive branch, we're the legislative branch."
Rank-and-file Republicans agree.
"Bob Mueller's obviously intent on hiring people who are antagonistic toward this administration. He's one of Mr. Comey's closest friends, and it looks like there's a deliberate orchestration to damage or undermine the president regardless of the basic facts," Arizona Rep. Trent Franks declared in an interview with Politico. 
Perhaps the most telling sign of the weakness of rule of law in Washington is that its most prominent defender is now former CIA director John Brennan, a man who ran a lawbreaking agency and has never been elected to anything.
"I really hope that our members of Congress, elected representatives, are going to stand up and say enough is enough, and stop making apologies and excuses for things that are happening that really flout, I think, our system of laws and government," Brennan told CNN.
But there is no collective understanding of our "system of laws and government" in Washington. That is Trump's biggest accomplishment and his greatest opportunity to evade the rule of law.