Trump Rolls Out New Muslim Travel Ban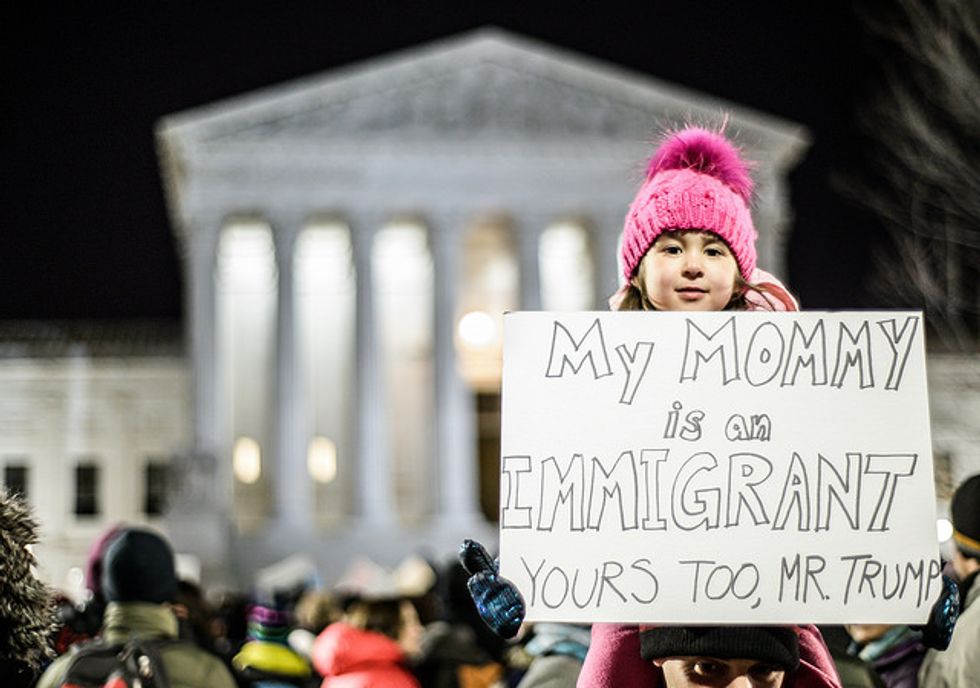 Reprinted with permission from theAlterNet.
On Monday, President Donald Trump signed an updated immigration executive order barring immigrants from six Muslim-majority countries, all of which were included in the original order. The new version exempts Iraq and eliminates the rule that specifically protects religious minorities from the ban.
Iraq, according to officials who spoke to the New York Times, has agreed to improve the quality of travel documentation and share more information about Iraqis coming to the United States.
The initial order, which set off a series of protests at airports nationwide, was widely believed to be a Muslim ban in disguise, particularly with the addition of the religious minority exception, which allowed, for example, Syrian Christians, but not their Muslim neighbors, to enter the United States.
Iran, Syria, Libya, Somalia, Sudan, and Yemen remain in Trump's crosshairs. Citizens of the six countries are subject to a 90-day freeze on visa processing, while as the Times reports, "the administration continues to analyze how to enhance vetting procedures." The United States' refugee program is also suspended for 120 days, and according to the Washington Post, the U.S. "will not accept more than 50,000 refugees in a year, down from the 110,000 cap set by the Obama administration."
The administration, as the Post notes, "also attempted to lay out a more robust national security justification for the order, claiming that it was needed because 300 people who entered the country as refugees were the subject of counterterrorism investigations." They declined to name the countries the 300 suspects are from or provide additional evidence for the accusations.
In a departure from the cameras and fanfare on display during the January 27 rollout, the new Executive Order was signed in private, and according to the Times, "In a break with standard practice, participants of the call didn't give their names to reporters even though journalists had agreed to identify them only as unnamed officials as a condition of joining the briefing." The rollout of the order will occur over two weeks, perhaps in an effort to avoid the chaos and confusion of—and fierce opposition to—the previous plan's same-day implementation.
Immigration advocacy and civil liberties groups have vowed to fight the new ban. In a statement sent to reporters following Trump's announcement, Matthew Segal, executive director of the ACLU of Massachusetts, said, "President Trump's original executive order stranded travelers, upended families, disrupted businesses and institutions globally, and faced many federal lawsuits. The ACLU of Massachusetts will closely monitor this new Executive Order and assess its validity."
Ilana Novick is an AlterNet contributing writer and production editor.
IMAGE: Geoff Livingston / Flickr