Trump Has Slight Edge On Clinton In Several Battleground States
@reuters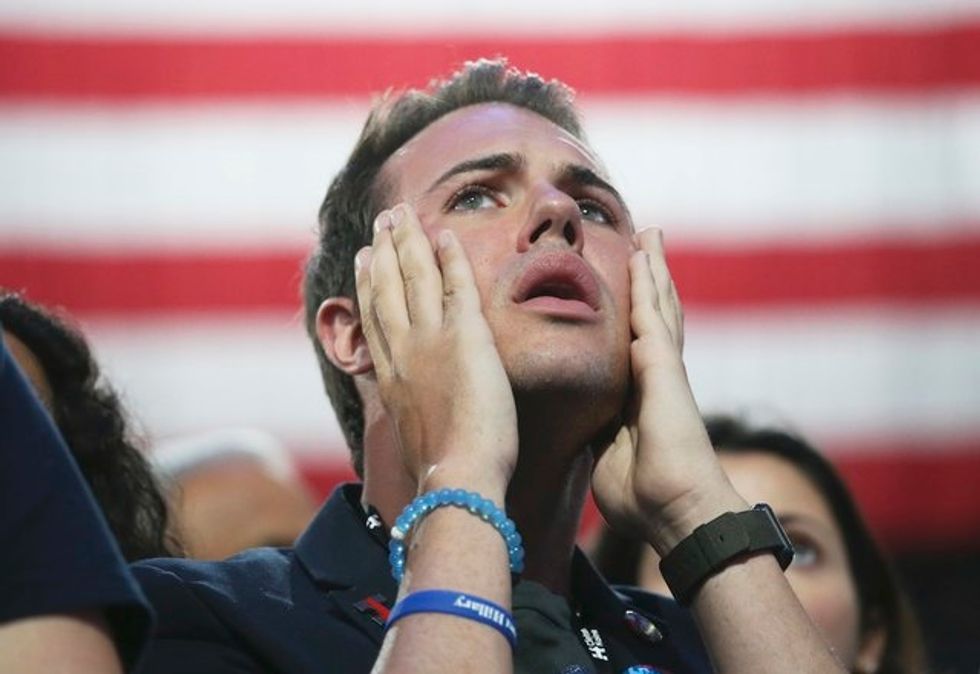 By Amanda Becker and John Whitesides
(Reuters) – Republican Donald Trump held slight leads in the vital battleground states of Florida, Virginia, North Carolina and Ohio on Tuesday, clinging to a narrow advantage over Democrat Hillary Clinton in key states that could decide their race for the White House.
With voting completed in more than two-thirds of the 50 U.S. states, the race was too close to call in Ohio, Florida, North Carolina, Pennsylvania, New Hampshire and Virginia, leaving the race for the White House on a knife's edge.
Both candidates scored victories in states where they were expected to win. Trump captured conservative states in the South and Midwest, while Clinton swept several states on the East Coast and Illinois in the Midwest.
But Trump's slight edge in Florida, Virginia, North Carolina and Ohio gave him an early advantage in the state-by-state fight for 270 Electoral College votes needed to win.
Clinton had more options to reach 270, with Trump needing a virtual sweep of about six toss-up states to win. But a Trump win in those four states would make it nearly impossible for Clinton to clinch the White House.
With 94 percent of the vote counted in Florida, Trump led Clinton by about 140,000 votes out of 9 million cast. In Virginia, with 76 percent counted, Trump led by 60,000 votes out of 2.9 million cast. With 55 percent of the vote counted in Ohio, Trump led by about 275,000 votes out of 3 million cast.
As of 9:30 p.m. EST, Trump had 133 electoral votes to Clinton's 104, with U.S. television networks projecting the winner in 25 of the 50 states and the District of Columbia.
Clinton is seen by financial markets as more likely to ensure financial and political stability and as the early election results showed a close battle, the U.S. dollar skidded in wild Asian trade on Wednesday.
Much of the action was in currencies where the Mexican peso has become a touchstone for sentiment on the election, as Trump's trade policies are seen as damaging to Mexico's export-heavy economy.
Going into Election Day, Clinton led Trump, 44 percent to 39 percent in the last Reuters/Ipsos national tracking poll. A Reuters/Ipsos States of the Nation poll gave her a 90 percent chance of defeating Trump and becoming the first woman elected U.S. president.
Also at stake on Tuesday was control of Congress. Television networks projected Republicans would retain control of the House of Representatives, where all 435 seats were up for grabs.
In the Senate, where Republicans were defending a slim four-seat majority, Democrats scored their first breakthrough in Illinois when Republican Senator Mark Kirk lost re-election. But Republicans Rob Portman in Ohio and Marco Rubio in Florida won high-profile Senate re-election fights.
In a presidential campaign that focused more on the character of the candidates than on policy, Clinton, 69, a former U.S. secretary of state, and Trump, 70, a New York businessman, accused each other of being fundamentally unfit to lead the country.
Trump again raised the possibility on Tuesday of not accepting the election's outcome, saying he had seen reports of voting irregularities. He gave few details and Reuters could not immediately verify the existence of such problems.
(Additional reporting by Steve Holland and Emily Stephenson in New York, Letitia Stein in St. Petersburg, Florida, Luciana Lopez in Miami, Colleen Jenkins in Winston-Salem and Kim Palmer in Ohio; Writing by John Whitesides; Editing by Howard Goller and Frances Kerry)
IMAGE: A supporter of Democratic U.S. presidential nominee Hillary Clinton reacts at the election night rally the Jacob K. Javits Convention Center in New York, U.S., November 8, 2016. REUTERS/Adrees Latif