Trump Suggests Kaepernick Should Find A New Country; But Kaepernick Is Right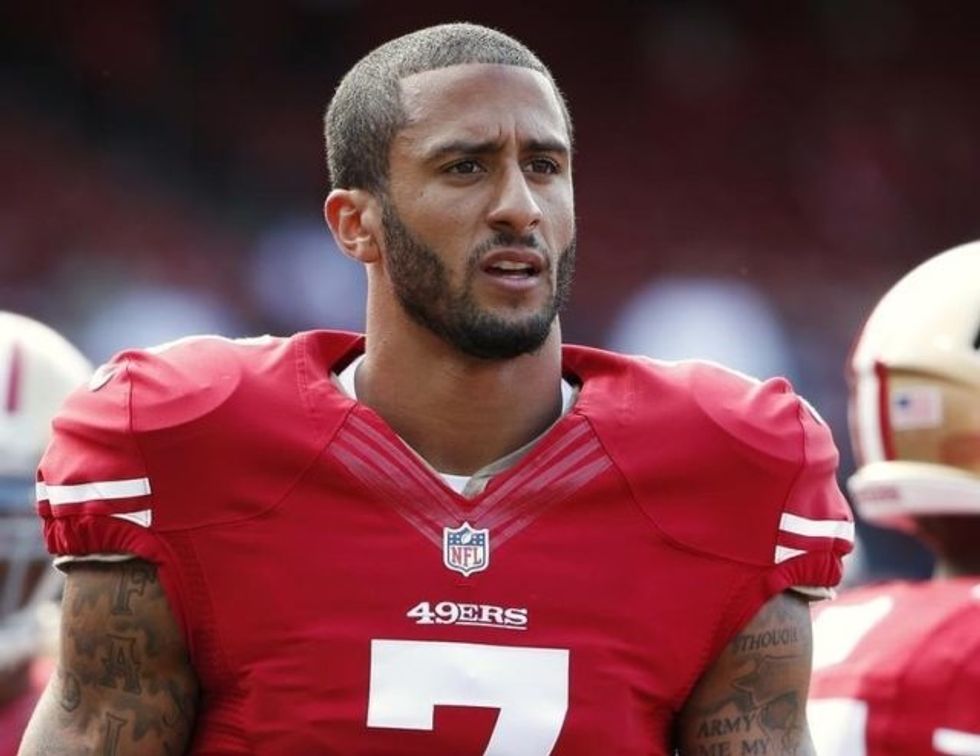 GOP nominee Donald Trump said Monday that San Francisco 49ers quarterback Colin Kaepernick might want to "find a country that works better for him," after Kaepernick refused to stand for the national anthem.
"I have followed it and I think it's personally not a good thing," Trump stated. "I think it's a terrible thing."
Kaepernick received a slew of media attention for refusing to stand during the national anthem and later told NFL.com that he did not believe in standing up to "show pride in a flag for a country that oppresses black people and people of color."
"To me, this is bigger than football, and it would be selfish on my part to look the other way," Kaepernick continued. "There are bodies in the street and people getting paid leave and getting away with murder."
According to a recent piece by Jon Schwarz at The Intercept, Kaepernick's refusal to stand for the national anthem draws on a long history.
Schwarz wrote that "The Star-Spangled Banner" "literally celebrates the murder of African-Americans." Although the song stops at the first verse, the third verse specifically references the embedded practice of slavery in the States:
No refuge could save the hireling and slave
From the terror of flight or the gloom of the grave,
And the star-spangled banner in triumph doth wave
O'er the land of the free and the home of the brave.
The song was written during the War of 1812, during which the British military specifically recruited American slaves to join them. The poem was penned by Francis Scott Key the night the British attacked Fort McHenry. Key's line in the third verse about slavery was meant to celebrate the death of slaves that had tried to free themselves.
Key also held slaves himself, as Schwarz reports.
Trump has a history of tone deaf comments directed at minorities and has shown no understanding of the issues facing blacks in America.
Kaepernick, for his part, has suggested that he does not support either major presidential candidate.
Photo: San Francisco 49ers quarterback Colin Kaepernick stands on the field before their NFL pre-season football game against the Denver Broncos in San Francisco, California, U.S. August 8, 2013. REUTERS/Stephen Lam/File Photo