Trump Tries To Explain Away ISIS Remark As 'Sarcasm'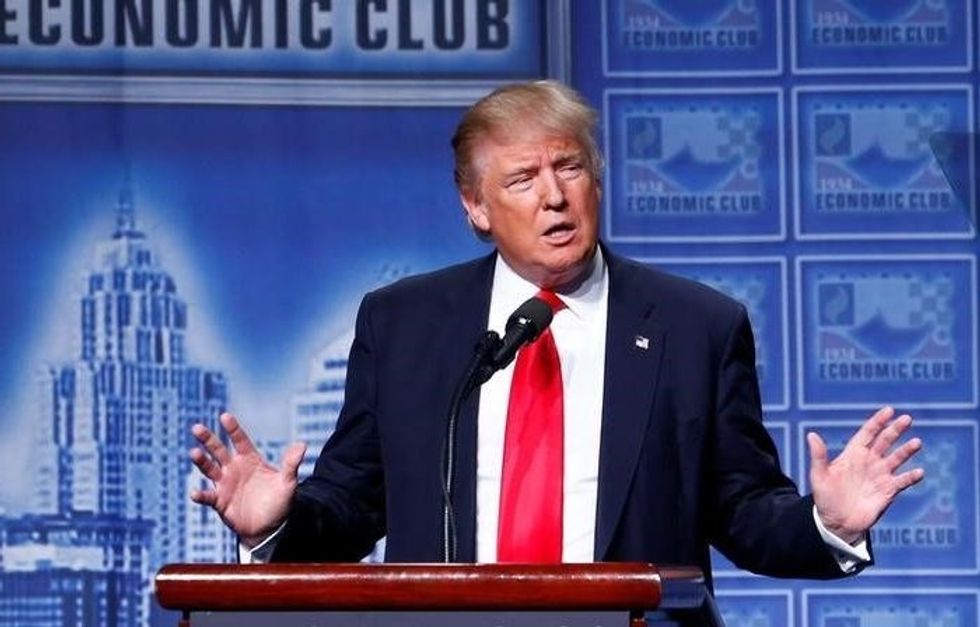 After initially doubling down on his claim that Barack Obama and Hillary Clinton were the founders of ISIS, GOP nominee Donald Trump is now attempting to back track on his comments.
Trump tweeted early Friday morning:
Ratings challenged @CNN reports so seriously that I call President Obama (and Clinton) "the founder" of ISIS, & MVP. THEY DON'T GET SARCASM?

— Donald J. Trump (@realDonaldTrump) August 12, 2016
Although his tweet was directed at CNN, Trump initially made the comments about ISIS at a National Association of Home Builders event.
"I call President Obama and Hillary Clinton the founders of ISIS. They are the founders," Trump said.
After the story garnered media attention, Trump was asked to clarify his comments and repeatedly insisted he meant what he said, telling a local NBC station in Miami, "I meant exactly that. He's the founder of ISIS." Trump was asked about his comments multiple times Thursday by multiple different outlets and continued to stand by his remarks.
An hour subsequent to his initial tweet claiming the remarks were sarcasm, Trump mocked the media in a follow-up:
I love watching these poor, pathetic people (pundits) on television working so hard and so seriously to try and figure me out. They can't!

— Donald J. Trump (@realDonaldTrump) August 12, 2016
The Clinton campaign, through it's senior policy adviser Jake Sullivan, said the following in a statement Thursday: "It goes without saying that this is a false claim from a presidential candidate with an aversion to the truth and an unprecedented lack of knowledge."
Photo: Republican U.S. presidential nominee Donald Trump speaks to the Detroit Economic Club at the Cobo Center in Detroit, Michigan August 8, 2016. REUTERS/Eric Thayer