Trump's Failing Scottish Golf Course Lost $43 Million Since 2014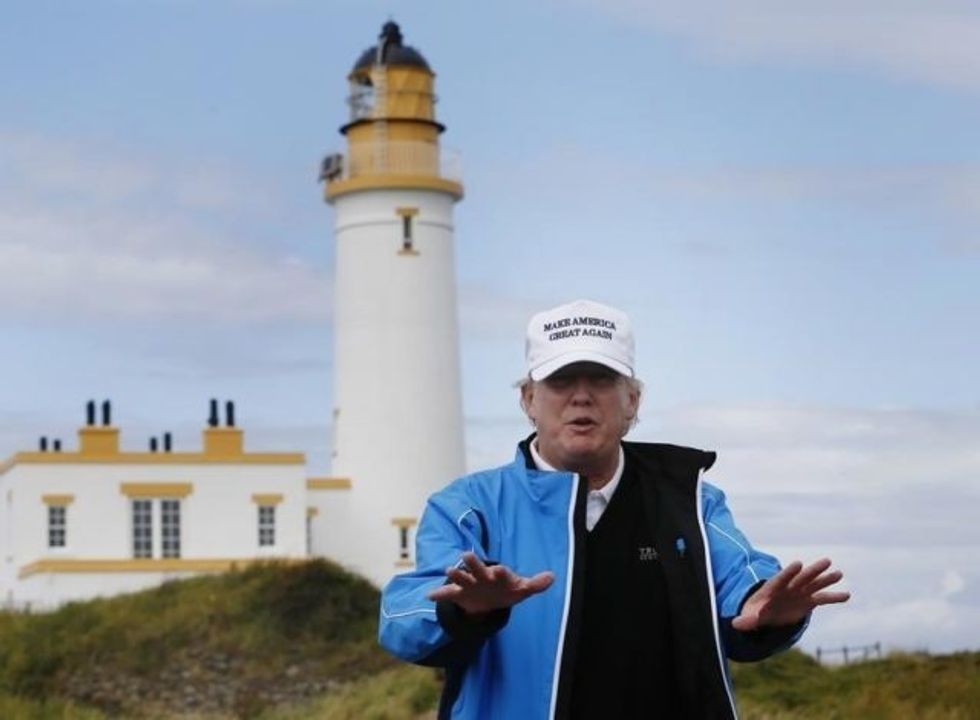 Reprinted with permission from Shareblue.
Trump's abject failure as a businessman — from casinos to real estate — is widely known. His anti-Midas touch extends beyond the United States to Turnberry, Trump's flagship Scottish golf resort, which is reporting losses of nearly $43 million (£33 million) for the four years Trump has owned it.
According to the Scotsman, a Scottish newspaper, the resort lost $4.4 million (£3.38 million) last year alone.
"The latest annual loss is notable," writes the Scotsman, "given it covers the first full year of operations since the reopening of the resort after an extensive redevelopment of both its hotel and Ailsa golf course."
The resort has never turned a profit under Trump's ownership, even as Trump siphoned U.S. tax dollars to help prop up the failing property: In July 2018, Trump visited Turnberry as part of his disastrous trip to the United Kingdom. (This is the trip where Londoners flew the famous "baby Trump" balloon.) On that visit, the State Department shelled out more than $65,000 (£50,000) for accommodations, according to the Scotsman.
Trump's business failures are nothing new, but in the past his father regularly bailed him out. An explosive and comprehensive New York Times report revealed Fred Trump regularly rescued his failing son with multi-million dollar loans and gifts.
One time, the elder Trump sent someone to purchase $3.5 million in casino chips from Trump's failing Castle casino in an illegal scheme to pass along funds to the younger Trump, since the casino was so far underwater.
Trump's troubles at Turnberry are both unsurprising, given his past failures, and self-inflicted. Bloomberg noted last year that "Trump's divisiveness does appear to be keeping some visitors away." At the pro shop, Trump-branded gear was being offered up with two-for-one deals — but folks still weren't buying it.
Trump's image abroad continues to damage him personally (and financially), and also impacts the image of the U.S. In the United Kingdom, favorable views of the U.S. dropped from 61 percent in 2016 (President Obama's final year in office) to 50 percent in 2018.
In September Trump embarrassed himself and the country at the United Nations as world leaders openly laughed at Trump's speech before the body.
Trump's humiliations seemingly know no bounds as his failures in business and politics grow by the day.
Published with permission of The American Independent.