Key GOP Voters Are Furious With Tucker Carlson Over Ukraine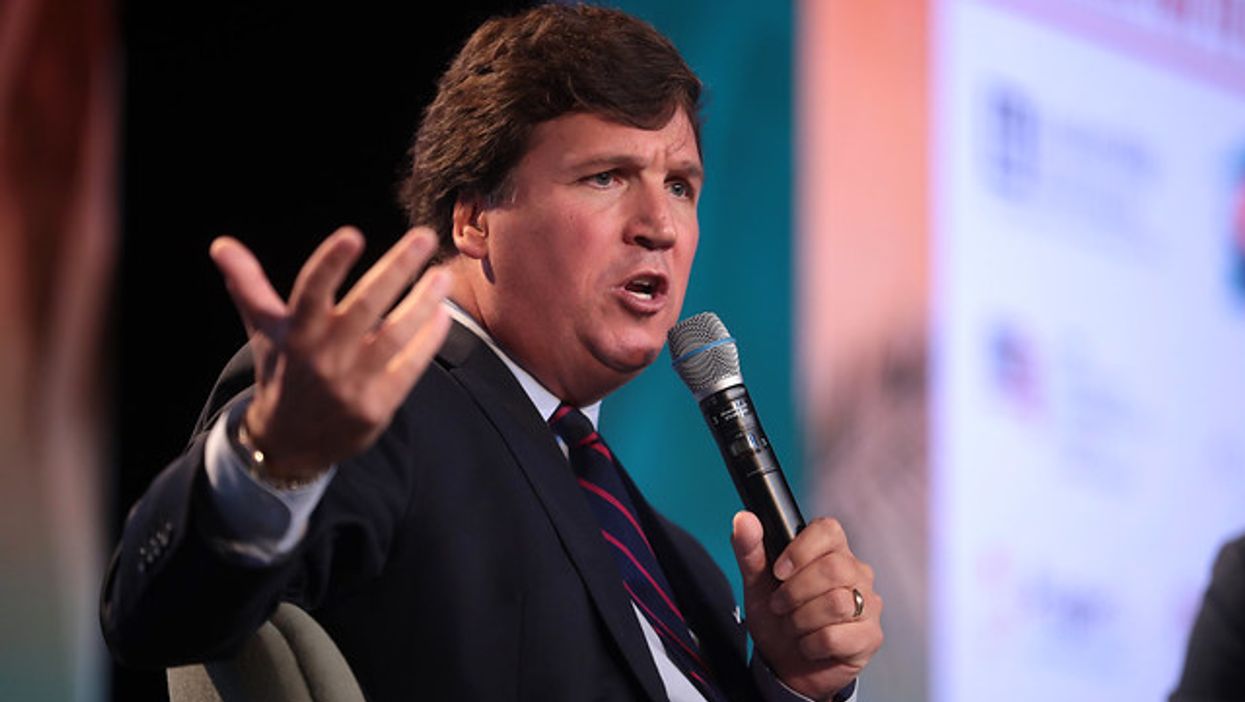 Fox News' Tucker Carlson is still defending his support of Russian President Vladamir Putin while dismissing the importance of Ukraine. However, key Republican voters appear to have a different opinion on the critical topic.
On Monday, February 21, the conservative political commentator fired back at Democratic critics during his segment of Tucker Carlson Tonight. In response to the disapproval of his desire to speak with Putin, he said:
"We won't be quiet, and not just because this is a news organization," Carlson said on Monday evening. "Because we're Americans, and we can talk to anyone we want. We can have any opinion we feel like having. That is not treason, it is not un-American. It's the whole point of America."
Despite Carlson's claims, Politico is shedding light on a key group of Republican voters who strongly disagree with Carlson. Per Politico, Andrew Futey, who serves as the Ukrainian Congress Committee of America president and is an active voice in Republican politics, explained the perspective of Ohio Ukrainians.
"Ohio's Ukrainians are well-organized and politically active — a Midwestern constituency with a strong working-class element that actually votes in part on foreign policy, and punches well above its size in their state's politics, according to many Ukrainian Americans I recently spoke to in Ohio. There aren't specific polls on Ukrainian voting patterns in the state, but traditionally these voters made up a "Reagan Republican-like community," says Andrew Futey, president of the Ukrainian Congress Committee of America, a nonpartisan national nonprofit that advocates for Ukrainian-American interests."


Futey also noted that "isolationism absolutely, absolutely is not something the community grasps or will ever support."
Andy Fedynsky — the director of the Ukrainian Museum-Archives in Cleveland, Ohio — also argues otherwise. Speaking to Politico, he refuted Carlson's arguments explaining why Ukraine is far more important than the conservative commentator realizes.
"Most of the history of Ukraine is never a history of taking someone else's land, but rather defending its own," said Bohdan Danylo, the bishop of the Ukrainian Catholic Church, St. Josaphat Cathedral in Parma, Ohio.
"If we, as a birthplace of democracy — and this democracy that is still standing, United States of America … if we think that today those principles are not defended by peace-loving and freedom-loving Ukrainians, we are mistaken," Danylo also said.
Lubomir Zhybak, a Ukrainian pastor in Youngstown, Ohio had also sounded off about Carlson's rhetoric. In a letter he reportedly sent via Fox News' "Viewer Feedback" platform, he wrote, "The reason why I am writing to you is to express my disdain at your seemingly biased anti-Ukrainian statements that you recently made on your shows regarding the current conflict between Ukraine and Russia. I think your comments not only offend us, Ukrainians, but also the millions of Ukrainian people who have been murdered by the Soviets and Russians throughout the course of history."
As a critical battleground state for the Republican Party, candidates have to consider how the Ukrainian controversy could impact the midterm elections for the party. Although Carlson is a dominant voice among conservatives, he could be doing more harm than good with his relentless dismissal of Ukraine.
Reprinted with permission from Alternet