'Fox Nation Sucks': Leaked Video Shows Carlson Slamming Network's Website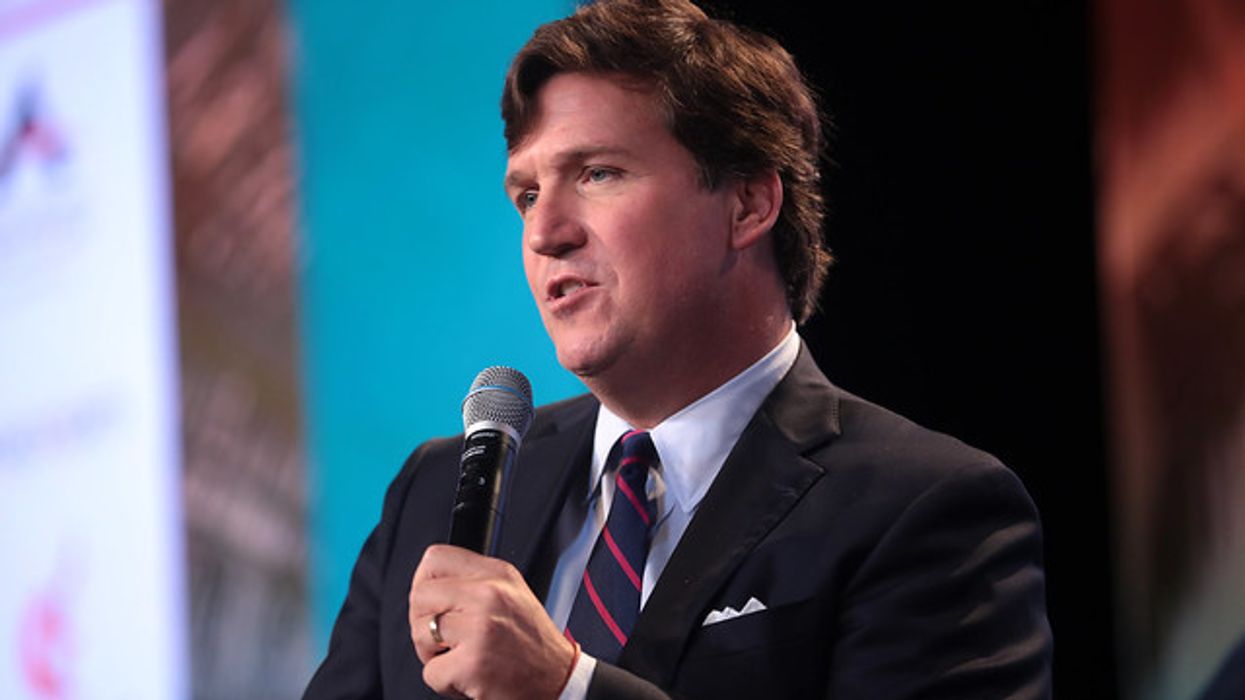 Photo by Gage Skidmore licensed under CC BY-SA 2.0
Tucker Carlson headlined Fox News' Fox Nation streaming service in the years leading up to his sudden firing from the network. But a behind-the-scenes video obtained by Media Matters shows him lashing out at Fox for the service's "unbelievable" failings — apparently while doing some image rehab for misogynistic social media influencer Andrew Tate.
According to Carlson, "nobody watches Fox Nation because the site sucks" and doesn't "work." He called the site's failings "a betrayal of our efforts," adding that rather than posting his interviews there he would prefer to "dump the whole thing on YouTube."
The video shows Carlson speaking on the phone on the set of his Tucker Carlson Today streaming interview show. He is discussing preparations for an interview in which he says he will act as "a representative of the American media now, speaking to an exile in Romania and welcoming him back into the brotherhood of journalists." The person on the other end of the call asks if Carlson can wear a sweater for the interview because the subject was "panicking" about needing to wear a suit. Carlson becomes apoplectic, saying, "This is airing on the nighttime show, and I want it to look official" rather than "like bro talk."
The interview in question appears to be with Tate, a Romania-based right-wing social media star whom Carlson gave a friendly August 2022 Tucker Carlson Today interview about Tate's bannings from several platforms for misogynist content. Tate appeared in a T-shirt, while Carlson wore a sweater. After Carlson aired part of the interview on his Fox News show, he put up a chyron which read, "Go watch the full Andrew Tate interview on Fox Nation right after this show."
In December 2022, Romanian authorities arrested Tate, who reportedly remains under house arrest while "being investigated on allegations of rape, people trafficking and forming an organised crime group." Carlson subsequently declared Tate's arrest "obviously a set-up."
TUCKER CARLSON (HOST): I don't want to be a slave to Fox Nation, which I don't think that people watch anyway. We're gonna — because, you know, I'm like a representative of the American media now, speaking to an exile in Romania and welcoming him back into the brotherhood of journalists.
UNKNOWN: It would help us out if you wore a sweater, though, because we asked him not to wear a suit, like he was panicking about it. So "you don't have to— Tucker's going to be looking casual, that's just how the show looks."
(SEVERAL SECONDS OF SILENCE)
UNKNOWN: Is that OK?
(SEVERAL SECONDS OF SILENCE)
CARLSON: I mean, this is airing on the nighttime show, and I want it to look official. I don't want it to be like bro talk. And I, and I, you know what I mean?
UNKNOWN: Yeah, but the majority of it, like, if we go, like, 45 minutes, it's going to be for Fox Nation.
CARLSON: But nobody's going to watch it on Fox Nation. Nobody watches Fox Nation because the site sucks. So I'd really like to just put the — dump the whole thing on YouTube. But anyway, that's just my view,. OK. I'm just frustrated with it. It's hard to use that site. I don't know why they're not fixing it. It's driving me insane. And they're like making, like, Lifetime movies. But they don't, they don't work on the infrastructure of the site. Like what? It's crazy. And it drives me crazy because it's like we're doing all this extra work and no one can find it. It's unbelievable, actually. I don't know who runs that site, but —
UNKNOWN: We're gonna play a sizable chunk on the show tomorrow night. That's the plan. And then what he's going to do is drive a lot of people to watch this on Fox Nation. It's going to be a great help to what we're doing over there on TC Today.
CARLSON: I know, but we're doing our part. We're like working like animals to produce all this content, and the people in charge of it, whoever that guy's, whatever his name is, like, they're ignoring the fact that the site doesn't work. And I think it's like a betrayal of our efforts. That's how I feel. So I, of course, I resent it.
Fox gave Carlson a thrice-weekly interview show and a documentary series on Fox Nation as it sought to make him the face of the network in the post-Trump era. The strategy did apparently increase signups for the service, with Lachlan Murdoch reportedly telling investors in May 2021 that "his star had helped increase Fox Nation subscriptions by 40 percent." But his content was extreme even by Carlson's standards, peaking with a revisionist take on the January 6 insurrection that created internal tumult and led several of his longtime colleagues to quit.
The rationale for Carlson's dismissal from Fox remains unclear, but leading theories include that his past disparaging comments about the network's management, his habit of acting like he was bigger than the network, and his use of misogynist slurs finally caught up to him.
The New York Times reported Wednesday that Carlson's "indiscretion" indicates that "more evidence of embarrassing and inappropriate conduct could emerge. In video obtained by The Times, for instance, Mr. Carlson is shown off camera discussing his 'postmenopausal fans' and whether they will approve of how he looks on the air. In another video, he is overheard describing a woman he finds 'yummy.'"
Reprinted with permission from Media Matters.