What Next For Fox? Ratings Collapse After Tucker Carlson Ousted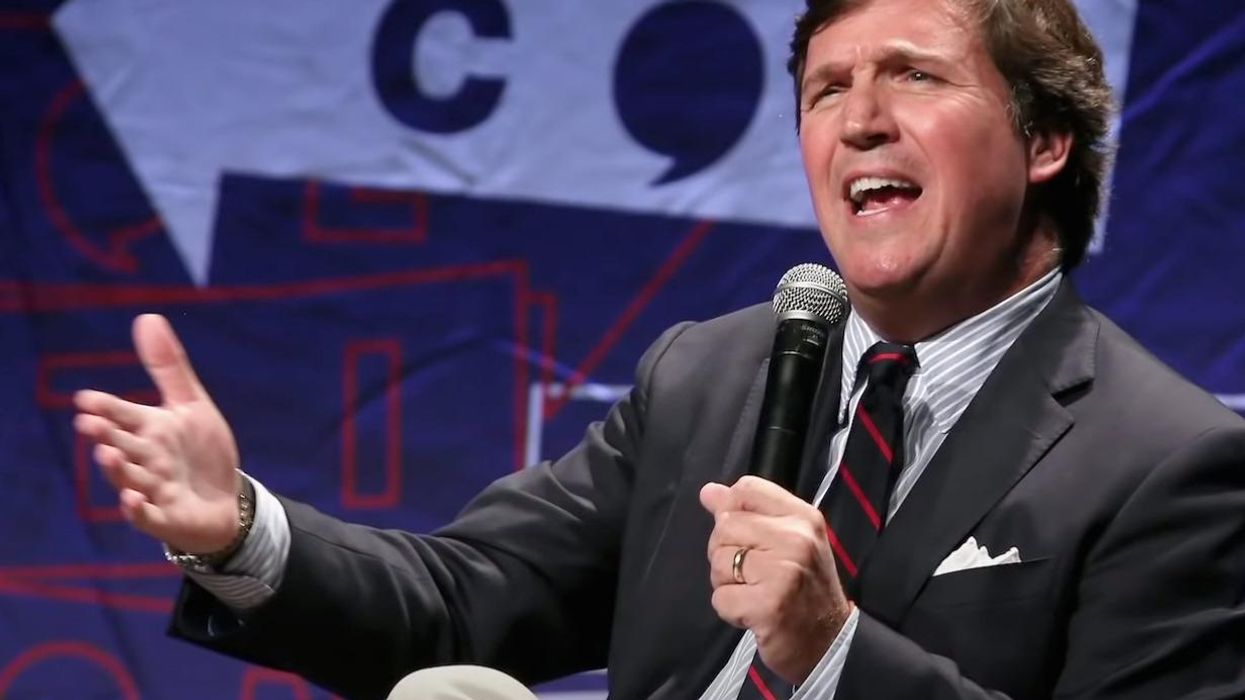 It's been less than a week since Fox News suddenly pulled Tucker Carlson off the air, and the early results for the network have been devastating. Fox's ratings are in a tailspin, and its right-wing media competitors are successfully stealing its market share by painting the network as a traitor to the conservative movement. It's time for Fox's executives and stars to panic – and whatever they do to reverse course is likely to be irresponsible and destructive.
Viewership for Carlson's former timeslot is in freefall. His show drew just over 3 million viewers last Wednesday, including 357,000 in the crucial 24-54 demographic. A week later, Fox host Brian Kilmeade's third night in the timeslot brought in only 1.33 million viewers and 124,000 in that demographic. Fox's audience for its 8 p.m. ET hour plummeted 56% among all viewers and 65% in the demo in just a week – and still may not have hit bottom. Meanwhile, MSNBC's All In with Chris Hayes scores its first ratings wins in the show's history.
The night-by-night ratings numbers show the starkness of the Fox decline.
\u201cFox News viewership at 8pm ET:\nTucker's finale: 2.65 million\nMonday: 2.59 million\nTuesday: 1.70 million\nWednesday: 1.33 million\u201d

— Brian Stelter (@Brian Stelter) 1682625982
Those numbers would be bad enough on their own – but the ratings carnage isn't limited to Carlson's old timeslot. Hannity and The Ingraham Angle, which follow it in prime time, each declined by at least 33 percent among all viewers and at least 40% in that demographic over the same period, suggesting that a large share of former Carlson viewers who are turning Fox off in his former hour aren't turning it back on afterwards. Fox programs that air earlier in the evening, like The Five and Special Report, have also seen viewership decline, albeit by a smaller proportion.
Fox's ratings are swooning as the network comes under relentless fire from its rivals in conservative media. Some influential right-wing figures have called for a boycott of Fox, including Steve Bannon of Real America's Voice, who argued that "if you're watching Fox you're helping the people that are against you" and urged his audience to "take the clicker and turn it off." Trumpist digital outlet Breitbart.comsplashed its front page on Friday with a story calling Carlson's firing a "Fox News purge" in which "the Murdochs reestablish corporate control." And hosts and guests on Newsmax, Fox's closest direct cable news competitor, have called Carlson's firing a case of Fox "pull[ing] the race card" and "succumbing to the woke mob" that foretells the "death of Fox News" and benefits the rival network – which has seen a ratings jump this week.
The prime time ratings collapse comes at a very bad time for Fox. The network is currently trying to make the case to several major cable carriers that its programming is so essential that it should be granted a huge increase in fees that would firm up its profits. The negotiations will surely be more difficult if Fox's audience remains in a steep decline.
If Fox's ratings remain soft, its leaders will be moved to act. The last time the network saw a ratings collapse of this magnitude was after the 2020 elections, when it came under pressure from the right for being insufficiently supportive of then-President Donald Trump. Fox's executives and stars panicked at the time over the prospect of the network losing its hegemony to rivals like Newsmax. They responded by amplifying election fraud conspiracy theories they knew were not credible, and a few months later, Fox made Carlson the face of the network.
But because Fox's viewers demand incendiary content, moves to firm up their support can come at a heavy cost to the network. The election conspiracy theories eventually triggered a massive defamation settlement with Dominion Voting Systems, another even larger lawsuit is still in play, and revelations from the Dominion lawsuit may have cost Carlson his job.
Whatever Fox does this time won't be pretty.
Reprinted with permission from Media Matters.