U.N. Nuclear Watchdog Says Its Chief Visited Military Site In Iran
@reuters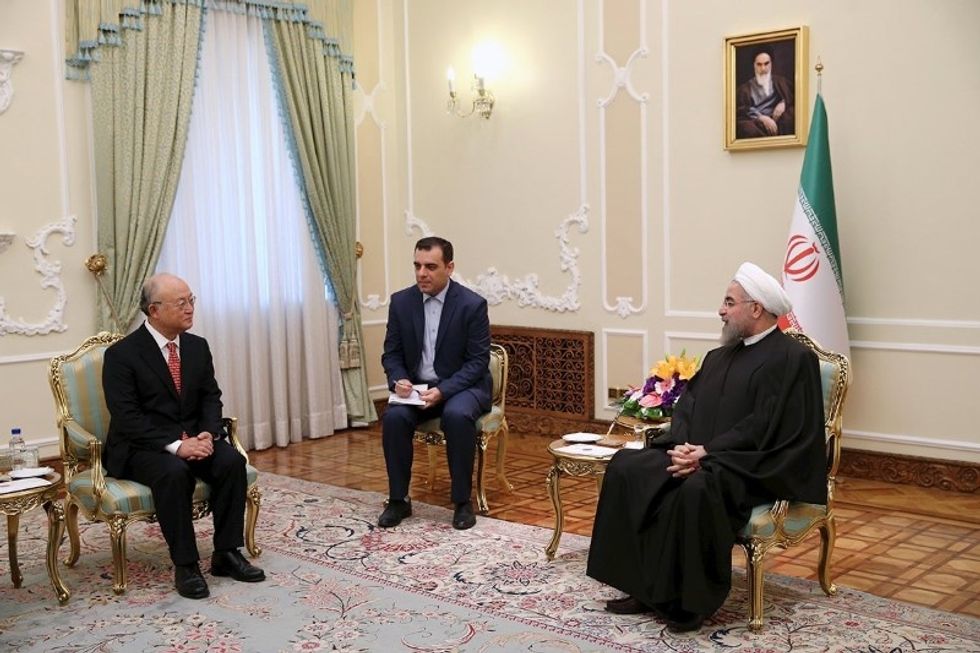 VIENNA (Reuters) – The U.N. nuclear watchdog, which is investigating whether Iran carried out work related to developing a nuclear bomb, said on Sunday its chief had visited a sensitive military site during a trip to the country.
The visit is a highly symbolic move by the agency, which has not visited the Parchin site in a decade and has faced accusations that it reached an agreement with Tehran restricting its ability to investigate at the sprawling complex.
Under a road map agreement accompanying a July deal with world powers, the IAEA is due to issue an assessment this year on "possible military dimensions" of Iran's nuclear program. One open question is whether Iran carried out high-explosives testing at Parchin related to making a nuclear warhead.
"The director general visited the site of Parchin, together with the head of the Department of Safeguards, Tero Varjoranta," the International Atomic Energy Agency said in a statement.
A spokeswoman for the IAEA declined to provide details on the visit by its director general, Yukiya Amano. Tehran denies having conducted research related to nuclear weapons at Parchin, 30 km (19 miles) southeast of Tehran, or anywhere else.
IAEA access to Parchin was one of the most sensitive issues in negotiations that led to the July deal between Iran and six world powers – the United States, France, Britain, Germany, China and Russia – which provides for restrictions on Iranian nuclear activities in exchange for a lifting of sanctions.
Under that deal, Iran cannot receive its promised sanctions relief until it clears up outstanding IAEA questions about past research that Western powers suspect was related to the development of nuclear weapons.
A confidential plan for IAEA inspections at the Parchin site has led to differing reports on how they will be carried out. Some critics of the U.S. administration have said Iran has been given too much leeway to conduct the inspections itself, including in taking environmental samples.
The IAEA has said it has a legal obligation to keep details of the arrangement confidential, but insists it is technically sound and will ensure the samples are not compromised.
Under that arrangement, the samples will be taken by Iranian technicians while IAEA experts present at Parchin observe and oversee the process, Western diplomats told Reuters.
The exact nature of Amano's visit to the site on Sunday was not immediately clear. Iranian state media described it as ceremonial rather than an inspection of the sprawling site.
"Yukiya Amano visited the road construction near Parchin facilities," Behruz Kamalvandi, spokesman for the Atomic Energy Organization of Iran (AEOI), was quoted as saying by state news agency IRNA.
The visit to Parchin was part of a one-day trip to Iran on Sunday in which Amano met President Hassan Rouhani, Foreign Minister Mohammad Javad Zarif, the head of the AEOI, Ali Akbar Salehi, and Iranian lawmakers, the IAEA said in its statement.
"Discussions with high-level Iranian officials focused on the continued implementation of the roadmap to resolve all past and present outstanding issues," the statement said.
(Reporting by Francois Murphy in Vienna; Additional reporting by Bozorgmehr Sharafedin in Dubai and Louis Charbonneau in New York; editing by Andrew Roche)
International Atomic Energy Agency (IAEA) Director General Yukiya Amano (L) meets Iran's President Hassan Rouhani (R) in Tehran, September 20, 2015. REUTERS/President.ir/Handout