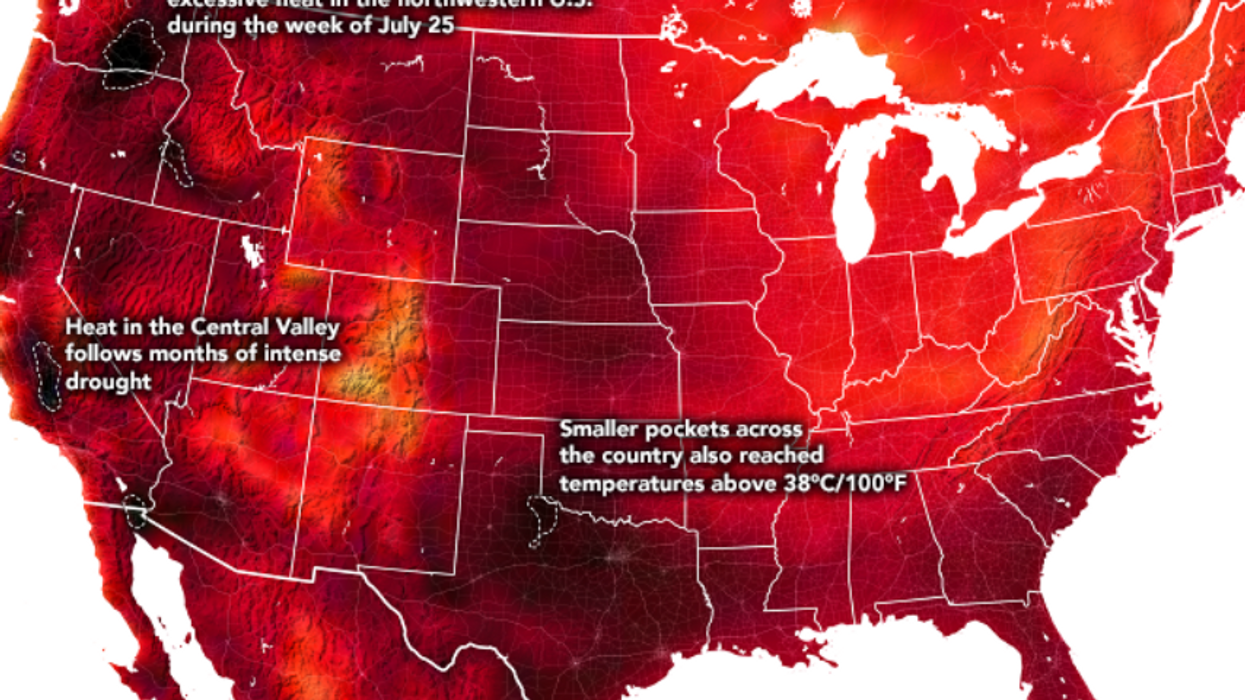 As the climate crisis becomes more evident and destructive, even exceeding climate scientists' earlier predictions, Fox News and other influential right-wing outlets and figures are downplaying the severity of climate-fueled events and pushing dangerous climate denial.
This summer has been marked by a series of record-breaking extreme weather events, illustrative of the rapidly intensifying effects of global warming. Unprecedented heat waves, wildfires, and floods have wreaked havoc across North America. Meanwhile, global sea surface temperatures have reached alarming levels, and the world just experienced its hottest day on record — four days in a row. These events align with scientists' warnings, but the acceleration of warming and the intensity of this summer's extreme heat suggest that the climate crisis is unfolding faster than expected.
Last month, when smoke from hundreds of wildfires raging across Canada polluted the air over major population centers in the U.S., Fox News dismissed the link between the fires and climate change; meanwhile conspiracy theories seeking alternative explanations for Canada's record-breaking wildfire season flourished online. In response to news that Earth had reached its hottest temperatures ever recorded, bad actors attempted to distract from the unsettling milestone by focusing on CNN's use of the phrase "hottest day ever." As deadly heat continues to scorch parts of the U.S., Asia, and Europe with no end in sight, and with a 1,000-year flood event having left parts of Vermont and New York state underwater, right-wing media cling to talking points that deny climate science.
By flooding the zone with climate denial right when the climate crisis is most evident, right-wing media run cover for Republican decision-makers who are actively obstructing climate action, ward off accountability for the fossil fuel industry, and pollute information systems for those attempting to understand the link between extreme weather and our dependence on fossil fuels. This tactic, like the extreme heat, has no end in sight.
Right-wing media responded to deadly climate change-fueled heat and flooding with denial and delay
Fox Business host Stuart Varney indulged climate change denier Marc Morano and said climate change is "a good debate." When discussing extreme heat in Phoenix, Arizona, Morano said, "This is not outside the normal bounds of hot summer weather," and claimed that CNN, The New York Times, and others are "weaponizing hot summer heat waves to turn it into some kind of climate action." Varney asked Morano whether "that is not the result of CO2 emissions'' and said, "It's a good debate. This is a very good debate." [Fox Business, Varney & Co., 7/19/23]
Far-right radio host Steven Crowder hosted climate contrarian Bjorn Lomborg, who downplayed the climate crisis by arguing that more people die from cold than heat: "We are not talking about a world where most people die from heat. No, most people die from cold. Cold is fantastically more dangerous for a lot of different reasons." [Rumble, Louder with Crowder, 7/19/23]
The Daily Wire's Matt Walsh suggests that the extreme heat is normal for summer: "Well it's summertime and that means it's hot outside … This is when the media, as it does every year, claims that the hot weather is a sign of our impending planetary doom." [The Daily Wire, The Matt Walsh Show, 7/18/23]
Far-right pundit James Lindsay: "Climate struggle sessions ramping up. They're going to try and fail to make that transition again. The propaganda isn't going to work this time either, though." [Twitter, 7/18/23]
Fox News host Laura Ingraham, in response to an Axios article about extreme weather: "I'm not taking@Axios seriously until they start crusading against coal burning in China — anyone who claims to worry about carbon emissions should start there or button it. Even the 'best states for climate change' get hit with extreme weather" [Twitter, 7/18/23]
COVID-19 conspiracy theorist Dr. Naomi Wolf: "Oh! Conclusions: this will happen more and more often because climate change so: stay indoors, do remote work, 'mask'. Back where we were again." [Twitter, 7/18/23]
Right-wing Irish political activist and conspiracy theorist Ben Gilroy: "Today media continue to propagandise weather showing high temperatures in Death Valley USA — yet the park rangers wear jackets and gloves? The elites UN climate scam is really about securing a world government plutocracy, depopulation, and severely cutting your quality of life." [Twitter, 7/18/23]
Fox host Jesse Watters downplayed the extreme heat as simply "summer": "It's been a hot July. Some call it 'global warming,' some call it 'summer.' But what's the best way to beat the heat? Ice cream." [Fox News, Jesse Watters Primetime, 7/17/23]
Longtime fossil fuel shill Steve Milloy: "@AP: 'Around the world, millions feel the heat of an unrelenting summer.' Two points: 1. It is summer. It gets hot. 2. There 8 billion in the world. If only 'millions' are experiencing extreme heat, that doesn't sound much like 'climate change.'" [Twitter, 7/17/23]
Misogynist influencer and alleged sex trafficker Tristan Tate: "They're naming heatwaves like they used to name new 'Covid variants'. Can somebody in the government give me the job of whoever makes the names up? I'll do it for free. Watch out! The 'lovely warm summer' heatwave has just hit Europe." [Twitter, 7/15/23]
COVID-19 conspiracy theorist and anti-vaccine influencer Dr. Eli David: "When the weather is a bit warmer than usual: Experts™: IT'S PROOF OF GLOBAL WARMING!!!!! When the weather is colder than usual: Experts™: WEATHER AND CLIMATE ARE TWO DIFFERENT THINGS YOU MORONS!!!!!" [Twitter, 7/17/23]
Newsmax host Chris Salcedo mocked concern over the record heat: "Newsflash folks, it gets hot in the summer." He continued, "After a few particularly hot days on the Fourth of July weekend, the left — they went into full fearmongering mode." Salcedo then interviewed Milloy, who warned that climate activists would call for climate lockdowns. [Newsmax, The Chris Salcedo Show, 7/17/23]
On The Five, Jesse Watters attacked "the left" for connecting climate change to heat waves across the globe and mocked climate activists: "The left rushing to blame global warming for that dangerous heat wave gripping the nation and the world right now. But I think the heat's getting to their heads. Climate change-obsessed liberals are actually acting crazier than usual, with eco-extremists in Germany literally gluing their hands to airport runways as a way to sound the alarm on how the planet's cooked." [Fox News, The Five, 7/17/23]
Fox host Greg Gutfeld also attempted to downplay the record-breaking heat with bizarre logic: "The problem with using weather — like saying, 'This place broke records' — how many states, how many countries didn't break records? Nobody ever provides you the context. They're going, 'Three countries had record breaking heat waves.' It's like, well, 'How many countries are there?'" [Fox News, The Five, 7/17/23]
On America's Newsroom, Lomborg suggested that more air conditioning is the way to address extreme heat: "The way to fix this, of course, is to make sure that people get lots of air conditioning and that they can actually afford the energy that they will run their air conditioning on. That's one. The second one is to remember that, yes, there are many people dying from heat, but many, many more people dying from cold." [Fox News, America's Newsroom, 7/17/23]
Climate change denier and former University of Alabama professor Matthew Wielicki: "We used to call this summer. Now we call this a climate crisis." [Twitter, 7/15/23]
Milloy: "India's monsoon season is not affected by emissions. Indians have died in monsoon flooding since there have been Indians and monsoons. It is really dishonest and disgusting to surf tragic deaths for climate." [Twitter, 7/14/23]
Right-wing British pundit Brendan O'Neill, who has been praised by anti-renewable energy activist Michael Shellenberger, wrote that "global warming could be good for humankind." Citing Lomborg, O'Neill wrote that "the truth is that global warming could be good for humankind" because more people die from the cold than heat. "It's pissing down in Britain," he continued, "Where's our global warming? Even the name of the heatwave is designed to conjure up visions of hellfire and torment." [Spiked, 7/14/23]
On Fox News at Night, Carl Demaio, a political operative and conservative radio host, called a California campaign to warn residents about climate-driven extreme heat "wasteful spending" and "fear porn." [Fox News, Fox News at Night, 7/12/23]
Newsmax host Eric Bolling, in response to calls for climate action after flooding in the Northeast, denied that human activity is responsible for warming: "It's raining, so we all must change our behavior. Unprecedented weather events — look flooding's terrible, loss of property is a disaster, and our hearts go out to those affected. But just imagine, for one moment, the ridiculousness and the pompousness to think that: one, our behavior has any real impact on weather and the Earth, and two, even if that were true — which it's not — that we could do anything about it without making things worse." [Newsmax, Eric Bolling The Balance, 7/11/23]
Fox host Laura Ingraham also mocked the extreme heat and calls to action, suggesting that climate change is a made-up crisis: "It's hot, hot, hot all right. After all, we're in the middle of a season called 'summer.'" Ingraham later played a clip from a previous show, arguing that "COVID lockdowns set the predicate for more to come." She said, "Their so-called public health experts were wrong on everything from lockdowns to masks to social distancing. And yet now we see the usual suspects lining up to exploit another hyped crisis: of course, I'm talking about climate change." [Fox News, The Ingraham Angle, 7/11/23]
Right-wing journalist and author Alex Berenson: As climate change hysteria reaches a new level of screeching (1-in-1000 this, world's hottest that), remember that weather-related deaths have PLUNGED since 1970. The wealthier the world becomes, the easier managing climate change will be. And wealth requires energy. Period. [Twitter, 7/10/23]
On Jesse Watters Primetime, guest host Pete Hegseth mocked reports of record-breaking heat and blamed media for "hyping climate insanity": If there is one thing the mindless left loves to magically discover every year, it's that summer is hot. Hegseth continued, "It was hotter in New York in April. And it's not even the hottest June we've ever had. The data shows that the 80s and 90s … were a lot hotter." [Fox News, Jesse Watters Primetime, 7/7/23]
Reprinted with permission from Media Matters.