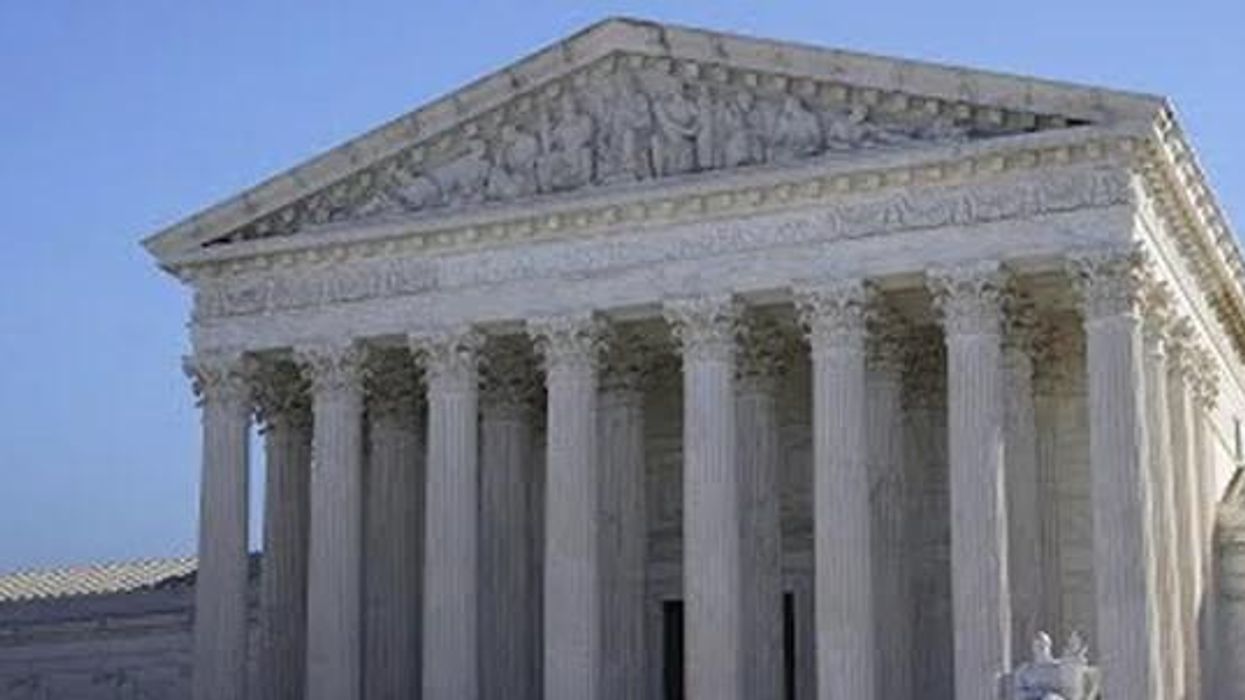 In reaction to clear signs that the Supreme Court may take aim at marriage equality after overturning Roe v. Wade, right-wing media outlets are employing the same tactics they previously deployed against Roe by denying that the precedent protecting gay marriage is at risk while simultaneously calling for it to be repealed.
On June 24, the Supreme Court issued a ruling in Dobbs v. Jackson, overturning Roe v. Wade, Planned Parenthood v. Casey, and the long-held precedent guaranteeing federal protection for abortion rights nationwide. As part of the ruling, Justice Clarence Thomas released a concurring opinion calling for the court to "reconsider" several other cases, namely those protecting same-sex sexual activity, access to contraception, and gay marriage. Both Thomas and Justice Samuel Alito have also previously expressed an interest in overturning Obergefell v. Hodges (the case establishing protections for same-sex marriages). Conservatives have already seized on the ruling to attack LGBTQ rights, with Alabama citing Dobbs14 times in a recent court filing presented in support of the state's ban on gender-affirming care for trans youth.
Yet in the aftermath of the ruling, right-wing media have attempted to dismiss the genuine possibility that Obergefell could face the same fate as Roe, reflecting their earlier push to downplay the risks to Roe. Meanwhile, many right-wing outlets, including some of the same ones denying gay marriage is under threat, have called for Obergefell to be repealed.
Right-wing Media Claim Roe Ruling Doesn't Put Marriage Equality At Risk
The majority decision in Dobbs stated that the ruling did not set precedent for other cases unrelated to abortion. However, Thomas used the ruling to push for reconsideration of three other cases — Lawrence v. Texas, which struck down any remaining laws against same-sex sexual activity; Griswold v. Connecticut, which set the precedent protecting access to contraceptives; and Obergefell. Despite Thomas' opinion and Alito's previous statement suggesting support for overturning marriage equality, right-wing media argued that the precedent in the Dobbs ruling does not jeopardize Obergefell.
On June 24, Fox News guest Carrie Severino accused Democrats of "fearmongering" about the threat to marriage equality, adding, "Please don't pretend that it's going to have an impact on every other case in our society because it simply doesn't." That night, Fox News' Tucker Carlson similarly called the threat to marriage equality a "fearmongering talking point" and claimed President Joe Biden is "a liar" for noting the threat the ruling poses to the Obergefell.
Other Fox News personalities continued to push the claim that the Dobbs ruling exists in a vacuum and would not effect rights like gay marriage or contraception. They were joined by Newsmax's show American Agenda, during which host Heather Childers called warnings by protesters and activists "fear-mongering" and guest Erin Elmore of Turning Point USA claimed that "the left is using fear in saying what's going to happen to gay marriage or interracial marriage or the right to contraception."
The Wall Street Journal's editorial board also said on June 24 that the "political left is making much of Justice Clarence Thomas' argument." The editorial asserted that Obergefell relied on stronger precedent than Roe because it made possible myriad marriage contracts across the United States, suggesting that Thomas had shown he would not approach the case in the same fashion. Also, during the June 24 episode of the Journal's podcast Potomac Watch, members of the editorial board Kimberley Strassel and Kyle Peterson argued gay marriage was not put at risk by the ruling. Peterson said, "I am very skeptical that the Supreme Court would say those people can be married today and not married tomorrow in the United States" — which is in fact what the court had done that very same day for more than 33 million people's ability to exercise their reproductive autonomy.
Adding a degree of cognitive dissonance, some of those adamantly asserting that Roe's overturning did not endanger LGBTQ rights simultaneously called for Obergefell to be overturned. On the June 24 edition of his radio show, Fox News' Sean Hannity called fear that Dobbs will be used against the gay community "left-wing lunacy" and cited the majority opinion to claim the ruling "applies to this case and this case alone." However, on his show on June 27, Hannity discussed Thomas' opinion, noting how it said "striking down Roe should open up the high court to review other precedents" before suggesting that striking down "Griswold, Lawrence, and some [other cases]" would be "the most democratic for this democratic republic that we live in." The Daily Wire's Ben Shapiro likewise tweeted on June 27 that the court "explicitly said they would NOT touch Obergefell or Griswold" but on June 24, a Daily Wire article had quoted him lamenting that, unlike Thomas, the other justices did not "have the actual stones" to attack cases like Obergefell.
Former Trump campaign adviser Steve Cortes also called for the court to evaluate "what constitutes a marriage," BlazeTV's Steven Crowder argued that "states should have the right to regulate same-sex marriage," and far-right grifter Mike Cernovich falsely claimed Obergefell resulted from "SCOTUS discover[ing] it hidden in a 200 year old text" and suggested it was "anti-democratic." Following the ruling, Texas Attorney General Ken Paxton also stated his support for removing protections for gay marriage, same-sex relations, and contraceptives, calling them "legislative issues."
Conservative Pundits Made Same False Claims About Roe
In the years leading up to the Dobbs decision, right-wing media were equally adamant about Roe not being in jeopardy. During confirmation hearings for Justices Brett Kavanaugh and Amy Coney Barrett, many of those now accusing people of fearmongering over the fate of Obergefellsaid the same about Roe.
Leading up to the confirmation hearings for Barrett in 2020, Shapiro said the possibility of Roe being overturned was "basically zero" and said, "Roe v. Wade is not going to be overturned." Hannity defended Barrett, saying, "In spite of the lies the left will tell you, Judge Barrett has been described as personally pro-life but has expressed doubts that Roe v. Wade will ever be overturned."
Two years before that, during Kavanaugh's confirmation, those on the right said the same. Severino said a "head-on challenge to Roe" was "unlikely." The Wall Street Journal's editorial board argued that the strength of "stare decisis" meant the court was unlikely to overrule Roe — the exact same doctrine it cited in its June 24 editorial to dismiss concern for Obergefell.
As with the current round of rhetoric, Fox News was a major player in denying Roe would be overturned, often while making flawed arguments for why it should be.
Like Abortion Access, LGBTQ Rights Are Known To Enjoy Broad Public Support
As with their tactic on Roe, right-wing media outlets are intent on gaslighting their audiences into believing that the right to gay marriage is safe. They'll push that claim just long enough for the same powerful conservative organizations responsible for overturning federal abortion protections to overturn marriage equality. Two of the organizations that filed briefs in support of Dobbs, Concerned Women for America and the Family Research Council, are both vocal critics of Obergefell and have leadership that is frequently featured on right-wing outlets like Fox News.
However, those in conservative media understand that fundamental rights like access to abortion and marriage have broad public support — 61% of Americans believe access to abortion should be legal in all or most cases, and support for gay marriage is at an all-time high, with 71 percent of Americans supporting it. The ability of right-wing actors to distract from and obfuscate the extreme policy they support is essential in their mission to make inroads with a broader audience.
Reprinted with permission from Media Matters.