Ukraine Conspiracy Promoter Secretly Met With Sen. Johnson
@jeisrael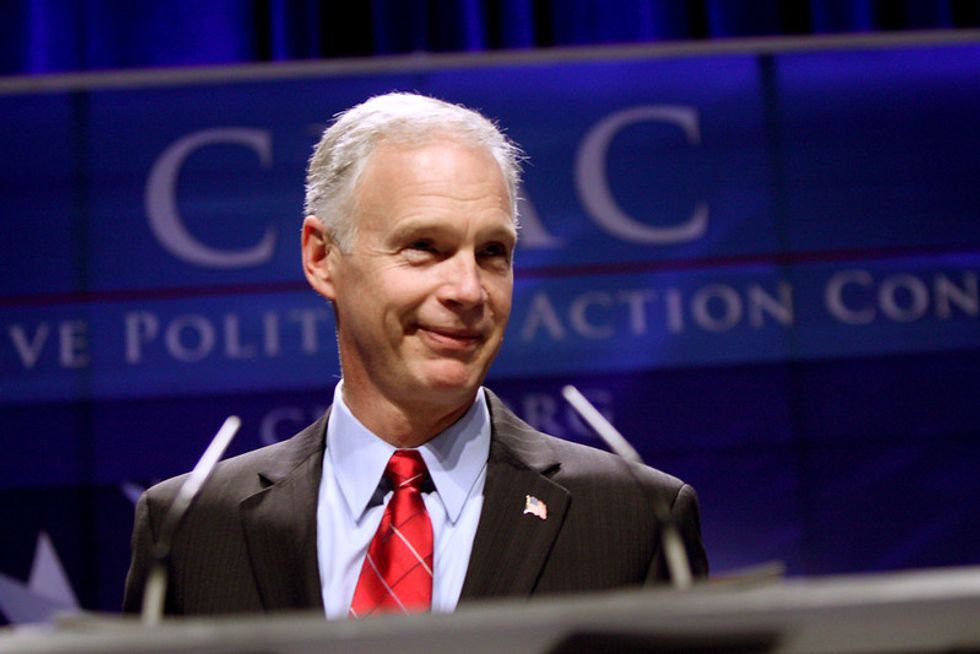 Since the news broke that Donald Trump had pushed the president of Ukraine to help his 2020 reelection campaign by digging up dirt on his political opponents in an apparent quid pro quo for security aid, Sen. Ron Johnson (R-WI) has been one of Trump's most ubiquitous defenders. But a new Washington Post story revealed on Monday that he was an even bigger part of the unfolding scandal than previously reported.
Johnson, the Post said, met in July with Andrii Telizhenko, a one-time Ukrainian diplomat who has pushed unproven conspiracy claims that officials in his country had secretly worked to help the Democratic National Committee during Hillary Clinton's unsuccessful 2016 presidential bid. Telizhenko said he met with Johnson for at least 30 minutes in Johnson's Capitol office and spent another five hours talking with his staff. At least part of the conversation, he said, was the "DNC issue."
"I was in Washington, and Sen. Johnson found out I was in D.C., and staff called me and wanted to do a meeting with me. So I reached out back and said, 'Sure, I'll come down the Hill and talk to you,'" he told the paper.
Johnson chairs the Senate Homeland Security and Governmental Affairs Committee, chairs the Senate Foreign Relations Committee's Europe and Regional Security Cooperation subcommittee, and is vice chair of the bipartisan Senate Ukraine Caucus. According to the Post report, staffers from one of Johnson's committees met with Telizhenko as part of their investigation into FBI's investigation into the 2016 election.
Back in May, Telizhenko reportedly shared cigars and hamburgers with Trump's personal attorney Rudy Giuliani and apparently convinced him that Ukraine had intervened in the 2016 election on Clinton's behalf in a separate marathon meeting. Weeks later, Trump raised these issues in his phone call with Ukrainian President Volodymyr Zelensky, according to a call summary released by Trump.
Earlier this month, Johnson told the Wall Street Journal that he had had a phone call with Trump in August to discuss concerns raised to him by Trump's own ambassador to the European Union, Trump donor Gordon Sondland, that the White House may have conditioned security aid to Ukraine investigating Biden. The Wisconsin senator was apparently satisfied with Trump's denial. "Expletive deleted—No way. I would never do that. Who told you that?" Johnson recounted.
Much of Trump's conspiracy theory is premised on the fact that, during his time as vice president, Joe Biden urged Ukraine to remove then-prosecutor general Viktor Shokin in 2016. Trump has argued that this was because Shokin was investigating a company for whom Biden's son Hunter was a board member, though the investigation was dormant at the time. Biden pushed for Shokin's removal based on his view that he was not doing a good enough job investigating corruption — a view echoed in a 2016 bipartisan letter signed by Ron Johnson himself.
Rather than recuse himself from the Ukraine matter given his potential conflict of interest, Johnson continues to do everything possible to attack the investigation. Last week, he became an original co-sponsor of Sen. Lindsey Graham's (R-SC) resolution condemning the House of Representatives for not conducting its impeachment inquiry the way the Republican minority wants.
Published with permission of The American Independent.