The Uncertain Future Of The Working-Class
@FromaHarrop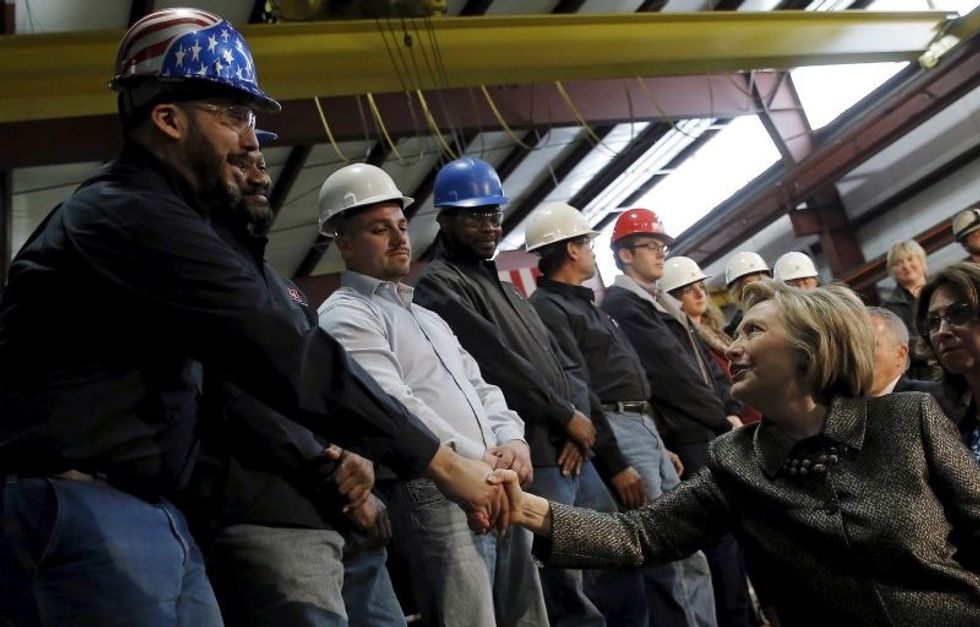 A best-selling sports book, The Boys in the Boat, describes the unlikely path of working-class blokes to gold-medal glory at the 1936 Berlin Olympics. There's lots about rowing, but what struck this reader most was author Daniel James Brown's account of the tough lot of laborers in the Northwest during the Great Depression.
This is a Seabiscuit story starring humans instead of a horse. What the University of Washington rowing team had in common with the unpromising small stallion was their status as rugged Westerners who, through grit and brutal work, bested the fancy athletes of the East.
These were men who worked all day and into the night with their hands. They farmed, mined, fished, logged. They lost fingers. They grew their own food with their hands and, for entertainment after dinner, used their hands to make music on guitars.
One heard echoes of Jack London's youth as a "work beast" two generations before in Northern California. At age 13, the future novelist put in 18-hour days at a cannery. London never overcame his rage at having been forced into unremitting toil for dirt wages.
One of the boys in the boat was Joe Rantz, who, even as a champion rower, never got over his feeling of being "utterly disposable." Rantz's family moved away, telling the young teen not to join them. Rantz carried trays up and down hills to a cookhouse to put breakfast in his stomach.
The Depression was as depressing in Seattle as everywhere else. How did guys such as Rantz get through? A combination of resolve, work ethic and government programs. Through the Civilian Conservation Corps, Rantz lucked into a job laying asphalt for the new Olympic Highway. He also found work on another federal project, the Grand Coulee Dam.
The hardships facing today's distressed working class don't hold a candle to the life-and-death struggles these men faced. Nowadays, working Americans have far higher expectations regarding quality of life. But men who work with their hands these days seem less hopeful.
There is nothing Donald Trump can do to stop the automation of factory work. And a sloppy renunciation of trade agreements would kill far more jobs than it would save, economists say.
The Boys in the Boat is, at bottom, a history about a sport. But the stories suggest at least two plausible ways to enhance economic security for blue-collar America. One, noted above, is a giant federal program to build and fix the infrastructure. Trump campaigned on that. Whether small-government conservatives so opposed to stimulus spending will let that happen remains to be seen.
The other follows the trajectory of George Pocock, the master builder of racing sculls. A product of the English working class, Pocock learned boat building from his father. The art of turning trees into sleek sculls didn't require a university-type education, though in many ways, it took a far more advanced skill set.
Pocock derived enormous pride from his work. For him, the product was all, and he would not make more boats than he could make with perfection and beauty.
"No one will ask you how long it took to build," he said. "They will only ask who built it."
Mass-market sculls, as with other boats, have since moved to plastic. But there remains a cultlike devotion to the wooden works of boat-building art. As long as it lasts, there will be a need for the Pocock type of boatmaker.
Likewise, there remains a dedicated clientele for handmade furniture and guitars and sweaters. The labor going into these products must be paid for, and the laborers must be paid well. Skilled hands can do a lot more than tap at screens.
Follow Froma Harrop on Twitter @FromaHarrop. She can be reached at fharrop@gmail.com. To find out more about Froma Harrop and read features by other Creators writers and cartoonists, visit the Creators webpage at www.creators.com.
IMAGE: Hillary Clinton greets workers at Munster Steel in Hammond, Indiana, United States, April 26, 2016. REUTERS/Jim Young