Vietnam, U.S. Restart Adoptions After Six-Year Ban
@AFP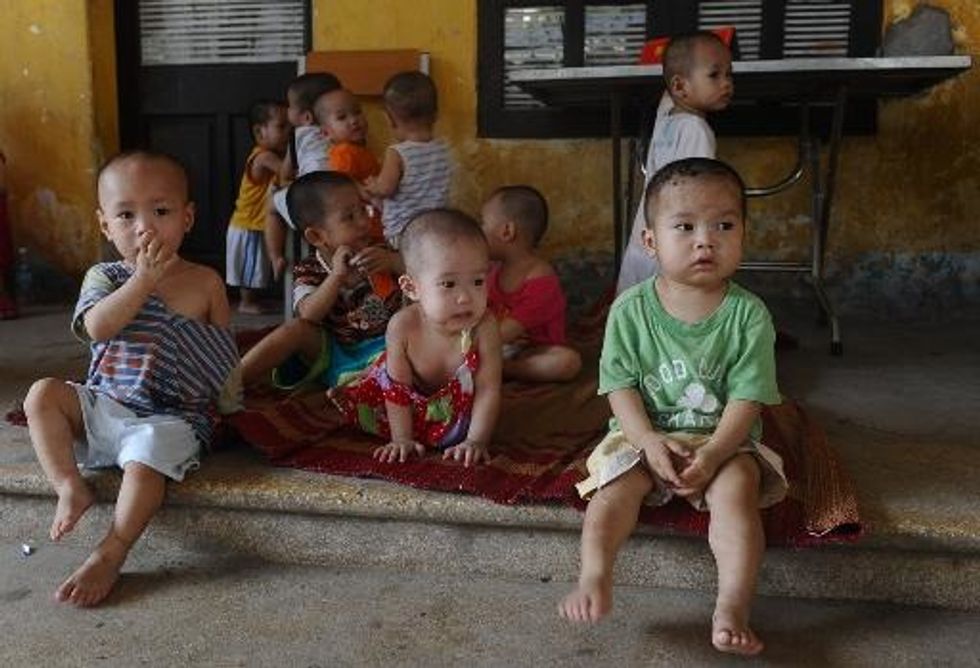 Hanoi (AFP) — American parents will again be allowed to adopt Vietnamese children, authorities said Tuesday, ending a six-year ban imposed after allegations of baby-selling and fraud but with new restrictions.
Two American agencies have been awarded licences but new U.S. adoptions will be limited to children aged over five, sibling groups and those with special needs, the U.S. State Department said.
Americans have been unable to adopt from Vietnam since a 2008 ban imposed due to U.S. embassy concerns that many adoptees had been trafficked or given up after their families were coerced.
Vietnam denied these claims but agreed to suspend adoptions with the United States.
A year later a U.N.-commissioned report found that largely unregulated cash payments by adoption agencies to orphanages had encouraged them to source babies and children, often with inadequate background checks.
Communist Vietnam went on to ratify the Hague Convention on Protection of Children and Co-operation in respect of inter-country adoption in 2011. It also revised its domestic law on adoption the same year.
"The United States welcomes Vietnam's efforts to enhance its child welfare and intercountry adoption system," the U.S. embassy said in a statement Tuesday.
It named Dillon International and Holt International Children's Services as the US agencies newly authorized to help handle adoptions in Vietnam.
– 'Good step' –
Nguyen Van Binh, director of the international adoption department at Vietnam's Ministry of Justice, confirmed it had granted licences to the firms.
There are now a total of 36 foreign adoption agencies operating in Vietnam, he told AFP, from countries including France, Italy and Sweden.
Before the ban, only some five percent of adoptees were aged five years or older and the majority were under two, state media reported.
Tad Kincaid, founder of Ho Chi Minh City-based Orphan Impact, welcomed the restarting of adoptions with new restrictions as "a good step".
"It makes sense to focus on children who are hardest to place, as they are most likely to spend their entire childhood in an orphanage," he told AFP.
Kincaid said the problems with fraud, corruption or incomplete paperwork that had led to breakdowns in the U.S.-Vietnam adoption process would be eased due to the acceptance of higher standards across the board.
"This is not just unique to Vietnam, this has been a change worldwide in the way many countries are approaching adoption" since the Hague Convention came into force, he said.
Experts also say that restricting the licence to two U.S. agencies — before the ban there were dozens — will make it easier for authorities to police the process and prevent corruption.
The lifting of the U.S.-Vietnam adoptions ban comes as the former wartime foes move closer together, with a string of recent high-level visits, talk of ending a ban on sales of lethal weapons — in place due to human rights concerns — and greater trade ties.
American interest in adopting from Vietnam is particularly high, in part due to publicity generated when Hollywood star Angelina Jolie adopted her son Pax from Vietnam in 2007.
Estimates of the number of children in Vietnamese orphanages vary widely — from around 143,000 to 1.5 million, said Orphan Impact's Kincaid.
The director of a Hanoi-based orphanage, speaking on condition of anonymity as he did not have permission to talk to the press, said resuming adoptions was good news for Vietnamese orphans.
"At orphanages, we can only give them things provided by the state — which is never going to be as good as care in a family," he said.
AFP Photo/Hoang Dinh Nam
Interested in more global and political news? Sign up for our daily email newsletter!