WATCH: Democrats Have Found An Obamacare Counterattack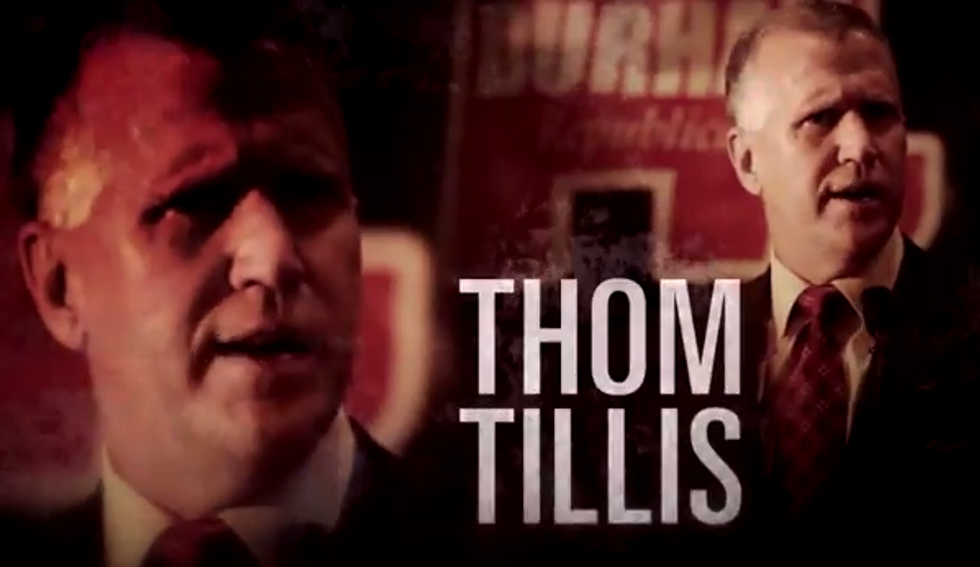 After months of nearly unchecked attacks against the Affordable Care Act and the Democratic politicians who support it, health care reform advocates are going up on air with a forceful counter-punch against Republican Obamacare politics.
Patriot Majority USA — a liberal 501(c)(4) "dark money" group — released a new ad in North Carolina on Tuesday, attacking Republican Senate candidate Thom Tillis for his opposition to the Affordable Care Act.
"Senate candidate Thom Tillis sides with health insurance companies. He'd let them deny coverage for pre-existing conditions, and raise rates for women needing mammograms," the ad warns. "Tillis supports a plan that would end Medicare as we know it, and force seniors to spend up to $1,700 more for prescriptions. Thom Tillis. He's with the special interests. Hurting North Carolina families."
Notably, the ad does not use the words "Affordable Care Act," "Obamacare," or even "reform." Instead, it attempts to remind viewers of how the health care system looked like before the law that Tillis calls "a cancer on our national economy," and which he promises to fully repeal once elected to the Senate.
There is a clear political logic to Patriot Majority's ad; although the law itself does not poll well, attempting to fully repeal it is even less popular among voters.
Senator Kay Hagan (D-NC) could use all the help that she can get in her re-election race; early polling finds her narrowly trailing Tillis, the frontrunner for the Republican nomination to oppose her in November. Furthermore, Hagan has already been the subject of over 3,500 attack ads from the right-wing dark money group Americans for Prosperity (in addition to plenty of anti-Obamacare attacks from Tillis).
The Patriot Majority ad could end up being a blueprint for other vulnerable Democrats such as Senators Mary Landrieu (D-LA), Mark Begich (D-AK), and Mark Pryor (D-AR) to follow as they defend themselves on the health care law. But there is reason for Democrats to worry that the message could be drowned out by conservative spending. As TheWashington Post's Greg Sargent points out, Patriot Majority's ad is backed by a $500,000 buy; by contrast, AFP has already spent $7.2 million on ads attacking Senator Hagan. Although Hagan has been AFP's top target so far, similar spending imbalances exist in other key Senate races — threatening to tilt the playing field in favor of GOP challengers.