WATCH: Democrats Won't Let Gardner Retreat On Birth Control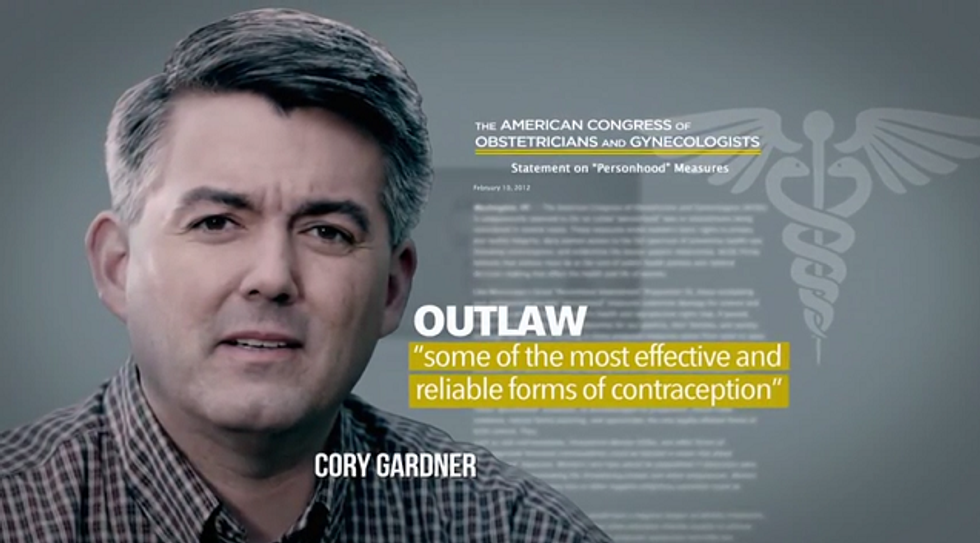 When U.S. Rep. Cory Gardner (R-CO) launched his challenge to incumbent Democratic senator Mark Udall, one of his first moves was backtracking on his support for fetal personhood, which would ban abortion and outlaw some forms of birth control and emergency contraception.
"This was a bad idea driven by good intentions," Gardner told The Denver Post in March. "I was not right. I can't support personhood now. I can't support personhood going forward…The fact that it restricts contraception, it was not the right position."
As the general election draws nearer, Gardner is getting even more vocal about contraception. Last week, his campaign released an ad in which the congressman touts the virtues of making birth control pills available over the counter, while an audience of women smiles, nods, and applauds.
Gardner's motives aren't tough to divine. Female voters will likely make the difference in Colorado's tight Senate race, and polls have consistently shown Udall ahead among women. Furthermore, according to an NBC News/Marist poll released Sunday, 59 percent of voters are less likely to vote for a candidate who supports restrictions on the use of contraception, while just 14 percent would be more likely. In short: Unless Gardner convinces voters that he's had a genuine change of heart, he's in deep trouble.
Democrats, of course, know this as well. That's why on Monday, two Democratic groups released new ads attacking Gardner's record on women's health.
The first ad, from the Democratic Senatorial Campaign Committee, criticizes Gardner's support for abortion bans, noting that "Cory Gardner sponsored a law which would have made it a class three felony to perform an abortion."
The second, from MoveOn.org and NARAL Pro-Choice America, critizes Gardner's birth control plan.
"Last year Gardner sponsored a federal personhood bill that could outlaw some of the most effective and reliable forms of contraception," the ad's female narrator says. "And Gardner's new plan could cost women $600 a year in out-of-pocket medical costs."
While Gardner has taken the most heat from Democrats, he is not the only Republican Senate candidate to try to attract female voters by backing over-the-counter contraception. Minnesota's Mike McFadden, North Carolina's Thom Tillis, and Virginia's Ed Gillespie have all pushed similar messages.
It probably won't work. After all, the Republican candidates are still on record as fiercely opposing the Affordable Care Act, which mandates that private insurance plans cover some contraceptive costs. All four also spoke out in favor of the Supreme Court's controversial Hobby Lobby decision, which greatly expanded corporations' ability to circumvent the contraception mandate. And, most important, women are likely to recognize that — while the new Republican plan is better than nothing — offering birth control over the counter without continuing to compel insurance companies to pay for it would be a bad deal for them.
More Republicans will likely adopt the Gardner position, in an effort to blunt claims of a GOP "war on women." But as Monday's ads show, Democrats won't let the flip-flops go unnoticed.
Screenshot: MoveOn.org/YouTube
Want more political news and analysis? Sign up for our daily email newsletter!