WATCH: Landrieu Touts Republican Supporter, Seniority In New Ad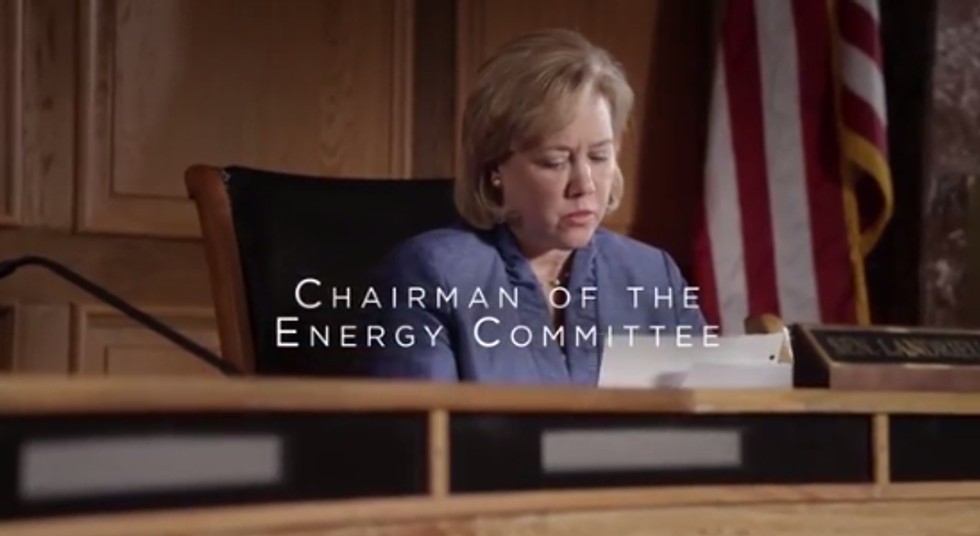 While most 2014 candidates are doing their best to distance themselves from Washington D.C., Senator Mary Landrieu (D-LA) is continuing to take the opposite course in her difficult re-election campaign.
On Monday, Senator Landrieu released a new campaign ad reminding voters of her powerful position as chairwoman of the Senate Energy and Natural Resources Committee.
"I have over 3,000 employees, and even though I'm a Republican and don't always agree with her, Louisiana can't afford to lose Mary Landrieu," the ad's star, ship builder Boysie Bollinger, says in the 30-second spot. "She's chairman of the Energy Committee, the most powerful position a person can have for Louisiana."
"It means more boats, more jobs, and more oil and gas. She does big things for Louisiana," he continues, in a thick drawl. "I'm with Mary."
"Ship builder" is Landrieu's second consecutive ad to emphasize the importance of her chairmanship. The previous ad, released two weeks ago, generated controversy for its re-enactment of an Energy Committee hearing.
The oil and gas industry is a strong supporter of Landrieu's re-election bid; the third-term incumbent has raised almost $600,000 from the sector, more than double the amount raised by her chief Republican rival, U.S. Rep. Bill Cassidy.
The new ad, which stars a self-described Republican, also represents Landrieu's latest in a long series of efforts to highlight her bipartisan credentials. In her 2008 re-election, exit polls found that Landrieu won 63 percent of moderate voters and 30 percent of conservatives; given the more conservative electorate that is likely to turn out in November's midterm election, Landrieu will probably have to replicate (if not improve upon) those numbers to stand a chance.
Landrieu currently has a comfortable lead in the polls over her Republican opponents, but it appears she'll fall short of the 50 percent threshold needed to avoid a runoff against the second-place candidate.
Screenshot: YouTube