WATCH: McDaniel Calls Mississippi Runoff 'Most Unethical' In History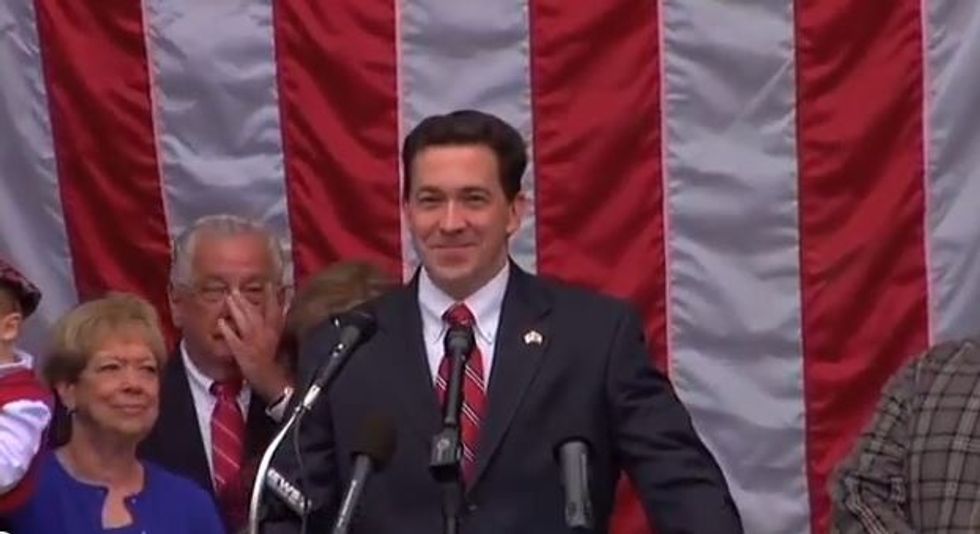 Mississippi state senator Chris McDaniel is still not over his narrow loss in the Republican primary runoff between himself and incumbent senator Thad Cochran (R-MS).
Since election night, McDaniel has refused to concede defeat, even though the state Republican Party has certified Cochran as the winner (by 7,667 votes, or 2 percent). Instead, McDaniel and allied Tea Party groups have accused the Cochran campaign of rigging the election through widespread fraud, charging that the incumbent "used leftist tactics to steal the runoff election by soliciting illegal votes from liberal Democrats."
McDaniel's accusations — which have yet to be backed by any legitimate evidence — reached their absurd, logical conclusion over the weekend, when the state senator claimed that the runoff was "clearly the most unethical election in the history of this state."
"Let's make it very clear today," McDaniel said at a July 5 rally, as reported by BuzzFeed. "After what we saw the other night, which is clearly the most unethical election in the history of this state…and might…and might…very well be the most illegal election in the history of this state. We will let the word go forth from this time and place to friend and foe alike. The people of this state will do anything to preserve the torch of liberty. We will bear any burden, fight any foe, to make sure that corruption is finally rooted out of the election process in this state."
As BuzzFeed's Andrew Kaczynski points out, it's hard to imagine that the runoff was less ethical than any Mississippi election between 1875 and 1964, when black Mississipians were denied the right to vote through a combination of discriminatory laws and violent terrorism. But then, it's not particularly surprising that McDaniel — who spent much of his Senate campaign distancing himself from various white supremacists — isn't well versed in civil rights history.
Although McDaniel refuses to give up on the Republican primary, the Cochran campaign has already shifted its focus to the general election against former U.S. Rep. Travis Childers (D-MS). Cochran is a heavy favorite to return to Washington for a seventh term in the Senate.
Want more political news and analysis? Sign up for our daily email newsletter!