WATCH: Rick Perry Attacks Wendy Davis For Filibuster, Having Been A Teen Mom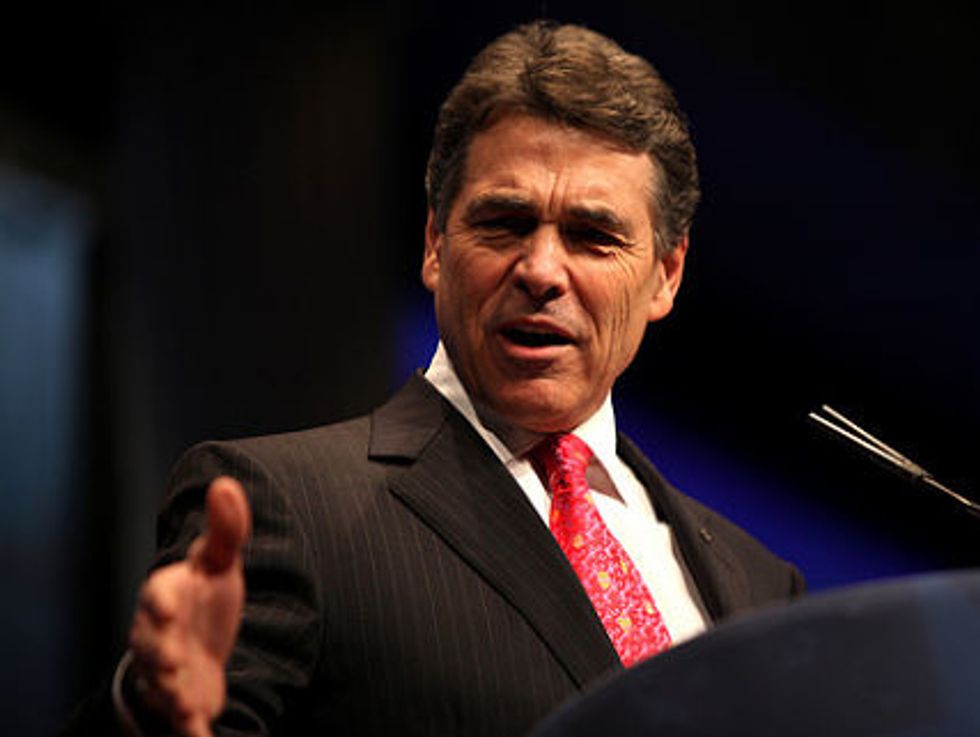 Speaking at the National Right to Life conference on Thursday, Texas' Republican governor, Rick Perry, had a few choice words for state senator Wendy Davis (D-Fort Worth): Your actions Tuesday were a disgrace, and having been a teen mom, you should be setting a better example.
Davis, who bravely spoke for 11 hours to filibuster the anti-abortion SB5 on Tuesday, is being hailed as a hero for at least temporarily blocking the draconian bill from becoming law. But to Rick Perry, she is nothing but an unfortunate example due to her pro-choice stance:
In fact, even the woman who filibustered the Senate the other day was born into difficult circumstances.She was the daughter of a single woman, she was a teenage mother herself. She managed to eventually graduate from Harvard Law School and serve in the Texas senate. It is just unfortunate that she hasn't learned from her own example that every life must be given a chance to realize its full potential and that every life matters.
Perry also condemned Davis' filibuster as "hijacking of the Democratic process," ironic for a member of a party that has made the tactic its standard operating procedure since Barack Obama took office. He also said of the pro-choice movement, "the louder they scream, the more we know that we are getting something done."
And "getting something done" is the plan. Perry has called a special session for Monday to get SB5 passed, which will likely happen. The new law would ban abortions after the 20th week of pregnancy and effectively shutter 90 percent of the state's abortion clinics.
"We will ban abortion after 20 weeks!" Perry proudly announced. And having defunded Planned Parenthood and cut women's health funding to ribbons, chances are there will be a whole lot more teen moms in Texas to "learn from their own examples."
Video of Perry's speech is below, via ThinkProgress.
Update: Senator Davis responded to Perry's comments on Thursday, noting that the governor's remark "tarnishes the high office he holds."
"They are small words that reflect a dark and negative point of view," Davis said. "Our governor should reflect our Texas values. Sadly, Gov. Perry fails that test."
Photo by Gage Skidmore via Flickr.com