This Week In Crazy: Obama's Zombie Cannibals, And The Rest Of The Worst Of The Right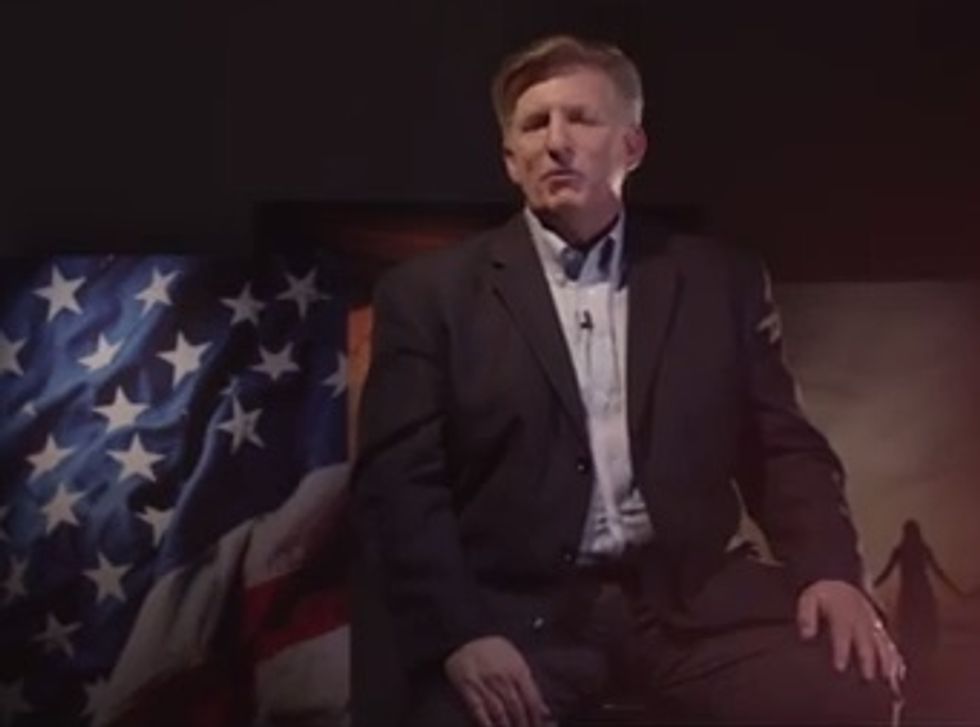 Welcome to "This Week In Crazy," The National Memo's weekly update on the wildest attacks, conspiracy theories, and other loony behavior from the increasingly unhinged right wing. Starting with number five:
5. Bryan Fischer
The American Family Association's Bryan Fischer has a message for all the conservatives who are thrilled with the Republican Party's sweeping success in the midterm election: You're welcome.
According to Fischer, the GOP's victories had less to do with strong candidates, a favorable electoral map, and brutal Democratic turnout, and more to do with his anti-gay prayer rally.
"It occurred to me last night, you know, a good part of Sunday night was a lot of these pastors in Houston and a lot of people all around the country kneeling in prayer on the floor of that auditorium, repenting of sins, seeking God for forgiveness for ourselves and for this land," Fischer explained. "And then, on Tuesday, we have this dramatic victory. I've got to believe there's a connection there."
Of course, if Bryan Fischer's prayers really dictated the results of the midterms, then the right-wing policies on the ballot probably would have fared a bit better. And the results may not have been as harsh on the "black male" in the White House.
4. Glenn Beck
While many Americans were suprised by the breadth and depth of the Republicans' wins on election night, American prophet Glenn Beck was not. After all, George Soros planned this whole GOP wave years ago.
According to Beck, Soros ordered the unions to make President Obama the Democratic nominee in 2012, so that he would win the election then fail as president, setting up Hillary Clinton to succeed him in 2016.
"Listen, back off. Let him do all of the radical things, your turn will be next," Beck imagines Soros telling Clinton in 2008.
"He can be the transformative president, but he's not going to be popular when he leaves," Beck's imaginary Soros continued. "And so you'll be able to come in as a moderate. Let him make the changes, and you will be the one who will be remembered for picking up all of the pieces and having the final transformation."
"You will be the mother of the country, where [George] Washington was the father of the country," fake Soros said. "And [Obama] will be remembered as the mother-[blank] of the country."
Remember: If Glenn Beck says it happened, it definitely happened.
3. Michael Savage
The Republican Party won't take majority control of the Senate for another two months — but the calls for impeachment are already beginning.
Right-wing radio host Michael Savage got the ball rolling on Thursday.
"If you look at his eyes while he's speaking, and I'm a student of many different things, his eyes are not that of a sound man," Savage began on his radio show. "The man is not connected to reality, he has always lived in a protected bubble, the skids have been greased for him since childhood. He was hand-selected by a group of very powerful people, early on, way back, I think even before Columbia University, probably at Punahou, he was selected, they made him president."
According to Savage, the Punahou illuminati never prepared Obama for defeat — so these midterms could drive him over the edge. This leaves the GOP with only one solution.
"He needs to be impeached," Savage raged. "If he keeps this up, if he grants executive amnesty to the illegals, if he goes ahead with all of his crazy garbage on global warming nonsense, he's got to be impeached. It's that simple."
"How do we know with a man this…megalomaniacal, that he will not try to trigger some sort of insurrection?" Savage asked. After briefly comparing Obama to Hitler during the last days of World War II, he repeated his point: The president, Susan Rice, George Soros, Zbigniew Brzezinski, and the rest of Obama's "small cadre of fanatics" could start "planning some kind of phenomenally dangerous action to trigger an insurrection in this country to declare themselves more power."
Of course, if Obama does launch an insurrection, Savage would be a good choice to lead the opposition. After all, he'd tell you that he's tougher than any of our actual soldiers.
Audio of Savage's remarks is available at Right Wing Watch.

2. Colorado House District 15 Voters
While most Colorado election watchers were focused on the Centennial State's razor-thin sentorial and gubernatorial elections, another candidate slipped under the radar with a landslide win: Colorado state house candidate Gordon Klingenschmitt.
Regular This Week In Crazy readers may remember Klingenschmitt from the time that he claimed that Jesus will overrule the Supreme Court's decisions on gay marriage and sentence gay men to hell. Or the time that he warned that demons are lurking in marijuana and getting people high with dark magic. Or the time that he campaigned against Nancy Pelosi's "bathroom bill" and Al Franken's mandatory pedophilia bill. Or the time that he explained how passing the Employment Nondiscrimination Act would result in "militant gays" kicking law-abiding citizens out of their houses to have sex in their living rooms.
That same Gordon Klingenschmitt won 70 percent of the vote in Colorado's 15th district, giving him one of the largest margins of victory for any Republican on the ballot on Tuesday. For that, the voters of his district — who are about to learn that the consequences of elections may soon include exorcism — easily earned the second spot on the list.
1. Rick Wiles
But this week's "winner" is once again right-wing radio host Rick Wiles, who keeps finding new ways to one-up his own crazy conspiracy theories.
For months, Wiles has been warning that President Obama will use Ebola to destroy America. But on Tuesday, after learning about the "Zombie Response Team," which trains people to prepare for the type of disasters commonly depicted in horror movies, Wiles shared a new horrible truth: The government is manufacturing a virus to unleash a horde of zombie cannibals!
"The Walking Dead? It's coming," Wiles warned. He went on to describe a "virus" which the government "spliced with another virus," causing people to "literally go insane."
"Remember several years ago, we had here in Florida, the face eater?" he continued. "The man who literally ate the face off of a man on the streets of Miami?"
"They're testing something," he concluded darkly. "This is far worse than anything we could ever imagine that can happen. We're going right into the last days, folks."
But why would President Obama want to genetically engineer a zombie cannibal virus? Perhaps to finally fulfill Wiles' prediction that he will commit a big enough mass murder to put Stalin, Mao, and Pol Pot to shame.
Of course, with Obama's luck, the zombie genocide will probably get stuck in congressional gridlock, too.
Check out previous editions of This Week In Crazy here. Think we missed something? Let us know in the comments!
Get This Week In Crazy delivered to your inbox every Friday, by signing up for our daily email newsletter.