This Week In Crazy: Only Outlaws Will Have Yoga Pants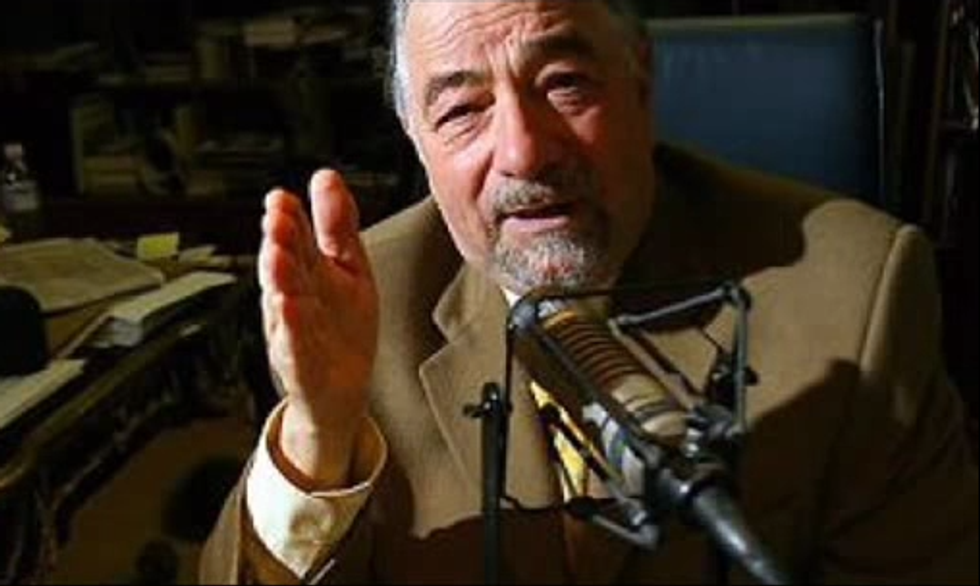 Welcome to "This Week In Crazy," The National Memo's weekly update on the wildest attacks, conspiracy theories, and other loony behavior from the increasingly unhinged right wing. Starting with number five:
5. David Moore
Among certain conservatives, there is a feeling that we as a nation have lost our way. How can we rescue our country, this beacon of light, from becoming a modern-day Sodom?
One state lawmaker, Montana Rep. David Moore (R-Missoula), has the answer: We must forswear yoga pants and renounce Speedos. We have lived (and exercised) in tight-fitting sin for too long.
Moore introduced a bill Wednesday to the House Judiciary Committee that would amend indecent exposure laws to prohibit clothes that reveal too much of the human form. Specific targets include the nipple — for any garb that exposes the nipple is an abomination — as well as the buttocks and pelvic regions, for clothing that "gives the appearance or simulates" the dreaded nethers is, too, an abomination.
This comes just over a month after the Montana legislature approved a list of new dress-code guidelines, advising women to "be sensitive to skirt lengths and necklines."
With no discussion, save for some chuckling, lawmakers swiftly tabled the bill.
But Moore is a stalwart champion in the war against indecency, and we doubt he will be easily dissuaded from his struggle against skin. He has been quoted as saying that "yoga pants should be illegal in public." And this has been a crusade of his ever since a cavalcade of nude bikers charged through his district. To this noble enemy of elastic, this defender of decorum, David Moore, we salute you. Godspeed.
4.  Gordon Klingenschmitt
Recasting themselves as a persecuted minority has been a reliable tactic of the Christian Right in the battle against marriage equality. This week, Colorado state representative and all around nut jar Gordon Klingenschmitt took the extra step of likening the fight against same-sex marriage to the battle against slavery. Sadly, this isn't even the first time that specious comparison has been made.
Klingenschmitt heads up the Pray In Jesus Name Project, which launches petitions to erode separations between (his Christian) church and state. On his latest program, he extolled a bill that was recently introduced to the North Carolina General Assembly, which would permit magistrates to invoke "sincerely held religious exemption" to avoid administering same-sex marriages. Nobody should be "forced by the government to participate in somebody else's sin," said Klingenschmitt. So as to those pesky anti-discrimination laws? "I think every Christian in America ought to be able to opt out," he continued.
You see, expecting government officials to obey and carry out the laws they were sworn to uphold is, according to Klingenschmitt, quoting the Book of Galatians, nothing less than the "yoke of slavery."
3. Star Parker
You know it's bad when Sean Hannity tells you, on his own program, that you may have gone too far. Star Parker managed to get such a reaction out of him on Monday's show.
President Obama, as you may recall, recently made remarks in which he placed ISIS in the larger historical context of atrocities committed in the name of religion, which included an aside about the Crusades, "lest we get on our high horse." This did not sit well with many conservatives, but Star Parker took things to another level. She told Hannity on Monday that bringing the Crusades into the discussion amounted to "verbal rape," a phrase she also used in a radio interview.
Why, exactly, a "verbal rape"?
"We were not expecting it. Nobody wanted it. It was horrible to sit through," Parker explained. "And after it was over, we all felt like crap."
If Parker's definition of "verbal rape" is just having to listen to an unpleasant speech, that pretty much extends to her own commentary.
2. Robert Jeffress
Say what you will about Fifty Shades of Grey. (Many have.) But I don't think anyone — no matter how critical, how snide, how disparaging — has actually made the connection between the upcoming film and the imminent Apocalypse. Until now.
On Monday, Robert Jeffress, a pastor with a long history of appearing on cable news, couching outlandish bigotry in a folksy tone, weighed in on Fifty Shades of Grey or "Fifty Shades of Perversion," as he glossed it. The film, he said on Fox News Radio, is emblematic of the mass desiccation of morality foretold to precede the End of Days; Fifty Shades and gay marriage are part of a larger pattern, he said, of perversion and moral disorder, in which the family unit is upended, marriage is redefined, consenting adults have sex onscreen, up becomes down, black becomes white, and so on and so forth 'til the Almighty finally shuts off the lights. That is a hell of a bad review.
Jeffress, whose own book, Countdown to the Apocalypse, was apparently released just under the eschatological wire, admitted he had not actually read Fifty Shades.

1. Michael Savage
This week's "winner" is right-wing radio host Michael Savage, who can usually be trusted to out-crazy whatever else we can find. This week's platter of Savage offers nothing too new. Savage's gift is not in the quality of his insane comments, but the density of them, the speed at which his rage and paranoia expand, draw connections, and metastasize from rumblings to full-blown eruptions. Savage really got there on his Tuesday show. Here for your listening pleasure is his compact, bouillon cube of balderdash, in his own words.
Savage doesn't waste time: "It's another Goebbels moment from the Obama administration," he begins. He leaps from the "Jew hater in the White House" to Valerie Jarrett, about whom he repeats the debunked canard about her being a Muslim mole. "Goebbels would be very proud."
And from here it's kind of something to hear Savage sashay from topic to topic. On the death of Kayla Jean Mueller: "Not a word from the anti-death penalty liars!" On NPR: They can't say anything negative about Obama because they work for him. And Obama? The "head of the snake" himself! As for those Jews in Hollywood, like David Geffen, Jeffrey Katzenberg, and Steven Spielberg… don't even get him started (because he can't finish). "Why does Bloomberg support Obama? Tell me why. Can anyone explain this to me?" Savage raged. (Psst, Bloomberg can.)
But Savage keeps his real venom in reserve for that "rat," that specimen of "human garbage," that "filthy, double-talking" mouthpiece for "Mr. Hussein Obama" — White House press secretary Josh Earnest, who is a "lying, simpering inhuman thing" who has "disgraced his entire gene pool," doing things for "his Führer" Obama that even Goebbels wouldn't dare do.
How do you really feel, Mike?
Check out previous editions of This Week In Crazy here. Think we missed something? Let us know in the comments!
Get This Week In Crazy delivered to your inbox every Friday, by signing up for our daily email newsletter.