Whatever Mike Pence Won On 'Style,' He Lost By Shamelessly Lying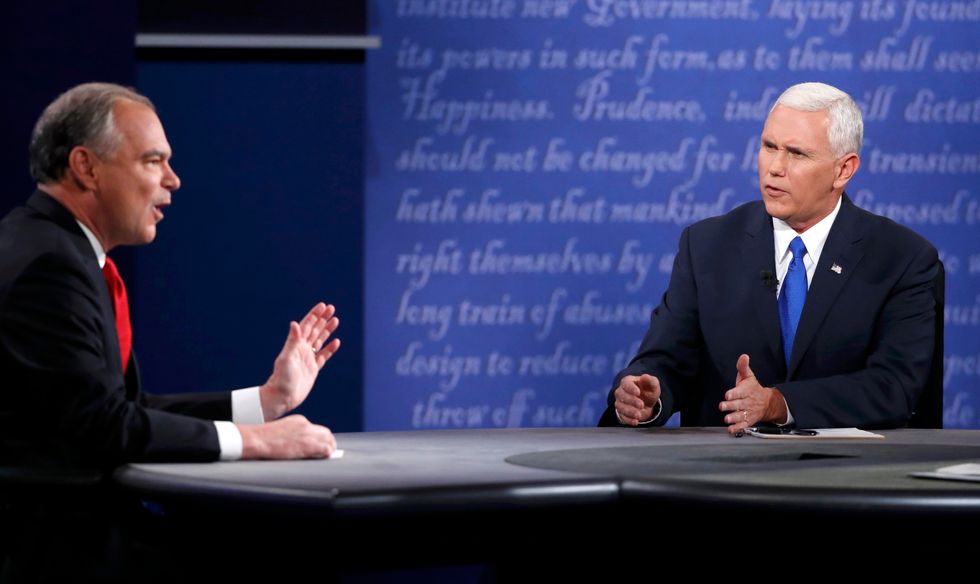 Again and again during the vice-presidential debate, Republican nominee Mike Pence prevaricated about the statements and policies of Donald Trump, his own previous remarks, and sundry other topics.
His dogged refusal to defend any of Trump's outrageous statements — indeed, his determination to distance himself from his presidential running mate — led Pence to make claims that will be easily disproved by journalists who know how to locate videotape of what he and Trump have said only weeks or months ago.
Within minutes after the debate concluded, many commentators proclaimed that Pence had "won" the debate — because Democratic vice presidential nominee Tim Kaine had violated their sense of decorum with repeated interruptions. And Kaine might well have interrupted less, not so much to display good manners as to let viewers hear his opponent talk.
But often and audibly enough, Pence simply attempted to deny that Trump had said the very things that Trump undeniably said, often after shaking his head vigorously. "He didn't say that!" the Indiana governor blurted, knowing full well that he did say it. And Pence lied about his own statements, too. Perhaps the most glaring example came during a heated exchange between Kaine and Pence about Vladimir Putin — whom the Republican disparaged, in an effort to pivot away from Trump's embarrassing embrace of the Russian authoritarian, as "small and bullying," and vowed to confront with "strength."
When Kaine retorted that not only Trump but Pence himself had praised Putin as a "strong leader," Pence interrupted indignantly. "That's absolutely inaccurate," he said.
But it didn't take long for MSNBC to play videotape from September that shows Pence defending Trump's obsequious praise of the Russian boss: "I think it's inarguable that Vladimir Putin has been a stronger leader in his country than Barack Obama has been in this country." He fared better when he simply declined to defend Trump's revolting utterances of bigotry and misogyny — or pretended that he had never heard them.
What Pence was sent forth to do, however, was not so much to defend Trump as to tar Hillary Clinton — in particular on her email server and on the alleged "scandals" of the Clinton Foundation. What he said on the latter topic was completely false and disgraceful. Repeating a Big Lie popularized on the right  by Carly Fiorina, Rush Limbaugh, Reince Priebus and Fox News, Pence twice claimed that "less than ten cents on the dollar in the Clinton Foundation has gone to charitable causes."
Various news outlets and fact-checking websites have explained, more than once, why this assertion is malicious and wrong. By now Pence must know that and yet he insistently slandered the foundation, its staff, its donors, and its beneficiaries.
Pence's falsehood is premised on the amount of money reported by the Clinton Foundation in direct grants to other organizations. But as I noted in my new book Man of the World: The Further Endeavors of Bill Clinton, "very little of the foundation's activity or money was spent on doling out grants. Instead, its various initiatives hired staff to pursue charitable purposes directly. Academic experts described it as an 'operating foundation' or a "public charity," rather than a traditional foundation that used an endowment to write checks. Indeed many other traditional foundations, such as Gates and Rockefeller, made annual grants to the Clinton Foundation to support its programs. And the Gates Foundation, oriented toward efficiency and results, had audited Clinton Foundation programs to ensure its money was spent wisely."
One of Kaine's best moments in the debate was his forthright defense of the foundation. He noted that the Clinton Foundation provides AIDS treatment to well over 11 million people, among many other humanitarian programs, and contrasted its record of achievement — which has earned top ratings from charity watchdog groups — to the self-serving, unethical, and illegal practices of the Trump Foundation.
Pence also dredged up the debunked canard about "pay for play" between the State Department and the Clinton Foundation, invented by the Associated Press, when he said that as Secretary of State Hillary Clinton had spent half of her meetings with foundation donors. The AP withdrew a tweet based on that analysis, which has been rejected by other news organizations as slanted because less than five percent of her time was devoted to foundation donors.
Slurring the Clinton Foundation is nothing new for Pence. He has shrieked ignorantly about its acceptance of millions from "foreign donors," brushing aside the fact that those donors are American allies whose money went to save millions of lives in Africa. In August he demanded that Clinton "shut the foundation down" immediately, although that would surely cost many lives. Before he makes such preposterous and callous comments, Pence ought to speak with some of his evangelical brothers and sisters, whose anguish over the AIDS crisis in Africa inspired George W. Bush's multi-billion-dollar PEPFAR initiative. The foundation's success in reducing the costs of treatment made that program far more effective.
Given the prejudices of the Republican base, Pence believes that vilifying the Clinton Foundation will benefit him and Trump, even if he knows he is lying. But in the long term, he may pay a price for that heartless cynicism. Not long ago, James Carville said that "someone is going to hell" for fomenting partisan attacks on the Clinton Foundation and its mission to save the innocent. Last night, one more self-proclaimed Christian became a candidate for that fate.
IMAGE: Tim Kaine and Mike Pence during their vice presidential debate at Longwood University in Farmville, Virginia.    REUTERS/Jonathan Ernst