Booty Call Rudy: When Giuliani Attacks The Clintons, Remember His Scandals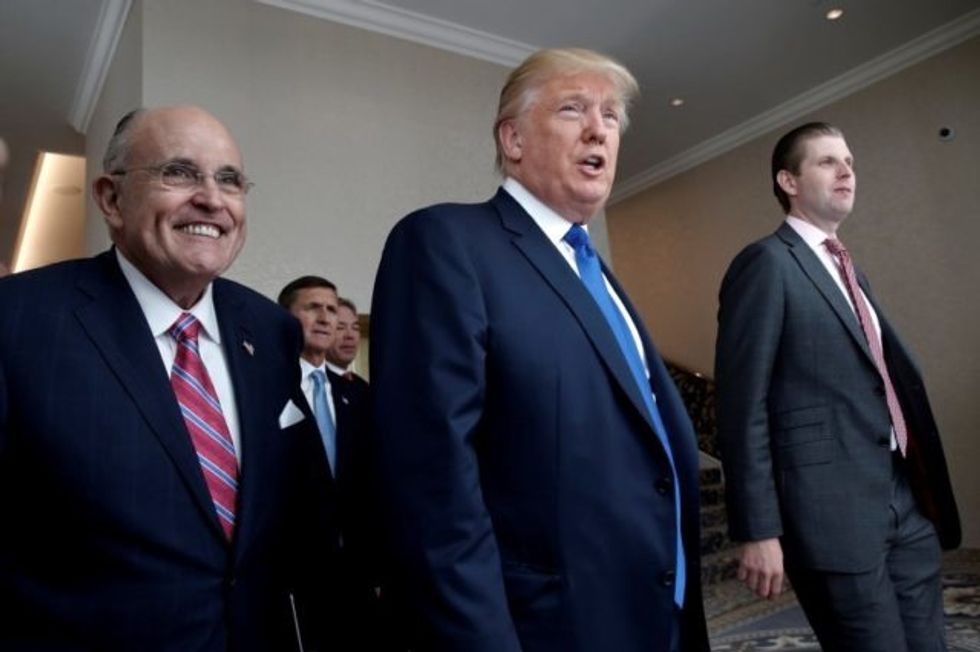 In the moments following his pitiful performance against Hillary Clinton at their first presidential debate, Donald Trump praised himself for "holding back" — because he had refrained from bringing up Bill Clinton's extramarital "indiscretions," supposedly out of respect for Chelsea Clinton, toward whom he feels "a lot of respect." The casino mogul quickly suggested, however, that he might still go there.
"Maybe I'll tell you at the next debate," he said coyly.
That is "restraint," Trump style. There would seem to be little upside in launching a vicious personal attack on Hillary, a wronged wife, especially considering Trump's own unappetizing, heavily documented record of marital infidelity and alleged spousal abuse or worse. But he finds it difficult to "hold back" such sputtering tirades against his opponents, no matter how badly he might disgrace himself.
To nobody's surprise a Trump surrogate popped up almost instantly, like a malevolent sock puppet, to assail Hillary Clinton over her husband's misbehavior. In the debate spin room, Rudolph Giuliani said he knew that Trump had "restrained himself from saying what I know he would have liked to…And that is she enabled and supported a president who is a disgrace to the White House. He was one of the two presidents impeached. He was impeached because he took advantage of an intern, an intern that [Hillary] attacked for six months — and she claims to be a feminist."
Remove the errors and falsehoods from that statement and almost nothing remains except Rudy's rage. But by now nobody should expect reason or dignity from the former New York mayor, whose ranting interlude on the podium at the Republican convention last summer raised questions about his mental state.
Still, it is odd that his image-conscious, social-climbing wife, the former Judith Nathan, would let him tempt the media into revisiting the tabloid origins of their relationship — and how he abused his mayoral privileges to pursue their affair while he was still living with his wife and children in Gracie Mansion.
When Rudy met Judi one evening in a cigar bar on the Upper East Side, according to Vanity Fair, he was already involved with his City Hall press secretary — not an intern yet much younger than the very married mayor, and of course available to him at all hours. Although nobody believed the attractive aide's denials, that scarcely mattered. In May 2000, Rudy and Judi put out a press statement to announce that they would henceforth be joined together — truly a lovely way for wife Donna and the two Giuliani children, Andrew and Caroline, to learn about Daddy's new plans.
Yet many months before Giuliani's marriage disintegrated publicly, he had begun to visit Nathan surreptitiously at her Southampton, Long Island condo, accompanied by a police detail. On every expensive booty call, he brought an assortment of bodyguards and vehicles out to the beach, putting the cops and aides up in local motels while he shacked up with Judi. (Not too long after that, he assigned Nathan her own police detail, with officers who reportedly acted as her valets and chauffeurs.) Years later, when he ran for president, reporters discovered just how much his long-distance romance had cost city taxpayers. The New York Postonce estimated that the cost of a trip out to his girlfriend's pad amounted to $3000 per day; Judi's security detail was priced at around $200,000 per year.
Strangely enough, all those overtime hours, motel bills, and gas charges were not properly allocated to the New York Police Department; instead, the expenses were hidden in the budgets of obscure city agencies, where prying auditors might be less likely to detect them. Under Giuliani's mayoral successor Michael Bloomberg, this apparently massive fraud was referred to the city's Department of Investigation, where nobody ever heard about it again.
So when Rudy Giuliani denounces Hillary Clinton, remember why his son and daughter shunned him for years. Remember that he misused hundreds of thousands of dollars in city resources to "enable" his personal misconduct. And remember that his role as a Trump surrogate is actually a business function, underwritten by his new position at Greenberg Traurig, the powerhouse law firm retained by both Trump and his son-in-law Jared Kushner (and the same outfit that housed Republican lobbyist Jack Abramoff's corrupt operation, until he was indicted).
Undoubtedly, Giuliani still nurtures his own old grudge against Hillary Clinton, who ended his political career when she won the U.S. Senate seat he had coveted in 2000. He looks very small when he tries to smear her now. In fact, he looks ridiculous — but his penchant for projection, his poisonous animosity, and his lack of self-respect all make him the perfect spokesman for Trump.
IMAGE: Republican presidential nominee Donald Trump walks with former New York City Mayor Rudolph Giuliani (L) and his son Eric Trumo (R) through the new Trump International Hotel in Washington, D.C., U.S., September 16, 2016.  REUTERS/Mike Segar